Last week, March 17, 2016, Jefferies analyst Andy Barish downgraded Chipotle Mexican Grill (NYSE:CMG) to a sell from neutral and cut his price target from $390 to $360. This news helped punch CMG for a 3.4% loss which confirmed what is now a fresh breakdown below support at its 50-day moving average (DMA).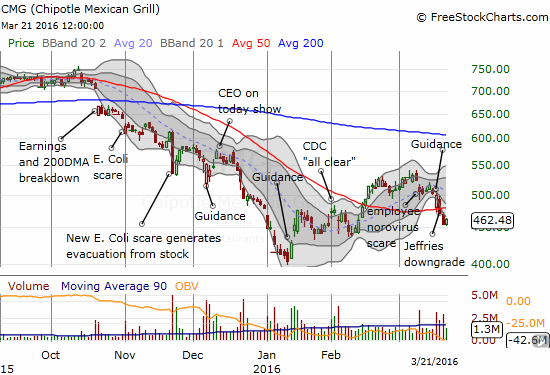 Chipotle Mexican Grill (CMG) is struggling to stabilize after a series of bad and good news.
Source: FreeStockCharts.com
I first read about the downgrade in a Marketwatch article: "'Fickle' millennials blamed for Chipotle's downward spiral." This headline grabbed my attention because Millennials are so often blamed/credited for various trends and shifts but sometimes with tenuous evidence. For example, a year-and-a-half ago, I wrote "How NOT To Report On Demographics: Millennials Blamed For Taking Down McDonald's" to take issue with the way a WSJ-sponsored survey over-extrapolated the data to conclude Millennials were ruining business at McDonald's (NYSE:MCD). I questioned the importance of supposed changes in the tastes of Millennials when the survey itself pointed to food choices where were no better, and sometimes even worse, in nutritional value compared to McDonald's. My skepticism about a new secular trend that excluded MCD led me to recommended accumulating shares of the restaurant. Since then, MCD was eventually able to rally and even out-perform the market in 2016 on its way to new all-time highs.
I brought that same skepticism to my reading of the downgrade from Jefferies. I am not able to critique the demographic model used in the downgrade because Jefferies has turned it into a proprietary tool. Instead, I have to read a bit between the lines. Barron's provided direct quotes from Barish's report in "Chipotle Mexican Grill: This Could Take a While":
"We believe the recovery from food safety issues is unprecedented in today's world of instant social media and fickle Millennial consumers who can love a brand for its 'Food with Integrity,' but will quickly (and maybe permanently) depart for newer concepts when that integrity is questioned. Our proprietary survey work in recent weeks reinforces this view…

Feb SSS [same-store sales] were disappointing even with massive promotional food giveaways, and our survey work indicates a negative directional lean to response rates and intent to return, putting added pressure on Chipotle to continue to aggressively promote during '16. "
Reading between the lines, I read an assumption that instant social media enables Millennials to exercise their fickle nature. Moreover, their presumed lack of loyalty means Millennials are also unforgiving. To the extent CMG can solve its food safety issues and re-generate confidence in its customers, I think the fickle Millennials getting the blame for sending CMG's shares downward will give the restaurant more chances in due time. Just as in the McDonald's case, I am doubting the Millennials are so rigid in their decision-making - or at least any more rigid than any other food consumer - that they will toss out an old favorite with ease. CMG also has tailwinds in its favor as a year ago Americans spent more on dining out than on groceries for the first time since the U.S. Commerce Department started collecting such data in 1992.
I also find it instructive that Jefferies has recently helped to bring public several restaurant IPOs that have apparently not been able to appeal to defecting (aka fickle) Millennials. CNN Money writes in "Chipotle wannabes find it hard to measure up" on November 5, 2015:
"Wall Street has been abuzz about finding the 'next Chipotle.' That's the reason why fast food IPOs have been hot. Since last year, many fast food companies debuted on the stock market. Their shares soared on the first day of trading and in subsequent weeks. No longer. Many of these stocks are now plummeting…'We've had a number of disappointments,' says Andy Barish, a restaurant analyst at Jefferies, which helped take all of those companies public."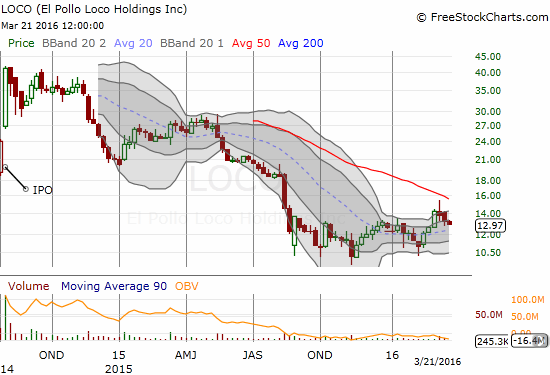 Jefferies helped bring El Pollo Loco (NASDAQ:LOCO) public in July, 2014. LOCO had a big 2-day run as the potential next Chipotle.
Source: FreeStockCharts.com
Barish has a well-established history following Chipotle Mexican Grill. On August 20, 2013, Barish upgraded CMG from sell to hold and raised the price target from $300 to $400. The stock closed that day at $407.55. After hitting $400.08 a week later, CMG rallied to an all-time high of $757.77 on August 5, 2015. In other words, Barish unwittingly managed to call a bottom in CMG while trying to catch up to the market. The stock has yet to close below that $400 mark even in the wake of the food safety issues. As the chart above shows, the stock now sits at $462.48 and hit a closing low of $404.26 (and $399.14 intraday low) on January 12, 2016. In running with the "fickle" headline, Marketwatch described Jefferies's downgrade as "giving up" on CMG and turning bearish. However, relative to the trading action in CMG, Jefferies has stood as a long-standing CMG bear.
Although I am skeptical of the latest Jefferies call, I share Barish's surprise that CMG has been able to retain a lofty valuation through the current mess. The stock trades significantly lower from its last all-time high, but it still sports a 30.2 trailing P/E and a 33.4 forward P/E. This relative optimism is balanced somewhat by a short interest that is 12% of the float.
Going forward, the trade on CMG has to respect the current breakdown with the high valuation making the stock vulnerable to additional downgrades and any more bad news. The ready response to the Jefferies downgrade seems to confirm another turn in market sentiment. The 50DMA looms above to provide a convenient threshold for marking a return in sentiment to calmer waters. The breakdown puts support at $400 back in play. My favorite trade in these circumstances is a hedged one that involves holding a small number of shares and then rotating in and out of put options (or put spreads) to leverage sell-offs like the current one and/or to ride a new, yet presumably temporary, downtrend.
CMG certainly has a steep hill to climb, but, for now, I am guessing that it is investors and traders who are proving to be the true fickle customers…
Be careful out there!
Disclosure: I am/we are long CMG.
I wrote this article myself, and it expresses my own opinions. I am not receiving compensation for it (other than from Seeking Alpha). I have no business relationship with any company whose stock is mentioned in this article.
Additional disclosure: I am also long a put spread and call option