De'Longhi (OTC:DELHF) is a well-known Italian company that produces small appliances such as coffee machines, air conditioners, heaters. It also makes appliances like heaters and air conditioners for commercial clients such as hotels, shopping centers and hospitals. In more than 100 years of activity, it has built a strong reputation for producing well designed, high-quality goods.
De'Longhi is not an exciting stock; you usually don't see high fluctuations in the price, nor big earnings surprises. Analyzing the stock, I realized it's the typical stock for long-term investors who look for low risk and a moderate and constant capital appreciation. I tried to assess whether the recent dip in the stock price (-28%) from the top in December 2015 gives a good opportunity to accumulate some shares.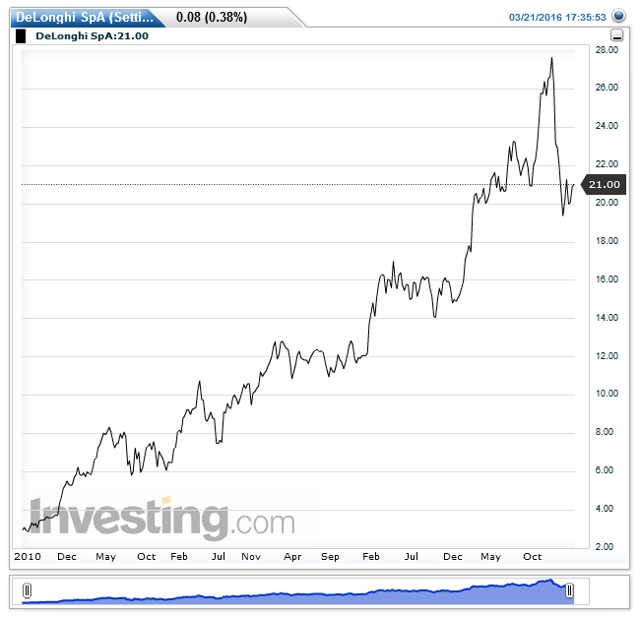 The Business
The company operates through 4 main brands: the De'Longhi brand, Kenwood, Braun and Ariete.
It derives 80% of its revenue from 2 main product categories: cooking and food preparation (43.9%) and coffee makers (36%). The success in these categories is therefore crucial for the future of the company. Nowadays, despite operating in a market characterized by a particularly fierce competition by large multinational companies such as Electrolux (OTCPK:ELUXY), Philips (NYSE:PHG), Samsung (OTC:SSNLF), LG (OTC:LGEAF) and Mitsubishi (OTCPK:MIELF) on one side, and smaller regional players on the other, the company seems well positioned in the industry, with good market share, growth rates and margins.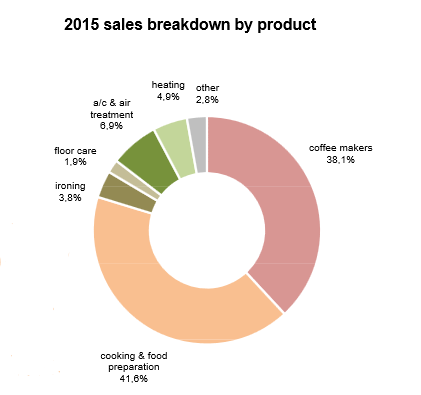 De'Longhi's revenue is geographically well diversified if we consider single countries. Today, only 12.50% of the revenue comes from the company's home country. By the way, about 68% of revenue is derived from Europe and Russia.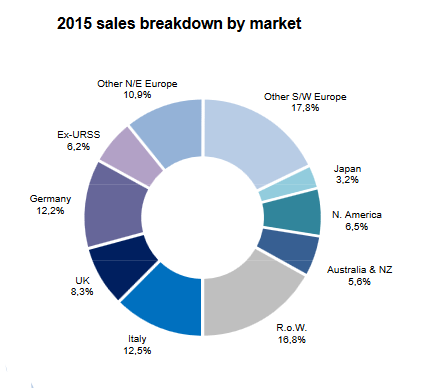 The company has seen a moderate but constant growth in Revenue, at least if measured in EUR and not in USD, while Net Income increased significantly in both EUR and USD. The CAGR since 2008 has been 3.04% in EUR terms and -0.67% in USD.
One of the main metrics I am interested in when it comes to analyzing consumer goods stocks is Gross Margin. Gross Margin is a very direct and clear indicator that I use to measure (in part) the market power of companies and to verify the existence of moats that protect their business. Having moats surrounding a business enables companies to apply prices that are greater than costs. De'Longhi shows very interesting Gross Margins and qualifies as a possible consumer goods stock with a good competitive advantage. De'Longhi actually enjoys a good Gross Margin and has improved it in the recent years. I think that this improvement reflects the strengthening position of the company.
The company has also been able to constantly increase its net margin, leading to higher levels of profitability. Net Income has grown at a 20.78% CAGR in EUR and at a 16.49% CAGR in USD.

I tried to understand whether this level of Gross Margin reflects the existence of a real competitive advantage and what this could consist of. The conclusion is that probably there is a mix of factors that enables the company to have a strong competitive position in several markets, especially in Italy. First, De'Longhi S.p.A enjoys the possibility to use 4 brands that have very strong brand awareness in their respective markets: De'Longhi is the global leading brand in espresso coffee machines, but it's a very well known also for its air conditioners (both fixed and portable), its instruments for food preparation and for ironing. The brand enjoys a very good reputation for being characterized by high quality and nice designs. In 2013, it was awarded Germany's BEST BRANDS AWARDS, a particularly prestigious award in which the brand was the second brand among the fastest growing companies.
The Kenwood brand has a history of almost 70 years. It was acquired by the company in 2001 and is a leader in the segment of instruments for food preparation. Similar to De'Longhi, the Kenwood brand enjoys a good reputation for good products with high quality designs.
The Braun brand is more than 90 years old and belongs to Procter & Gamble (NYSE:PG). In 2012, De'Longhi S.p.A bought perpetual rights to use it for its products in the small appliance segment. Braun is a premium German brand spanning several categories such as personal care, watches and household. It's the no.1 brand for hand blenders and it's constantly growing in food preparation and ironing.
The Ariete brand is known for its practical electronic household solutions in the kitchen, ironing and baby care sectors and enjoys a good position in the Italian market that accounts for 40% of the brand's Revenue.
Brand strength is clearly not the only source of competitive advantage for De'Longhi. We have to consider that the home appliances industry is characterized by a high use of patents for the protection of the company's know how.
Given the significant number of products protected by patents the company markets, I am not concerned by the possible future obsolescence of its products. Owning a large portfolio of products, the company doesn't risk to be severely affected if its competitors try to imitate some of De'Longhi's models.
Clearly, patent rights are not always well protected. The company indicates possible risks coming from countries like China and United Arab Emirates, that don't protect patent rights to the same extent as European law. But given the low exposure the company has to these markets, there is not much to be concerned about.
Recent Developments and Potential Growth
2015 was a good year, revenue was up by 9.5% (-4.0% in USD terms), 6.6% if we exclude the positive currency effect given by EUR depreciation.
The company was able to grow in almost every market:
- Europe delivered +7.1% growth (-6.2% in USD), with South-West Europe growing +9.8% (-3.8% in USD), while North-East grew by a more modest 2.9% (-9.86% in USD), suffering from the significant decline in Russia and Ukraine triggered by weakness in the local currencies. Without Russia and Ukraine, North-East would have seen a growth of 10.9% (-2.9% in USD).
- Asia, Pacific and Americas were positively affected by a favorable currency rate environment characterized by EUR depreciation. The three regions led to a +17.1% growth (+2.60% in USD), with USA, Canada, China, Brazil, South Korea and Mexico being leaders of the growth.
- Middle East, India and Africa delivered a +10.1 growth (-3.6% in USD), with particular growth in Saudi Arabia and Israel.
Geographically, the company has been able to deliver double-digit growth rates in many of its markets. It was clearly helped by the weakness of the Euro against many currencies and negatively affected by the weak Ruble and Hryvnia, but still delivered some interesting growth (+6.60%) on a constant currency basis.
Given the strong competitive position the company enjoys, especially in some of its markets such as Italy and Germany, I think we can expect some good and constant growth for the next several years. I don't think we can expect growth rates in Net Income similar to the 20% De'Longhi has averaged during the last 7 years, but a more modest growth rate in the 6% to 10% range could be easily delivered. I estimated this growth potential on the basis of several researches I came across.
For instance, according to a study by Grand View Research, until 2022, the kitchen appliances market is estimated to grow by a CAGR of 4% in the US and by 5% in Asia Pacific.
Regarding the air conditioning market, it is expected to grow by 5.7% annually until 2018, according to a study from The Freedonia Group Inc., a Cleveland-based market research firm.
Another study from Technavios market research suggests the CAGR until 2020 could be a more interesting 8%.
Current Valuation
With a P/E ratio near 20, the stock can be attractive if the company is able to deliver an EPS growth rate similar to what it achieved in the past 8 years (15-20% CAGR). If we estimate EPS growth at 7-8% for the next 10 years, the current valuation seems fair. A long-term investor could benefit from a stock that has delivered constant growth and that I expect to continue along this path for many years. On the other side, I think that investors who look for bargains should wait for the price to be more attractive. I think the stock can be added to one's portfolio if there is the desire to have a stock that can deliver some stable long-term growth, without the expectation of stellar returns.
Conclusion
De'Longhi is a stable, growing company with attractive financials and good competitive positioning in many markets in which it operates, helped by its brands and patents. It's the global leader in the production of coffee machines and very well positioned in the small appliances market in countries like Italy and Germany. The markets in which the company operates are estimated to grow in both developed and emerging economies, making a further growth of the company quite easy.
The recent dip gives us the possibility to buy a fairly priced stock characterized by a very good growth history and quite good growth potential.
Supporting Documents
Disclosure: I/we have no positions in any stocks mentioned, but may initiate a long position in DELHF over the next 72 hours.
I wrote this article myself, and it expresses my own opinions. I am not receiving compensation for it (other than from Seeking Alpha). I have no business relationship with any company whose stock is mentioned in this article.