By Ryan McMaken
The "true money supply" measure is a measure of the money supply pioneered by Murray Rothbard and Joseph Salerno and is designed to provide a better measure than M2. The Mises Institute now offers monthly updates on the TMS metric and its growth.
Last month, money supply growth held steady around 8 percent after hitting a seven-year low in October. In February 2016, the true money supply was up 7.6 percent, which is a small decline from where it had been, hovering around 8 percent for the last few months, and is the third lowest growth rate measured over the past year. Overall, however, there is no evidence of a significant downward trend in money supply growth since it stabilized around 8 percent in mid-2013.
M2 has tended to be stable over the same time period, and in February, M2 increased 5.7 percent, which means that like TMS, M2 growth has generally been holding steady for the past two years.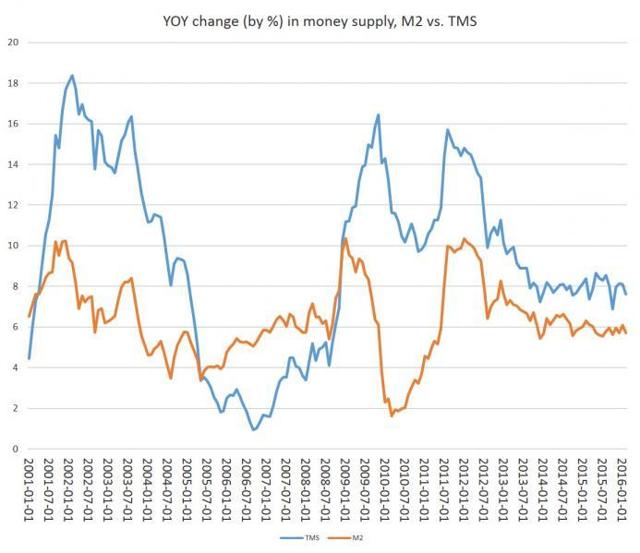 In the TMS measure, total money supply was buoyed by increases in Treasury deposits at the Fed. In January, treasury deposits hit an all-time high, and in February, the total fell slightly from the high, but remained at a high level of $273 billion.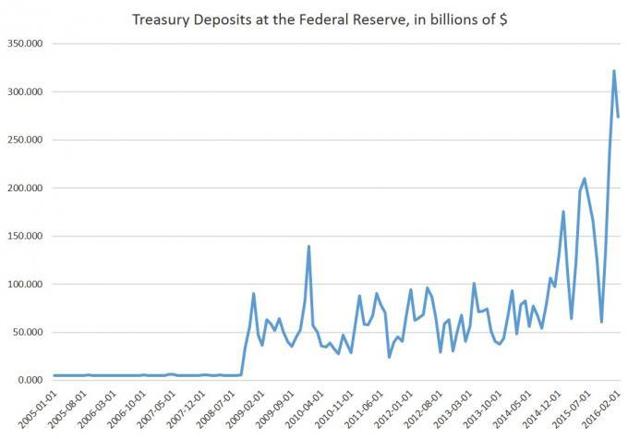 Nowadays, the Treasury uses deposits at the Fed as a type of cash management system to make sure it has cash reserves in case of Congressional gridlock over spending. It also helps pave the way for easy access to Treasury funds in case of a need for bailouts or other "emergency" spending.
Moreover, total deposits have been affected by increasing profits at Fannie Mae and Freddie Mac, as the Washington Post reports:
Fannie Mae and Freddie Mac, the mortgage financing giants taken over by the government in 2008, plans to send taxpayers another $4.6 billion next month as they continue to play major roles in the country's housing market.

That will bring the total Fannie Mae has sent to the U.S. Treasury to $147.6 billion. Freddie Mac has forked over $98.2 billion.
As a House bubble 2.0 has been slow to re-inflated, dollars flowing into Fannie and Freddie has increased as well.
M2, on the other hand, might have grown more were it not for continued declines in small time deposits, which have withered as interest rates continue at near zero levels. It remains to be seen if the Fed's recent rate hike will reverse this trend. Right now, small time deposits are at the lowest level they've been since March of 1977: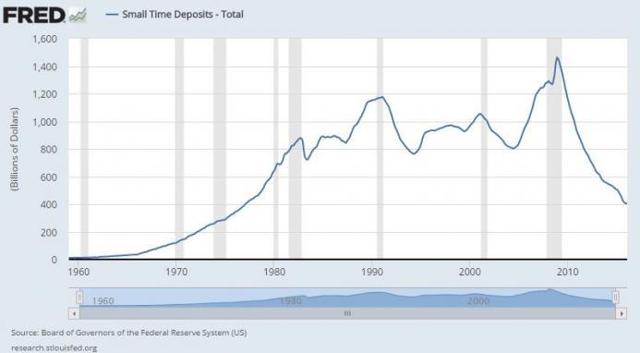 Small time deposits are not included in the TMS, however, as they are not immediately spendable, and do not qualify as money in the Austrian definition.
(To calculate these measurements yourself using FRED at the St. Louis Fed, calculate: M2NS minus TVCKSNS minus STDNS minus RMFNS plus TREASURY.)
Note: The views expressed on Mises.org are not necessarily those of the Mises Institute.
Disclosure: No Positions.