By Xinlan Hu, Florence Kong, Young Le
Despite a decline in share prices from September 2015, Zeltiq Aesthetics Inc. (NASDAQ: ZLTQ) has picked up its momentum February 2016. As the leader in a rapidly growing aesthetics industry, Zeltiq has delivered strong revenue growth and launched new ad campaigns and products utilizing its patented controlled-cooling technology platform.
Revenues has grown by 54.4% Y/Y to $78.4M in Q3 2015, beating the consensus by $0.85M. The $315M guideline for 2016 revenue also exceeded a $313.6M consensus. Q4 EPS of $0.99, compared with a $0.12 consensus, also showed an exceptional growth trajectory driven by CoolScupting's continued penetration of the $4 billion non-invasive fat reduction market (with only 5% addressed) and the increased sales of consumables.
Current Trend Towards "Fitspiration"
The current fast-paced world has seen a trend leading to consumers expecting instant results, according to Mintel. Consumers are less likely to wait for the results of exercise over time and want results instantaneously. Consumers also aspire to "Fitspiration" through prevalent image-sharing sites such as Instagram where a number of Instagram models famous for their toned and healthy physiques. With this new change in consumer behavior, women are more likely to fake a toned body via surgery than the traditional route of exercise. Therefore, we see a growth in the interest in cosmetic surgery.
Data from the American Society for Aesthetic Plastic Surgery (ASAPS) shows that Americans spent more than $13.5 billion on cosmetic surgery procedures (invasive and non-invasive) in 2015, where non-invasive procedures accounted for 42% of the total expenditures. For comparisons, cosmetic procedures have increased by 39% over the past five years (from 2011) with non-invasive procedures up 44%, confirming Zeltiq's technological emphasis.
Besides an increased interest in cosmetic surgery, both Mintel and ASAPS data also indicates that adults are concerned about weight and belly fat and report the highest levels of interest in weight-reduction procedures. According to data from the ASAPS, liposuction replaced breast augmentation as the most performed invasive cosmetic procedure in 2013 seeing an increase of more than 16% in number of procedures compared to the previous year. These findings are consistent with Mintel data, which shows that adults are concerned about weight and belly fat and report the highest levels of interest in weight-reduction procedures such as liposuction and tummy tucks. In conclusion, consumers are increasingly choosing the non-invasive and weight-reduction procedures that Zeltiq has to offer.
Growth Potential in Consumable and Unpenetrated Markets
Zeltiq delivered strong 3Q 2015 earnings, with utilization rate increased by 11% to 1.16x and 54% revenue growth. The increase in utilization rate shows the popularity of Zeltiq's technology with end customers, confirmed by a 93% customer satisfaction rate according to its own market research. We see future growth opportunities in consumable sales (52% of the total revenues) through repeated engagement of a large existing customer base of 3,176 CoolScupting systems across 2,688 practices in over 70 countries.
Besides consumable sales to its installed customer base, Zeltiq has also invested in a $20 million direct-to-consumer ad campaign "Fear No Mirror" since December 2015, which has effectively increased website traffic by three times in the 11 U.S. pilot cities. Its new product launches after receiving expanded clearance from FDA also promise future growth. Cool Mini applicator, which targets submental fat or double chins, reduces procedure time from an hour to 35 minutes and has contributed $12 million revenues in its Q4 2015. Cool Advantage, a bundled 3-in-1 applicator that targets small volume areas of fat, is expected to launch in 2Q and 4Q 2016.
SculpSure from Cynosure, directly compete with Zeltiq's CoolScupting by using gentle heat (hyperthermia) to gently kill the fat cell in localized unwanted collections. But according to the American Academy of Derbatology annual meeting, it induces more pain during the procedure and requires more physician attention. In addition, CoolScupting remains the only device on the market to treat submental fat. We are confident that Zeltiq's superior product quality will differentiate itself from its competitors.
Hedging Strategy with Put Options
Because of the nature of Zeltiq's business - a start-up healthcare technology company, we decide to hedge the regulatory risks and the recent market volatility. We choose out-of-the-money put options because they are less costly and readily available. If the share price is lower than the stock price, we can exercise the option and sell stocks at the strike price, therefore putting a cap on loss. Based on the closing price $24.21 on March 15, we may purchase puts for less than $3 at the strike price $22.5. Our maximum loss per share is thus limited at $4.71 ($24.21-$22.5+$3), or 19%, assuming no brokerage fee.
The following graphs show per share gain or loss, using different hedging strategies. The underperform scenario is extremely unlikely and the $10 difference in loss between a full hedge and a 50% hedge is economically insignificant. Confident about the future of the company, we can hedge 50% or 33% of the downside without sacrificing much profit. We acknowledge that the risks of using option arises because of minimal liquidity, as shown by the trade volume.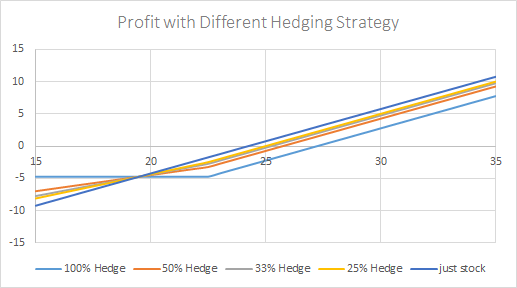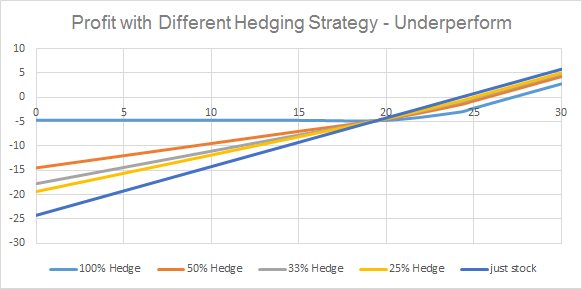 Perpetuity Growth DCF Method
We adopts a conservative growth rate of 2.5% and a WACC of 13.23% assuming a high level of risk in a five-year DCF model. Given the equity value of $1,223, the calculated equity value per share is projected to be $30.12. With the stock price of $24.26 as of March 16, we project an upside of 24.16%. We believe that the market has not fully priced in Zeltiq's revenue growth potential because of its high multiples. We rely, instead, upon our DCF model because Zeltiq operates in a niche market and does not have good comparable companies.
Disclosure: I/we have no positions in any stocks mentioned, and no plans to initiate any positions within the next 72 hours.
I wrote this article myself, and it expresses my own opinions. I am not receiving compensation for it (other than from Seeking Alpha). I have no business relationship with any company whose stock is mentioned in this article.