In the first two parts of this series, we looked at the P/E ratio and its alternatives, and then the Piotroski F Score. Today's value strategy is net-net investing.
Let's begin with a definition.
Net Current Asset Value (NCAV) = Current Assets - Total Liabilities
A company's NCAV can be roughly thought of as its liquidation value. The assumption is that in a liquidation, the company would:
1) Pay off all debt.
2) Get full value for its current assets.
3) Get nothing from long-term assets.
In practice, the only current asset that's a sure thing is cash. Receivables may not be paid in full, and inventory will usually have to be sold at a discount. On the flip side, long-term assets may generate cash.
Nonetheless, companies trading at or near the NCAV proxy for liquidation value are cheap and tend to do well. Let's look at the specifics.
Performance of the NCAV Strategy
The following is the performance of a portfolio with annual rebalance consisting of the 100 Russell 3000 companies with lowest ratio of market cap to NCAV.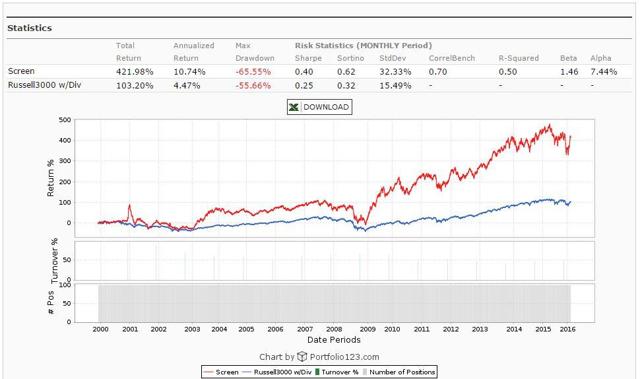 Note that we have also required in this backtest that current assets be greater than total liabilities, i.e. NCAV must be positive. I have used the strong backtesting and screening capabilities of Portfolio123 for each chart in this article.
The low price-to-NCAV ratio strategy outperforms the benchmark with its 10.74% annualized return. It is not the traditional net-net strategy, however, which is based on absolute criteria rather than a ranking system.
Switching to NCAV Discount
The two easy modifications we can make to this strategy are to restrict to only companies trading under NCAV; and companies trading at a significant discount to NCAV.
There is a problem with backtesting these latter strategies, however. When restricted to Russell 3000 companies, the portfolio is often all-in on a handful of positions, or entirely in cash. Net-nets are simply not common enough in most markets.
My solution is to change to a wider universe. In the next backtest, we focus on all but the smallest nanocaps: only companies with a market cap under $10M are excluded.
The following is the performance of all such companies trading under NCAV, with benchmark still Russell 3000: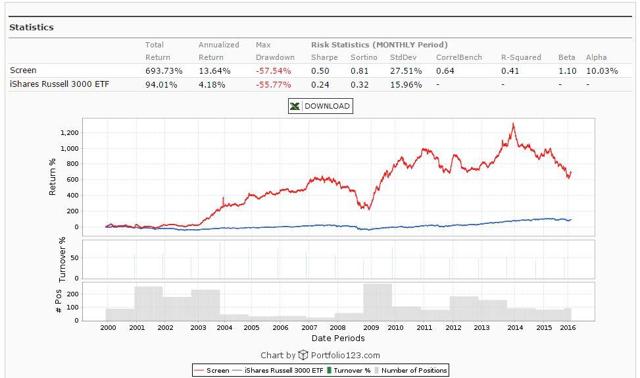 Despite poor results since 2014, and limited investability, this strategy has improved the total return.
The next modification we make is to require a margin of safety, and select only companies trading at a maximum of 67% of NCAV: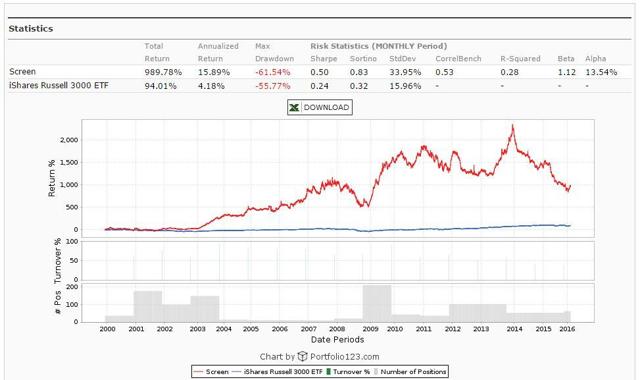 The annualized return improves further, and the recent drawdown worsens.
Again, it is important to keep in mind that both of these last two NCAV strategies will be uninvestable for many due to size and illiquidity. In the conclusion, we will offer one way around these problems.
NNWC and Net Cash
We now focus on the net-net working capital modification to the NCAV strategy.
Net-Net Working Capital (NNWC) = Cash and Equivalents + 0.75 * Accounts Receivable + 0.5 * Inventory - Total Liabilities
Here are the backtest results of the NNWC strategy, buying only companies trading for less than their NNWC, sticking with a $10M minimum market cap: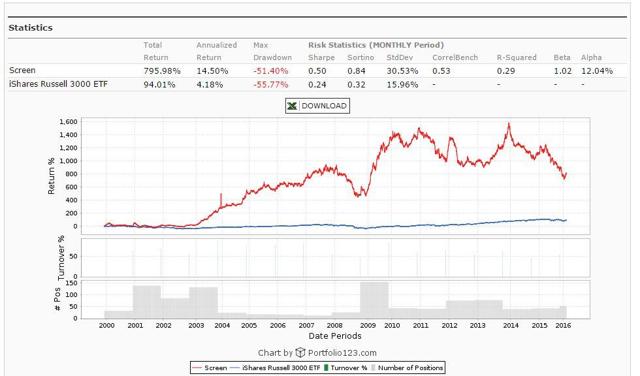 The NNWC strategy has not performed quite as well as the NCAV discount strategy since 2000.
The most conservative measure of liquidation value is net cash.
Net Cash = Cash and Equivalents - Total Liabilities
The net cash strategy slightly underperforms the NNWC strategy with annualized returns dropping to 13.72% since 2000.
Large Cap Performance
Strategies like NCAV Discount and Net Cash perform very favorably in the large-cap space during certain periods, such as bear markets.
Unfortunately, the reason for this is because they almost always have you holding 100% cash.
For those investing in US mid and large-cap companies, traditional NCAV investing will a difficult or impossible strategy to implement. If we repeat our initial backtest selecting the companies with lowest ratio of market cap to NCAV, this strategy has similar returns to the benchmark when applied to S&P 500 companies.
Conclusion
Companies trading at a discount to NCAV, NNWC, or net cash often have major problems. They may be in troubled industries, have problems with management, have fraud concerns, and be consistently unprofitable.
But being very cheap makes up for a lot.
Net-net investing is a market-beating strategy.
The highest performance net-net related strategy since 2000 has been buying companies trading at 67% or less of NCAV, with 15.89% annualized returns.
The NCAV discount strategy often requires investing in a limited number of small, illiquid companies.
NCAV strategies have performed worse for the past two years.
While this series focuses on value investment performance in the US, there are much better markets for net-net investing. For those interested in international NCAV investing, I recommend Evan Bleker's articles such as this one discussing net-net investing in Japan and the UK.
Disclosure: I/we have no positions in any stocks mentioned, and no plans to initiate any positions within the next 72 hours.
I wrote this article myself, and it expresses my own opinions. I am not receiving compensation for it (other than from Seeking Alpha). I have no business relationship with any company whose stock is mentioned in this article.