Last December I stated that there is no saving Linn Energy (NASDAQ: LINE). It would appear that the saga will soon come to an end. In that article, I stated that if investors truly wanted to speculate on oil, one could simply buy oil (e.g. through futures). After the recent rally in crude and Linn Energy's subsequent default, it has become clear that the latter strategy was a much better choice. WTI prices have risen 6.35% over the last three months while the stock has shed over 50%.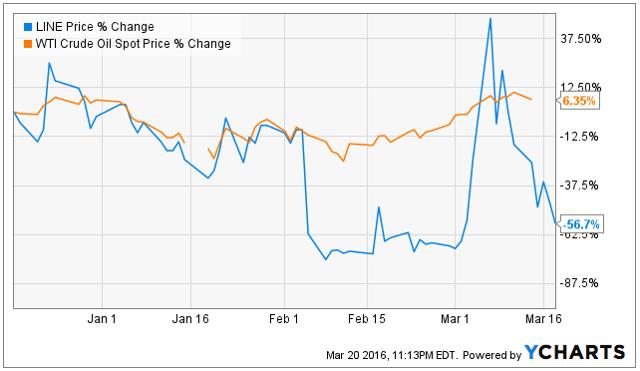 From a fundamental perspective, I don't think anyone will disagree with me when I say that the future is bleak for equity holders. While the writing was on the wall, at least the possibility of a recovery was still there, even just a month ago. However, now that the management has chosen to default on the debt, the probability of a recovery has just become astronomically small. Nevertheless, I believe that there is one thing left to consider.
What You Should Consider
Unfortunately I do not have a crystal ball, so I don't know the exact outcome of the negotiation. You may be wondering: what's the point? Isn't everything in the hands of creditors now? Not quite. In bankruptcy, fair value must be determined. However, there are a variety of ways to value oil and gas companies. To be truthful, the "fair value" is almost never "fair" in reality. Properties that were worth millions of dollars two years ago could be practically worthless today. On the bright side, this also goes the other way. Oil and gas assets could soar in value in just a couple of quarters, possibly months. It is difficult to determine how much the company's assets could be sold for, instead, we can focus on the value of the company's existing operation; and the biggest determinant is - unsurprisingly - the commodity market.
Many will agree with me when I say that the company is not just having a liquidity problem (something that can be salvaged, see Ackman's investment in GGP), but a solvency problem. This means that the company needs to show creditors that it is sustainable in the long-run. 2016's production is mostly hedged (100% of natural gas and 80% of oil), however, the quality (i.e. the price) of the hedges have declined. The price for natural gas hedges have declined 19% year over year from $5.19/MMBtu to $4.20/MMbtu. Similarly, oil hedges have fallen from $96.23/bbl to $90.56/bbl. While the dollar change looks innocent ($0.99/MMBtu and $5.67/bbl), the impact on the bottom line will be much more pronounced due to the thin (and negative) margin.
Even if we assume 2015 prices (which are still higher than the spot prices for natural gas and oil), the weighted average realized price (ex-hedges) is only $3.98/Mcfe, meaning that the loss (including D&A) is roughly $1/Mcfe. From that perspective, the impact of $0.99/MMBtu is tremendous, as it is the difference between breaking even and operating at a loss.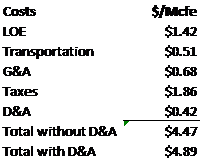 Source: data from 10-K
Using the above information, I believe that Linn Energy would only get favorable treatment if natural gas prices rally by 50% and crude continues its recovery to the $45-$50/bbl level to make up for the loss in hedges.
Conclusion
Everyone knows that there is a high degree of uncertainty in the bankruptcy court, but one should also consider that during the process, the fundamental value of the equity could also change. In this case, the fair value of the equity is immensely tied to the commodity market. I cannot provide any insights as to exactly where oil will be in a couple of weeks, let alone months. But that may exactly be the kind of uncertainty that equity holders should be looking for, as it is the only thing that can save equity holders right now.
Note: I spend a great deal of time researching every company in the V20 Portfolio (+40% in 2015). If you are looking for some ideas that could complement your own portfolio, you can click the "Follow" button and be updated with my latest insights. Premium subscribers will get full access to the V20 Portfolio.
Disclosure: I/we have no positions in any stocks mentioned, and no plans to initiate any positions within the next 72 hours.
I wrote this article myself, and it expresses my own opinions. I am not receiving compensation for it (other than from Seeking Alpha). I have no business relationship with any company whose stock is mentioned in this article.
Editor's Note: This article covers one or more stocks trading at less than $1 per share and/or with less than a $100 million market cap. Please be aware of the risks associated with these stocks.