In the wake of Martin Shkreli and Valeant's (NYSE:VRX) troubles, specialty pharma shares have gotten clocked. Like the rest of the space, ANI Pharmaceuticals (NASDAQ:ANIP) has gotten walloped. But the underlying business appears to have not suffered any direct setbacks from the sector's issues.
At the currently depressed share price, it's easy to make a strong case for the company based on its excellent financials and growth prospects. Against that, there are many risk factors that we consider in this article.
ANI is a relatively unknown company. It came public via merger with the struggling biotech firm Biosante. Shares exploded higher in 2014, but have gotten caught up in the same industry-wide selloff starting in mid-2015: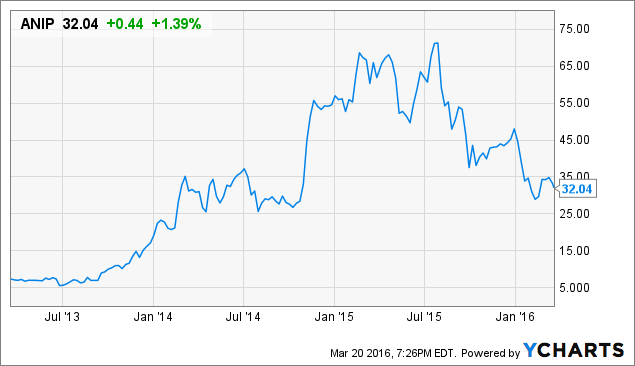 ANIP data by YCharts
A subscriber asked me if this is a buying opportunity. The quick answer is that yes, it may well be. But there are substantial risks as well. This is a high risk/high reward situation. We'll start with the upside first.
ANI's Bull Case: Rapid Growth At Reasonable Valuation
ANI has shown tremendous revenue growth over the past couple of years. Revenues are up almost five-fold since 2011, moving from $16 million in 2011 up to $76 million for full-year 2015. Revenues are up 150% just over the past two years. The sales momentum has come both from organic growth and numerous acquisitions.
EBITDA has shown a similar trend. ANI generated essentially break-even EBITDA in 2012 and 2013, but this surged to $24 million in 2014 and $40 million last year.
The company has expectations of strong growth for 2016 as well. On the company's latest conference call, they guided 2016 revenues to $105-$112 million. EBITDA is to come in between $45 million and $53 million.
Compared to 2015, that means revenue will rise about $30 million, a 40% year-over-year jump. Of that, the company expects around $17 million, or just over half, of the new revenues to come from product launches rather than organic growth.
You'd normally expect to pay a fairly stiff premium for such a rapid rate of growth. And last year, you would have. But with the biotech and broader healthcare sector woes, ANI shares have gotten halved despite not much directly going wrong with the company.
With the company's $325 million enterprise value (not counting potential dilution from the warrants), this is trading at less than 7x 2016 EBITDA. That's potentially quite a steal.
And if the company's projections for annualized revenues from 2016 product launches turn out to be near the mark, shares would potentially trade as low as just 5x 2017 EBITDA.
The company's "near-term goal" is $100 million in annualized EBITDA. Should that get hit in the next couple of years, the company's current sub-$350 million Enterprise Value would be way too low. The company, if its current trajectory can be maintained, would be an easy multi-bagger. If nothing goes wrong, the stock probably trades in the triple digits by the end of the decade.
What Could Go Wrong?
The upside case here is pretty straightforward. More acquisitions, more new generic launches, rapid growth, and the share buyback will propel the stock. Like other generic companies such as Lannett (NYSE:LCI) and Taro (NYSE:TARO) before them, ANI could go on to be a five or ten bagger in due time.
But the winds have turned in the specialty pharma sector. As anyone following Valeant knows, a leveraged growth platform can go from new all-time highs to the brink of defaulting on their debt in less than a year.
And the Valeant syndrome appears to run more broadly across the sector than people may have thought. ANI doesn't mention Valeant as a direct competitor in its most recent 10-K. However, several of the firms it does list as competition have faced similar travails in their share prices recently. For example, here are three of ANI's disclosed competitors and their recent share prices.
Lannett: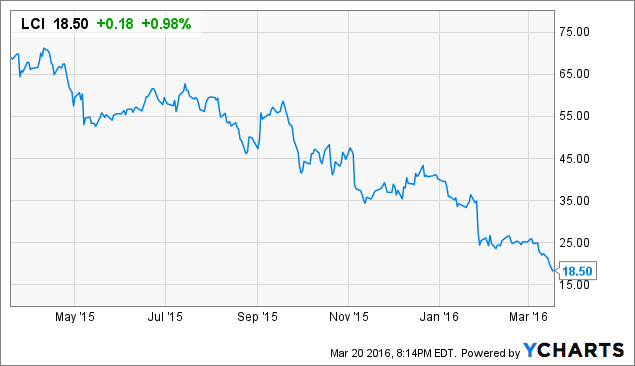 LCI data by YCharts
While that's not quite Valeant-bad, down 70% in a year is still pretty awful.
ANI does list Endo (NASDAQ:ENDP) as a direct competitor as well. Endo has been viewed by traders as the most Valeant-like of other listed firms: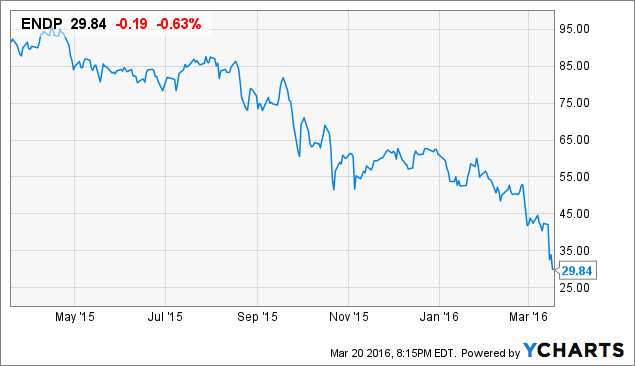 ENDP data by YCharts
Also down about 70% since last spring. As you can see, Valeant is not being perceived as a one-off.
Finally, we should discuss Mallinckrodt (NYSE:MNK):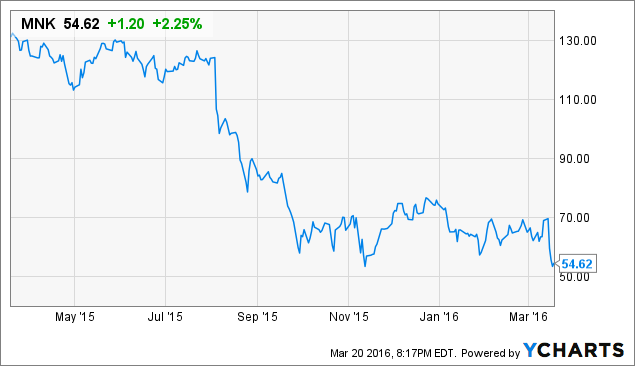 MNK data by YCharts
Mallinckrodt bought Questcor, maker of Acthar gel. Questcor took the drug, which has been on the market since 1952, from $40 a vial up to more than $30,000 today. Short sellers long targeted Questcor, saying the drug was being used in cases where it wasn't appropriate, and that the company was taking advantage of Medicare.
These claims were given further weight when an investigative report found that most of Acthar's top prescribing doctors were affiliated with Questcor.
For whatever reason, Mallinckrodt bought Questcor despite the controversy. Now short sellers are back with a fury. Citron Research, who correctly called Valeant's downfall, says that Mallinckrodt is an even worse company than Valeant.
We'll get back to Mallinckrodt later, since there's a specific risk to ANI. But first, what does the broader industry malaise suggest?
Specialty Pharma: Is This A Normal Downturn or Something Worse?
There's two separate though related events hitting the drug business. First is that biotech inflated a big bubble between 2012 and 2015. Far too much money was thrown into early stage clinical biotech firms.
Valuations soared as investors started assuming that a new era of drug development was at hand. However, a series of drug failures and lagging momentum left biotech vulnerable, and when political winds shifted, speculators lost their risk appetite. As you can see from the biotech ETF (NYSEARCA:XBI), we're well into the deep bear market that will unwind the last few years' excesses: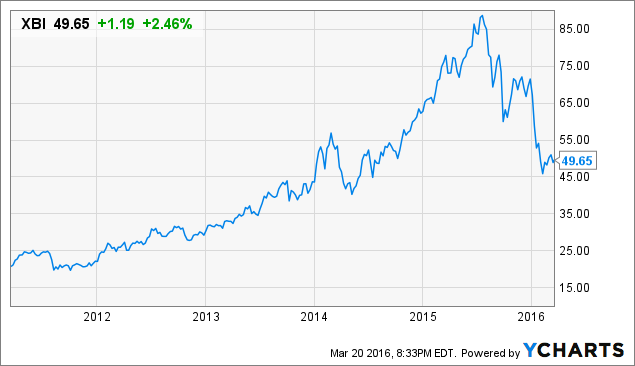 XBI data by YCharts
At roughly the same time that the biotech bubble peaked, the Valeant story started to unwind. It's beyond the scope of this article to discuss Valeant in detail here.
Just to summarize the important takeaway, Valeant's brazen actions have shined a spotlight on a normally obscure part of the healthcare industry. The price of specialty drugs is not something that gets a lot of attention. It's a problem for a few insurance companies and Medicare, but it's not something that usually raises much public outrage.
But between Valeant's methods being exposed to public scrutiny and the downfall of Martin Shkreli, specialty pharma is now under the radar. Hillary Clinton has publicly denounced Shkreli and other such pharma opportunists. And on the Republican side, Donald Trump has made a lot of noise about cracking down on drug pricing as well.
One has to ask if the acquire old drug and jack the price up model is about to expire. Even if Valeant survives in its current form, it is unlikely to be able to expand as it did in the past. In the biotech mainstream, the fact that companies like Gilead (NASDAQ:GILD) are facing Senate investigations related to high drug prices also bodes poorly.
Particularly, if a Clinton presidency comes to pass, it is hard to imagine drug companies will be able to continue with their old roll-up style growth models. For a company like ANI that makes many small acquisitions, the future doesn't seems as bright as the past as far as its growth prospects go.
It's worth noting that ANI is currently targeting 10% price hikes every six months for its most important drug. That seems aggressive in the new political reality.
ANI's Recent Acquisition Could Bring Trouble
Speaking of purchases, ANI just spent $75 million on a couple of New Drug Applications (NDAs) from Merck (NYSE:MRK). The drug applications are for a corticotropin gel and zinc hydroxide.
These products will compete directly with Mallinckrodt's controversial Acthar gel. According to Citron, Acthar is an untested product that is being sold with little to no evidence of its efficacy.
If Citron ends up being right, there's a good chance that Acthar sales could collapse in coming years. While I'm not interested in weighing in on Mallinckrodt's stock, I will say that the skepticism toward the efficacy of Acthar seems well placed. I remember researching Questcor - Acthar's previous owner - because my dad had MS, and finding that most commentary within the MS community toward Acthar wasn't particularly positive.
So ANI has just spent more than 20% of its market cap to compete with a drug whose success may be based on a flimsy foundation. There's a chance of a sizable writedown in the future.
Potential Short Seller Target?
But more than just the possibly misspent $75 million, it raises a broader question. Could this stock, like Valeant and Mallinckrodt, get hit by an activist short seller? The acquisition of a competing product to Acthar means that Citron almost certainly has ANI on his radar now, among other firms.
ANI currently sits at 20% of the float sold short, which is a very high figure, particularly for a company whose stock is already down so far recently. You don't usually get to 20% of the float short unless short sellers have a very specific and meaty thesis. Put another way, stocks don't get shorted that heavily just based on valuation.
Let's imagine a hypothetical Citron attack article on ANI. We can basically recycle several of his bullet points on Mallinckrodt and they ring as true for ANI. For example, Citron said:
I think Mallinckrodt is worse [than Valeant] because they are dependent on one drug, close to let's say 50 percent of their EBITDA, depends on what metric you want to look at, is dependent on one particular drug. Not let's say 30 that Valeant has.
At ANI, one product accounted for 51% of sales in 2015.
Or take this:
At least Valeant can say, 'Hey, look at our products.' Mallinckrodt has one product that's never been tested," Left said, referring to Acthar.
Does ANI have products without FDA approval? Why yes, its 51% of revenues product doesn't have an NDA or ANDA. From ANI's 10-K:
Two of our products, EEMT and Opium Tincture, are marketed without approved NDAs or ANDAs. [...] [T]he FDA has stated that it will follow a risk-based approach with regard to enforcement against marketing of unapproved products. The FDA evaluates whether to initiate enforcement action on a case-by-case basis, but gives higher priority to enforcement action against products in certain categories, such as those with potential safety risks or that lack evidence of effectiveness.
That lack of effectiveness might be a problem. ANI itself notes that the usefulness of the product has come into question:
The market for hormone therapy products has been affected negatively by the Women's Health Initiative ("WHI") study and other studies that have found that the overall health risks from the use of certain hormone therapy products may exceed the benefits from the use of those products among postmenopausal women [...] The NIH announced that it was discontinuing the arm of the study investigating the use of oral estrogen/progestin combination hormone therapy products after an average follow-up period of 5.2 years because the product used in the study was shown to cause an increase in the risk of invasive breast cancer. The study also found an increased risk of stroke, heart attacks and blood clots and concluded that overall health risks exceeded benefits from use of combined estrogen plus progestin among postmenopausal women.
If you own ANI, I'd come to your own conclusions about the potential benefits or risks of hormone replacement therapy. I'd just say that if you wanted to go after ANI from the short side, you can make a sharp argument.
The company derives more than half its sales from a product that may increase the risk of breast cancer, strokes, and heart attacks. And it wasn't formally approved by the FDA - and thus is vulnerable to regulatory action at any moment. Much of ANI's organic growth in recent years has come from this product, which has moved from a third to over half of total company sales.
Furthermore, the company is moving into competition with Acthar, another product of questionable utility. ANI is also involved in opioid-based products. ANI buys opium and oxycodone directly from the Drug Enforcement Agency (DEA) in order to manufacture certain products. With the recent political pressure to crack down on prescription painkiller abuse, you could see trouble here as well.
Excellent Growth But Many Questions Going Forward
Based on the last four years or so of growth at ANI, this stock is a clear long based just on the financial statements. I imagine that Bill Ackman had a similar moment of joy looking at Valeant's enviably strong financial results as he decided to bet the farm on that firm's stock.
For an outsider, it's hard to judge whether Endo, Lannett, Mallinckrodt, or ANI could be another Valeant. The professional analysts totally missed the major problems at Valeant. These are extremely complicated businesses to analyze.
If ANI can execute on its stated growth plan, the stock is a screaming buy after the recent drop. At the $100 million annualized EBITDA management is targeting, it's easy to imagine ANI's stock tripling from today's levels.
If you buy a small amount of the stock with the thought that it could either triple or go bust, I think that's a reasonable speculation. The odds of getting the triple rather than the bust aren't too bad. I wouldn't make it a huge bet though.
If you really like the space, I'd consider buying a basket of the companies that have gotten hit by the Valeant scandal, such as Lannett, Endo, and ANI. It's unlikely that all of them would go bust, and given the current low valuations across the space, survivors should see their stocks appreciate greatly.
That said, it's very easy to see how a Citron-style research firm could cook up a hit piece on ANI and send shares spiraling lower. You can find a variety of things that raise eyebrows even just within the company's 10-K.
I rate this stock a hold. If you own it, I don't see why you'd sell now if you liked it at higher prices. I can see the appeal of buying a small position with speculative money, the stock could easily be a multi-bagger. But there are enough risks, along with the really high percentage of stock sold short, that make me suspect that this company will receive more unwanted scrutiny in coming months.
Disclosure: I/we have no positions in any stocks mentioned, and no plans to initiate any positions within the next 72 hours.
I wrote this article myself, and it expresses my own opinions. I am not receiving compensation for it (other than from Seeking Alpha). I have no business relationship with any company whose stock is mentioned in this article.
Additional disclosure: This is one in a series of articles covering individual stocks requested by Ian's Insider Corner members. A membership in the service entitles you to a similar report on a company of your choosing each quarter. I explicitly refuse to take any requests with a directional bias - all reports are from a neutral perspective.