This past weekend, the Sherwin Williams Company (NYSE:SHW) announced that it would buy Valspar Corporation (NYSE:VAL) for cash, paying $113 per share. Valspar is a large holding in the Model Portfolio I created last November. Predictably, shares of VAL rallied explosively Monday morning, and were last up 25% on the news of Sherwin William's acquisition.
The only times I sell stock are either (1) when management lies or does a series of truly and profoundly stupid things, or (2) when a company I own gets bought out. The latter situation is certainly preferable to the first, but even with a very passive investment approach, which I use both for the Model Portfolio as well as my own personal investments, there does come a time to sell. And so, with a heavy heart, I now say goodbye to Valspar and hello to its replacements in the Model portfolio.
For the Model portfolio, I have opted to sell all shares of Valspar at a gain of nearly 30%, clearing over $40,000 of hypothetical cash, and to reinvest $20,000 of that cash into shares of Visa (NYSE:V), and $10,000 each into Omega Healthcare Investors (NYSE:OHI) and Kinder Morgan (NYSE:KMI). This differs somewhat from what I have done in the real world, where the VAL proceeds are significantly greater, requiring me to diversify more than I have in the Model Portfolio.
As a result of this lucky windfall, the Model Portfolio now produces income of $10,575 a year - erasing the loss of income last November when Kinder Morgan slashed it's dividend. The stated objective of the Model Portfolio is to produce a steady stream of income from reliable businesses. The income growth is slightly less than .6% since November of 2015, when I first started the project. The Model Portfolio shows total gains since inception of 6%, compared to the S&P500 loss of nearly 3% over the same period. It's been a fun ride.
The question now becomes, how can we keep up the fun? The answer is to keep doing what we are doing: buy shares of great businesses, collect the dividends, and use those to buy more shares of great businesses. We bought Valspar because it produces a steady and growing dividend, sells a product we understand and that is always in demand, and the shares were cheap at the time. Valspar had an additional benefit, which I honestly saw as a detriment until this weekend. Valspar is second best in it's industry, not first. Buying businesses is like ordering Scotch - you don't regret going for top shelf. But if you think about it, cheap second-best companies with strong free cash flow make IDEAL takeover candidates. Valspar was once priced like a rail drink, but this morning, this morning the stock is priced like a shot of Glenfiddich 40 year (and assuming the deal goes through, VAL stock will hit $113 a share and be priced like a Glenfiddich 50 year Scotch).
The composition of the Model Portfolio is now as follows: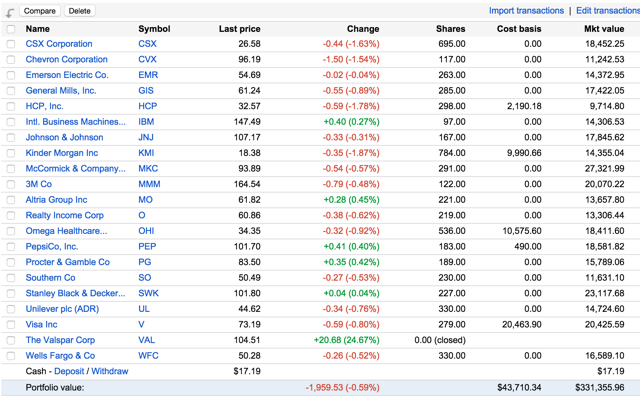 The price performance of the Model portfolio is what you can see in the chart, below:

Originally, I published this Model Portfolio with a view that I'd do nothing but reinvest dividends once a year. I envisioned no sales. Now, I could call my switched-up strategy something like adaptive investment behavior, but let's just be frank. I lied, and I was wrong. Nobody cares when a portfolio is outpacing the S&P500, but trust me, it would sound less cute (a whole lot less cute) if the Model Portfolio was falling apart. So, I will once again spell out the investment plan exactly, and agree to stick by it barring some dramatic reason to prompt further deviations in how this Model Portfolio will be invested.
I will own the best businesses I can find. I will reinvest dividends. I'll strongly favor adding more shares to already existing positions, instead of adding entirely new companies. I won't sell anything unless the investment world shifts 180 degrees on its axis, a portfolio company does something dishonest, or a portfolio company gets bought out.
Happy investing to all.
Disclosure: I am/we are long OHI, V, KMI.
I wrote this article myself, and it expresses my own opinions. I am not receiving compensation for it. I have no business relationship with any company whose stock is mentioned in this article.
Additional disclosure: This model portfolio is designed for entertainment purposes only. I am not an investment advisor, and nothing in this article constitutes investment advice. I don't recommend any particular stock, transaction, portfolio, or anything, because I am not qualified or licensed to recommend anything.