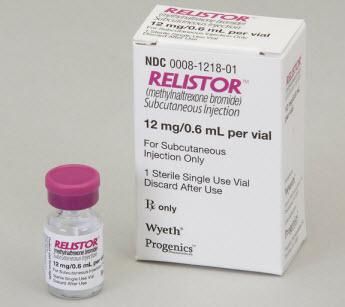 Image source: DrugTopics
Progenics (NASDAQ:PGNX) is seen as Valeant's (NYSE:VRX) collateral damage in the last few days. The stock is down around 15% after reporting Q4 earnings, but that was not the reason for the sell-off - Valeant was. The troubled pharma company is having difficulties with its financial statements, which might prompt a technical default soon, and the market is probably discounting the potential problems with Relistor, for which Valeant is responsible. Royalty and milestone payments may even come into question, but the problem should be temporary in nature, and in the case of a default, Progenics may have to find another partner for Relistor. However, Valeant has some time to negotiate the terms, and avoiding default is a realistic possibility, since I do not believe that creditors want the company to fail - it seems like a technical issue right now (but an issue that can escalate rather quickly, so I would not dismiss it). However, these issues are Valeant's for the most part, and Progenics is not in any real trouble. Relistor has a bright future, especially with the potential approval of an oral version in April. The rest of the pipeline is also progressing nicely, and Azedra has a good chance to reach the market by 2018.
What is happening with Valeant and Relistor?
Valeant's share price has lost more than half of its value last week due to default concerns, lower FY revenue and EBITDA guidance, and probably due to the market losing faith in the company's business model and management. I will not repeat the issues here, since they are being covered very well on Seeking Alpha, but I want to analyze a couple of things that are related to Progenics:
Valeant has reduced its revenue and EBITDA guidance for 2016, citing challenges and more moderate growth expectations. The GI segment is part of those lower expectations. However, most of the weakness in Valeant's GI segment is related to Xifaxan and its significantly lower revenue recognition in Q4. The company expects the GI segment to grow in double digits this year. Relistor has not been mentioned in a negative way on its Q4 conference call. Some customers have also reacted negatively to Valeant's deal with Walgreens (NASDAQ:WBA), but the GI segment is not part of that deal, and Relistor should not be significantly affected.
The threat of default is a real one, but should be technical in nature, and Valeant has enough time to get its affairs in order. Fellow contributor Orange Peel Investments sheds more light on this subject, and states that the company has until April 30 to reach a deal with creditors and to file its 10-K, which sounds achievable to me. Orange Peel Investments also argues (and I agree) that creditors are not out to kill Valeant, and that this is not in their best interest either. Both the creditors and Valeant management have the same goal - for the company to pay back the debt, which can be achieved by keeping it alive and by growing the business. However, if a default is to occur, Progenics might have a problem with the $50 million milestone payment for the approval of oral Relistor in April, as well as with royalties coming from Valeant. This is a problem, but it's Valeant's problem, and while it may temporarily affect the royalty streams for Progenics, the company has enough cash on its balance sheet to wait for the dust to settle and to eventually find another partner for Relistor (if Valeant is not able to comply with the terms of its contract with Progenics).
Progenics' management noted on the Q4 2015 conference call that the stocking issues are likely behind them, and that revenues and royalties are largely in line with prescription trends, which have been healthy in early 2016. The company's royalties in Q4 were $3.4 million, reflecting $23 million in sales for the quarter, and this year's royalties will probably be in the $20-25 million range if Valeant manages to avoid a default and if an oral version is approved. This is essentially what the analysts are modeling for this year - $72 million in revenues ($50 million milestone payment and $22 million in Relistor royalties).
I think oral Relistor has a good chance to generate at least $300 million in annual sales in three to five years, which translates to $49 million in annual royalties for Progenics and $55 million in additional milestone payments (in addition to the $50 million milestone for approval of the oral version). Valeant did not reveal its peak sales expectations for Relistor, but Salix expected (prior to being acquired by Valeant) $300 million for the injectable version and $1.3 billion for the oral version. Given the recent growth trends (the injectable version was close to $100 million in revenues on an annualized basis in Q4 2015), half of the estimate for the injectable version is realistic ($150 million), and if we cut the oral version's estimate in half, we get an annual peak sales estimate of around $650 million. This translates into more than $100 million in royalties for Progenics, which significantly exceeds the company's annual expenses.
Increasing competition is an issue, but has likely resulted in substantially increased awareness. For example, AstraZeneca (NYSE:AZN), which markets Movantik, made a Super Bowl ad this year which has certainly made a big impact on awareness. Progenics' CEO, Mark Baker, has a positive view on this subject:
I have my own view which is it was great to see the Super Bowl ad. I hear their disease awareness ads for Movantik drug in car as I'm driving to work and I definitely picking up increased discussion around opioid induced constipation which is a wonderful thing because you know it can be difficult to talk about constipation and I think the Super Bowl ad got a little bit of a nervous reaction from the Internet.
Mr. Baker also noted that they are hopeful Valeant can get a strong collaborator in Europe, and AZN's deal with ProStrakan for Europe that was announced in early March is an indicator of solid interest for OIC in the EU. This might be a positive catalyst for Progenics in the following quarters.
The rest of the pipeline is progressing nicely
The rest of the pipeline was neglected in the wake of the Valeant drama, and the progress has been encouraging:
Azedra, the company's ultra-orphan candidate, has received a breakthrough designation from the FDA last year, and Progenics has completed enrollment of 68 patients in December 2015 for its pivotal phase 2b trial. Top line results are expected between December 2016 and March 2017, and if positive, the company should submit the NDA in 1H 2017. Progenics said that the FDA has indicated it would grant a full approval instead of conditional approval based on the positive outcome from the phase 2b trial (no need for confirmatory phase 3 trial). Given the timeline, Azedra could reach the market as early as 1H 2018. As mentioned in my previous article, it could generate peak sales in the $100 million neighborhood, but a price point significantly above $100,000 (which has been used to model the mentioned peak sales) could be much higher, since Azedra is targeting an ultra-orphan disease. Given the current valuation, Progenics could deliver meaningful long-term upside with Azedra alone. The disease's prevalence in the U.S. is 3,000-6,000 patients, and a price tag of $200,000 a year and a penetration rate of 30% translates into annual sales in the $180-360 million range.
The PSMA-targeted prostate cancer pipeline is progressing nicely as well. A pivotal phase 3 study of 1404 is underway for prostate cancer. The company expects to enroll 450 patients with newly diagnosed low-grade prostate cancer patients, and an interim analysis of the phase 3 trial is planned for the second half of 2016.
In November 2015, Progenics completed the acquisition of EXINI Diagnostics AB, a developer of artificial intelligence-based image analysis tools from Sweden. The acquisition should enhance the prostate cancer imaging programs - 1404 and PyL.
The company also plans to initiate a phase 1 study of 1095 in 2H 2016. This an early-stage candidate, and I do not expect it to have a meaningful effect on Progenics' valuation in the near term.
A lot of negativity is already priced in
Progenics' market cap is currently just below $300 million. The company had $75 million in cash and equivalents at the end of 2015, and cash expenses this year should be around $50 million. If we add around $20 million in Relistor royalties and the $50 million milestone payment from Valeant, it should end 2016 with almost $100 million in cash. The financial situation should be relatively stable even if royalty and milestone payments are delayed, and if they are not, the company should be in excellent financial shape and will not need to raise capital at all.
The potential commercialization of Azedra should not be a major burden, since Progenics plans to hire a small commercial team.
Continued weakness in the sector could keep the stock depressed, and additional weakness is possible.
Conclusion
Progenics should not be adversely affected by Valeant's problems, and I think the company should deliver solid long-term gains for its shareholders. The potential approval for the oral version of Relistor and positive top line data from Azedra trial should have a positive effect on the PGNX share price, and I continue to believe the company is undervalued on Relistor alone, and that the pipeline is a free call option for long-term investors.
Disclosure: I am/we are long PGNX.
I wrote this article myself, and it expresses my own opinions. I am not receiving compensation for it (other than from Seeking Alpha). I have no business relationship with any company whose stock is mentioned in this article.
Additional disclosure: This article reflects the author's personal opinion and should not be regarded as a buy or sell recommendation or investment advice in any way.