Chaos Brings Opportunity
Right now oil is synonymous with one word: volatility. Depending on who you talk to, you'll hear a story of gloom or doom. Last week we had a huge rally. Now, we're hearing more evidence that prices are going back down. I can't say that I don't agree that oil will probably pull back once again. We're in a situation where on the one hand, the U.S. needs to cut production in order to get prices back to profitable levels.
At the same time, so many of our firms are facing the possibility of default that any spike in oil prices seems likely to spur increased rig activity as companies try to eek out every little piece of the pie that they can. At the same time, Saudi Arabia and the rest of OPEC are continuing to put the energy industry under pressure as they continue increasing supply. In a way, we're looking at the most competitive oil market since before Standard Oil.
With all the uncertainty, there are good trades to be made. I bought into the United States Oil Fund ETF (NYSEARCA:USO) at $9.65. Obviously, thus far I'm pretty happy with the outcome. My goal this year is 5% on all my trades. With the ETF idling around $10.50 as I write this, I've outdone myself in my goals. The big question now is whether to lock in profits, or try to find a peak like the $10.80 that happened last Friday.
Regardless of what I end up doing, this is an example of the margins that have been created by cheap oil. The commodity is moving at least 3% to 4% a week right now. As long as you look for the pullbacks rather than chasing the runs, I think one can make a lot of money right now.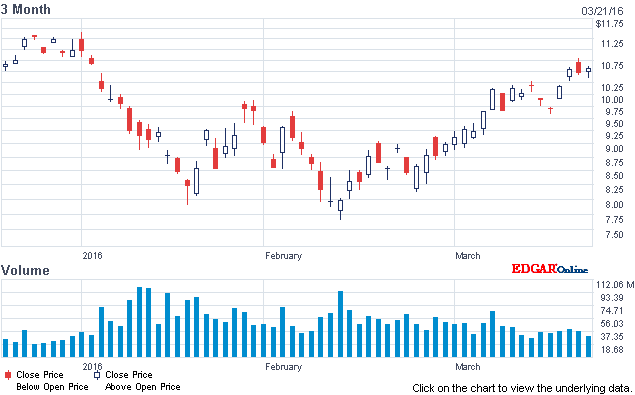 (Source: Nasdaq.com.
The Way I Look at Oil
Right now, energy commodities are about momentum. Because of the all the different geopolitical factors that are playing on energy right now, it's silly to try and be overly technical. I bought in just around the time that the Fed announced they weren't going to move on interest rates. This hold off on what would ultimately strengthen the dollar, helped contribute to an oil rally. When you couple that news with the potential leveling of OPEC production, we're getting speculative support to prop up oil. That's what I think is the best way to make moves on the commodity. It's following headlines as much as supply and demand.
Will it last? Probably not. An OPEC freeze will only keep production levels from growing even further. It won't help stop the supply glut we currently have. I don't plan on holding my position in USO for more than a few more days at most. I still think there's some support for another climb. Oklahoma Cushing stockpiles have fallen which could give us one more bump. If it doesn't happen by Wednesday, I'll hop out and wait for the next opportunity. The possibility of producers trying to bump up production again is too likely to keep the ETF long term.
More Than One Opportunity
Once I get out, I won't be moving on. I am looking to trade USO multiple times over the coming months. I will look for a fall back to around $34-$36 and hop in again. OPEC's April meeting will undoubtedly cause drama in pricing. The fluctuations will open up more avenues for "headline" trades. No doubt our current presidential election will have its own effects on oil's moves. It's looking more and more like Donald Trump could be in the 2016 general election. The current rhetoric being passed around on the topic of trade and multinational competition is definitely going to affect the markets in a big way this year. Pay attention to oil events, and capitalize on them.
Disclosure: I am/we are long USO.
I wrote this article myself, and it expresses my own opinions. I am not receiving compensation for it (other than from Seeking Alpha). I have no business relationship with any company whose stock is mentioned in this article.