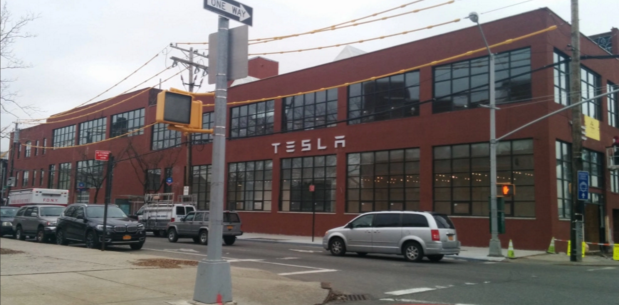 (Image source: Here)
A potential workaround solution for home charging in China and other densely populated markets
In recent news, it was noted that in Manhattan and soon Brooklyn, Tesla (NASDAQ:TSLA) will offer "valet services." By this, the company means someone will meet you at your vehicle when you are done with it or it needs a charge, and bring it somewhere, charge it and return it before you need it again. This would greatly discount the fear of needing "designated parking" or reserved spaces in residential areas, or priority for certain vehicles based on fuel and charger type.
This also eases fear about being able to find a charger. If going out of your way to replenish your charge was a concern to you, it no longer needs to be. Keep in mind, this is in addition to having extensive charger locations in many garage networks.
More possibilities based on recent information regarding Tesla service center and sales expansion
In addition to the service the company is offering in a partnership with the company called Luxe Valet (and possible others), as well as the garage destination chargers throughout the boroughs (and world) mentioned in the article, another thing I found interesting was that Tesla has an entire parking garage equipped with chargers above its Brooklyn facility which just opened this past Friday.
This facility looked to be heads and shoulders in finish and overall quality of appearance compared to the store in Manhattan as it currently exists. In typical Tesla manner, it was purchased with room to grow into, probably to provide a closer home than the current Paramus center for many of the current and future drivers in the metropolitan area. This also more than doubles the company's current footprint in New York City and creates an increased Brooklyn presence as well.
This should serve as a reminder that Tesla is expanding to accommodate current and future customers at a rapid clip. Tesla also seems to be laying the foundation for a MaaS (mobility as a service) type line of business. This would put Tesla in direct competition with Uber (UBER), Lyft (LYFT), Google (GOOG, GOOGL), Ford (NYSE:F) and many more emerging alternatives.
If Tesla enters this business, it will be at an obvious advantage to any of these services that rely on non-autonomous vehicles or joint partnerships between software and manufacturing companies. This leaves only competitors such as Faraday Future in the mix as having a possibility. This ties in with my next point.
Tesla's non-dealership method was extremely brilliant, and for reasons some cannot appreciate yet
Having a physical company-owned store makes sense, for many reasons, for Tesla. One of the most well-known is that dealerships lose money in the current market selling electric cars, due to less big ticket items and complex systems involved for paid servicing. This can discount over 40% of revenue for many dealers, who largely make the rest of their profits off financing and not even the sale of vehicles.
Perhaps the most obvious reason is by cutting out the middleman, Tesla can potentially enjoy larger margins. I would say this is of medium importance.
In my view, the most important reason for this is that Tesla is laying infrastructure for taxi bays for its own fleet of company-owned autonomous vehicles.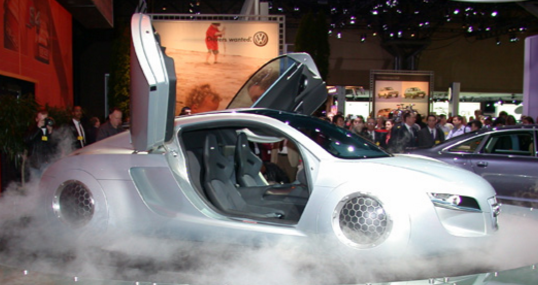 I, robot car (admittedly, this is actually a spiffed up Audi). (Image Source: Here)
With self-driving cars, the obvious future solution to one of the leading causes of death in the United States, ownership becomes less practical. Tesla has realized this and has begun establishing its charging bays globally at some of the most popular consumer destinations around the world. While this also helps ease current range anxiety and provides some advertising, it has much more utility when considering a company-owned fleet.
Tesla has alternative aims that will position it better for the coming disruption than competitors
I propose Tesla's business model is working towards selling and leasing vehicles, generally to get them returned after a few years (either at the end of the lease term or whenever the owner is ready for an upgrade), then fix anything necessary and utilize the cars as self-driving taxis that can be ordered via app. With sophisticated fleet learning and tracking software, as well as the OTA updates, Tesla is really building cars to last.
CEO Elon Musk has also declared Tesla has a goal of making each drive-train capable of lasting 1,000,000 miles. In the age of planned obsolescence, this would be counter-intuitive unless Tesla had an ace up its sleeve.
Further evidence in support of this idea can be found on conference calls where Musk has not denied the fact that this may be Tesla's end goal, and instead declined to comment. Why not answer, unless you were trying not to lie, while maintaining secrecy?
Those who follow Apple (NASDAQ:AAPL) are probably familiar with the concept of having projects shrouded in secrecy, like "Project Titan", Apple's own supposed effort into the car space.
I believe that Tesla plans to eventually make money, leasing or selling, and then eventually buy back all the Tesla vehicles that are autonomous driving, capable to use in a service similar to that which I outlined above. Evidence supporting this notion is as follows:
It would appear Tesla is preparing to house dozens or hundreds of cars at some of its newer centers.
This would position Tesla for the predicted consolidation of the car industry into a much smaller number of vehicles. It would have service centers to house the vehicles when not in use, continue lease operations and deploy charging areas more strategically. It also would make sense that service and sales staff are paid salary instead of commission when accounting for this decrease in ownership model that we are approaching, and why Tesla does not intend to profit much on servicing its vehicles. By avoiding these tendencies, the company is preparing itself for the shift in the way business is conducted in the auto industry in a much more intelligent manner than its peers, besides perhaps Faraday Future.
I believe that these things both help to explain Tesla's delayed profitability and some of the reasons for its actions in regards to its aggressive expansion in some ways that may not make complete sense otherwise. In conclusion, it would appear Tesla may not be disclosing all information to investors to keep a competitive edge.
Disclosure: I am/we are long TSLA.
I wrote this article myself, and it expresses my own opinions. I am not receiving compensation for it (other than from Seeking Alpha). I have no business relationship with any company whose stock is mentioned in this article.
Additional disclosure: The author is long TSLA stock currently and advises a hold rating. The author is expressing their unprofessional, speculative opinions based on their current knowledge of the company and does not advise any action or hold liability for any actions taken as a result of this article.