The special situation
Surrey Bancorp (OTCPK:SRYB) is proposing to amend its articles of incorporation in order to create a new class of capital stock, Class A common stock, and reclassify each share of common stock held by holders of less than 300 shares of common stock into a share of Class A common stock. Holders of less than 300 shares of common stock may elect to receive $12.75 for each share of common stock held by them rather than receiving shares of Class A common stock. Despite Class A common stock receiving a premium on any dividends paid to holders of common stock of $0.03 per share, the cash option is more attractive. You can see the company does not look cheap at $12.75 pre savings.

Source: SEC filings
The aim of the reclassification is the reduction of the number of shareholders of record of common stock to less than 1,200. This would allow Surrey Bancorp to terminate its reporting obligations. The company estimates the savings to be $170,000 per year. This compares to net income available to common shareholders of $2.9m. All this was made possible by the JOBS Act.
It is important to hold the less than 300 shares on record to receive cash
Surrey Bancorp will look at the number of shares registered in the name of a single holder to determine if that holder will be receiving, at the holder's election, shares of Class A common stock or cash.
In almost all cases, this arbitrage is only possible for shareholders of record holding less than 300 shares in their name. Although it is possible your broker's nominee holds only your shares and allows you to elect the cash option it is not likely.
The company warns shareholder who hold their shares in street name:
"If you hold your shares in "street name," you should talk to your broker, nominee, agent or custodian to determine how they expect the Reclassification to affect you. Because other "street name" holders who hold through your broker, agent or nominee may adjust their holdings prior to the Reclassification, you may have no way of knowing whether you will continue to hold shares of Common Stock, or if you will have the right to elect to receive shares of Class A Common Stock or cash in the Reclassification until it is completed."
This is different from the similar case of Kansas City Life Insurance Company (NASDAQ:OTCQX:KCLI), where the company tried to treat both shareholders of record and shareholders in street name the same. In the end, a 249-share investment in KCLI was very profitable. For more information, I recommend reading this excellent article from Chris DeMuth Jr.
Downside versus Upside
The upside is calculated as 299 x $12.75 - 299 x $12.00 or 299 x 0.75 = $224.25
As you can see from the chart, the unaffected price was about $11.00 per share.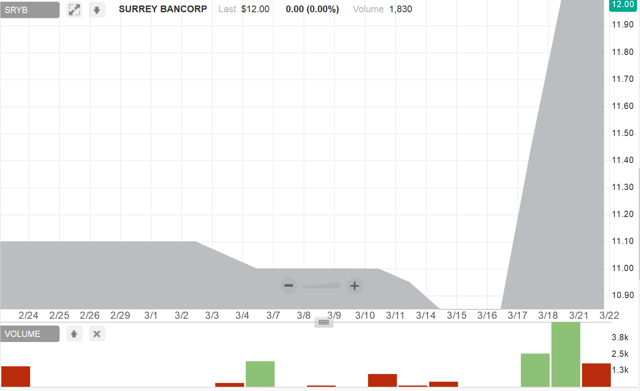 Source: Price chart from OTC Markets
If the amendment of its articles of incorporation would not be approved, the downside would be 299 x ($12.00 - $11.00) = $299.00
The expected outcome depends on the probabilities one would ascribe to the deal going through. The probability of the deal not going through would then be "1 - probability of the deal going through". I believe it is likely shareholders of record owning less than 300 shares will be cashed out. If for example one assumes a 90% chance of being cashed out, the expected value is 0.90 x $224.25 - 0.1 x $299.00 = $171.93.
Conclusion
Situation as these put the individual investor at an advantage compared to institutional investors who cannot participate in the positive expected value. If my broker would give me the option to register shares instead of just holding them in street name for me, I would buy 299 shares of Surrey Bancorp and opt for the cash payment. With the low interest rates we have today, it is not a problem that specific dates were not provided in the SEC filing. Even if it would take a whole year to complete, the return would still be good. The last Annual Meeting was held on April 24, 2015, and if the same would be the case for 2016, the annualized return would be amazing.
Disclosure: I/we have no positions in any stocks mentioned, and no plans to initiate any positions within the next 72 hours.
I wrote this article myself, and it expresses my own opinions. I am not receiving compensation for it (other than from Seeking Alpha). I have no business relationship with any company whose stock is mentioned in this article.
Additional disclosure: My broker does not allow me to be shareholder of record. Therefore I must pass on the idea.
Editor's Note: This article covers one or more stocks trading at less than $1 per share and/or with less than a $100 million market cap. Please be aware of the risks associated with these stocks.