In my continued hunt for short sale opportunities, Kate Spade (NYSE:KATE) entered my radar last week. KATE is one of only 8 companies with price appreciation over 30% during the past quarter that have a debt-to-equity ratio greater than 50%. I am generally skeptical of the ability of luxury companies to withstand a Chinese slowdown. Much to my bearish chagrin, KATE doesn't have the downside risk that makes a stock a short sale candidate. In fact, for bulls, KATE represents a solid luxury brand with relatively small Asian market exposure. I believe the stock is fully valued at $25, so I won't be tempted to purchase shares. However, if you are a believer in the luxury goods story, Kate Spade is probably a decent holding.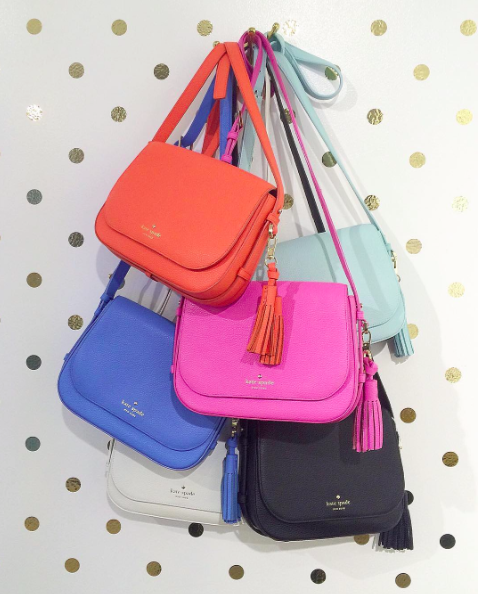 Kate Spade has become a large company with $1.4 billion in sales forecast for 2016 and a market cap of nearly $3.2 billion. Deloitte ranks Kate Spade behind only Christian Dior (OTCPK:CHDRY) and L'Oreal (OTCPK:LRLCY) in its brand equity survey from 2015. KATE grew revenues by 9.14% in 2015 and forecasts 12.66% growth in 2016. These are exceptional results for a business that had stumbled during 2014 when the stock peaked at about $40. It has since recovered from a 52-week low of $15.
My hypothesis is disproved.
I am a ponderous bear who rummages through campers' knapsacks looking for high leverage and unmerited exuberance. Alas, KATE has enough of a campfire to keep the bear at bay.
Exposure to China should concern all investors. Many forecast an imminent devaluation of the renminbi. The industrial recession could spill over into the consumer sector and cause a slowdown in the purchases of luxury goods. In this regard, KATE is less risky than its luxurious peers. Only 18% of sales came from outside of North America. Indeed, investors were cheered by the recent announcement to expand in India. The company has plenty of room to reap the rewards of developing economies when they eventually begin to recover.
| | | | |
| --- | --- | --- | --- |
| 2015 YE Results | Net Sales | % of Sales | % Growth |
| North America | 1,031,123 | 83% | 14.9% |
| International | 188,151 | 15% | 18.7% |
| Adelington Design | 23,446 | 2% | -40.3% |
| Total | $ 1,242,720 | | |
Debt is typically another concern. KATE had about $400 million borrowed vs. $245 million of equity at year end 2015. Meanwhile, capitalizing lease obligations (author's estimate) adds another $400 million to both assets and liabilities. Here again, Kate seems to be well-positioned to shrug off high leverage. Returns on capital exceed the cost of capital by a healthy margin. I estimate Kate Spade's cost of capital slightly below 12% when taking into account the stock's 2.1 beta. EBITDA returns on capital are above 18% and operating cash returns on capital were 15.5% at 12/31/15. Adjusting for the added balance sheet lease obligations, the operating cash return on capital is still over 13.6%.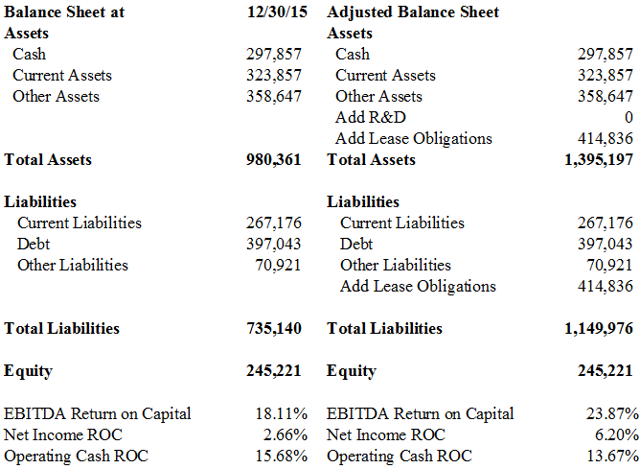 KATE trades at roughly 16x the company's adjusted EBITDA of $200 million and 11.4x 2016 projections for adjusted EBITDA of $280 million. The multiples are in line with PVH's 2013 acquisition of Warnaco. PVH paid $2.9 billion, or 11 times EBITDA. In an earlier purchase, PVH bought Tommy Hilfiger for 15.6x EBITDA, or $3.1 billion. At $25 per share, there is an effective "put" in place in the event of an acquisition.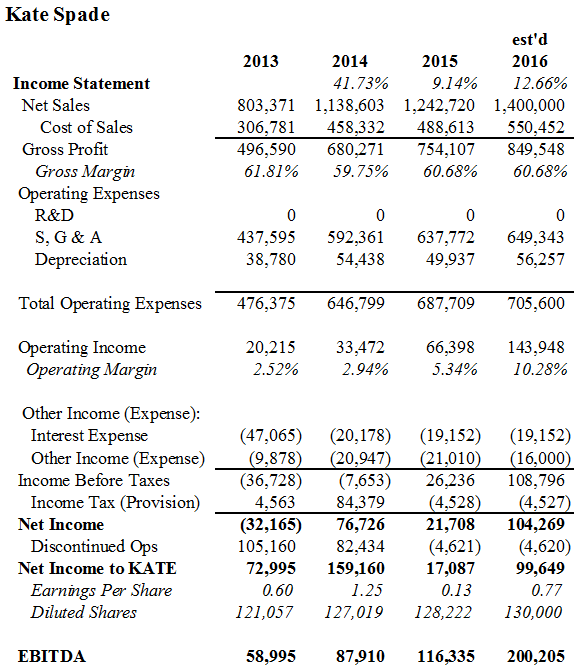 My estimate for 2016 EBITDA does not match the company prediction of $280 million. I do not add back my estimate of $29 million in share-based compensation for 2016 (I always adhere to the Buffett view on share-based compensation). I also do not add back roughly $50 million in SG&A adjustments related to discontinued operations.
However, it seems likely that KATE will generate over $100 million in free cash flow in 2016. This includes the ability to open 40-45 new stores at a cost of $70 million.
2015 adjusted EBITDA (according to management) was about $200 million. This represented operating income of $66.4 million plus $25 million in share-based compensation, $51.6 million in depreciation, and about $56 million in SG&A adjustments from discontinued operations.
My only caveat to someone considering a long position in Kate is reflected in my discounted cash flow exercise. Growing revenues at over 12% for five years, and assuming a tapering off for the subsequent 5 years results in a value of $18 per share. The author used the aforementioned 11.87% cost of capital and an operating margin of 14%. KATE benefits tremendously from over $700 million in tax-loss carry-forwards, and this was reflected in my analysis. While this price represents a 30% decline from the market, it is but one estimate and most susceptible to the author's variable assumptions.
KATE, like all retail brands with luxury cachet, can be threatened by over-exposure and a loss of perceived exclusivity. The increasing presence of stores in outlet malls presents the possibility of brand dilution. A premium brand can quickly run afoul of the fashion aficionados. I think Coach (NYSE:COH) has veered towards ubiquity. But what do I know, I'm a guy.
In closing, this guy won't be shorting KATE. You shouldn't either. Bulls need to be mindful of the debt, but KATE is a good holding for those looking for luxury brand exposure (and have more fashion sense than me).
Disclosure: I/we have no positions in any stocks mentioned, and no plans to initiate any positions within the next 72 hours.
I wrote this article myself, and it expresses my own opinions. I am not receiving compensation for it. I have no business relationship with any company whose stock is mentioned in this article.
Additional disclosure: The author references financial projections and estimates based upon his research and interpretations from publicly avalable information: including, press releases, SEC filings and earnings estimates. All investors should conduct their own due-diligence before making an investment decision. I encourage and welcome feedback.
Editor's Note: This article discusses one or more securities that do not trade on a major U.S. exchange. Please be aware of the risks associated with these stocks.