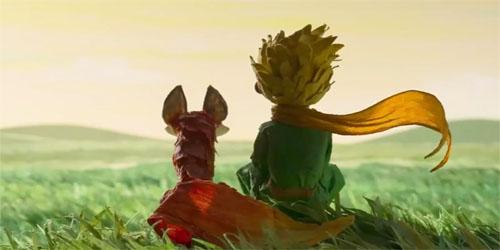 Just when we thought Netflix (NASDAQ: NFLX) was running out of "firsts" the company does it again.
First, let's back track because this was a bizarre story even before Netflix got involved. Paramount (NYSE: VIA) entered 2016 with three films slated for a March release and up until a little over a week ago it still had three films slated for a March release. Yet somewhere along the line Paramount decided to drop that third film just days before its debut.
Still with me?
The film was The Little Prince, an animated movie with an ensemble voice cast that included Jeff Bridges, Paul Rudd, Rachel McAdams, James Franco, Marion Cotillard and Benicio del Toro. Now that's not a bad group of names for a movie, especially for a stop-motion one based on an iconic novel.
However for some strange reason Paramount decided to reverse course and dropped the film suddenly and with no real explanation. While the truth is the film may not have topped the box office, let's also be clear…this film was not a flop.
It debuted at Cannes last year (out of competition), was released internationally where it grossed $100 million and just last month France's Cesar Awards named it the year's best animated film. In other words, there was no reason to suddenly just toss the movie.
Director Mark Osborne, who also shepherded the first Kung Fu Panda, took to Twitter to tell fans the bizarre news. Not long after though he teased "all I can say is #thelittleprince will in fact be released by another distributor later this year."
As is turns out that distributor is Netflix.
Now a few people wonder why every time Netflix makes a announcement like this it becomes big news. Simply put it's because when a company like Netflix does something for the first time it IS big news.
Netflix is a disruptor and as part of being a disruptor they have created a brand new (and very successful) business model. That model is watched closely by investors, analysts and the industry and when it expands it doesn't go unnoticed, nor should it.
Like when Netflix invested in the Will Smith headliner Bright, it represents the company escalating its film strategy in a new and different way. It's the same thing here. Netflix has now shown it can pick up not just discarded TV series, but discarded motion pictures as well. It is a true case of "one man's trash is another man's treasure."
While we still don't know why Paramount dumped Prince, what we do know though is that Netflix likely couldn't have paid that much to acquire the rights (and even if they did, spending money has never been an concern to the company). In return not only do they get another high profile film to add to their roster, but more importantly they get a kids film.
While non-child households probably gloss over Netflix and Amazon's (NASDAQ:AMZN) kids listings, many parents turn to the streamers as a surrogate baby-sitter. Netflix is a fixture in many family's homes and the longer the company can pump in new kids' content the longer they'll see a sizable boost in subscriber count from that demographic.
For that reason alone Prince is valuable.
It is very likely more people will see this film on Netflix than ever would in the theaters, but just as when the streamer acquired Unbreakable Kimmy Schmidt from NBC in 2014 this came out of left field. Investors and would-be investors in the media sector can't ever assume they know what's coming next and this is a prime example of why.
Image credit: Paramount/Netflix
Disclosure: I/we have no positions in any stocks mentioned, and no plans to initiate any positions within the next 72 hours.
I wrote this article myself, and it expresses my own opinions. I am not receiving compensation for it (other than from Seeking Alpha). I have no business relationship with any company whose stock is mentioned in this article.