Edited to reflect EPD's classification change to Pipeline Transportation | Natural Gas by the end of 2015. Charts revised on 03.31.2016.
By Karyl Patredis
I read about Alerian's new Energy MLP Classification Standard (EMCSSM). Do you have historical MLP classification data?
We do! And because we love you, we've analyzed it for you. We started by taking "snapshots" of the years 1996, 2002, 2006, 2012, and 2016. The outer orange circles represent the total market cap of the MLP space as of the end of each stated year. The orange rings are divided into pieces that show how much of the total market cap belonged to a certain sector at a given time. In the center of each circle is a solid blue dot that contains the number of MLPs at the end of each year (except for 2016, obvs [1], which is as of February 29).
We note that the EMCS categorizes MLPs by their primary business activity, so while many MLPs are diversified [2] in their assets, you can only belong to one category.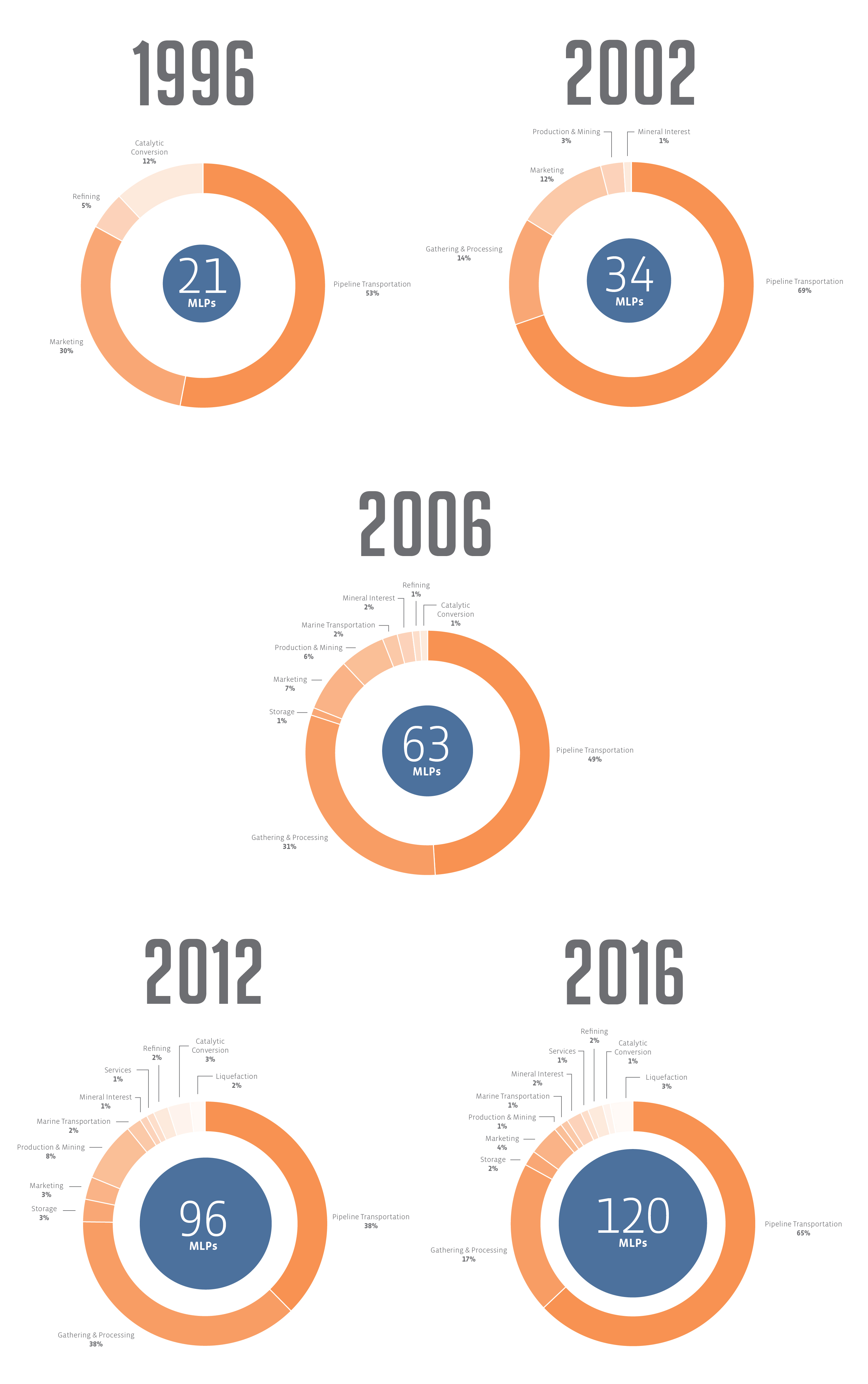 I am a picture person, but for my table people, this may be easier to digest. It also includes the data [3] for all years since 1996!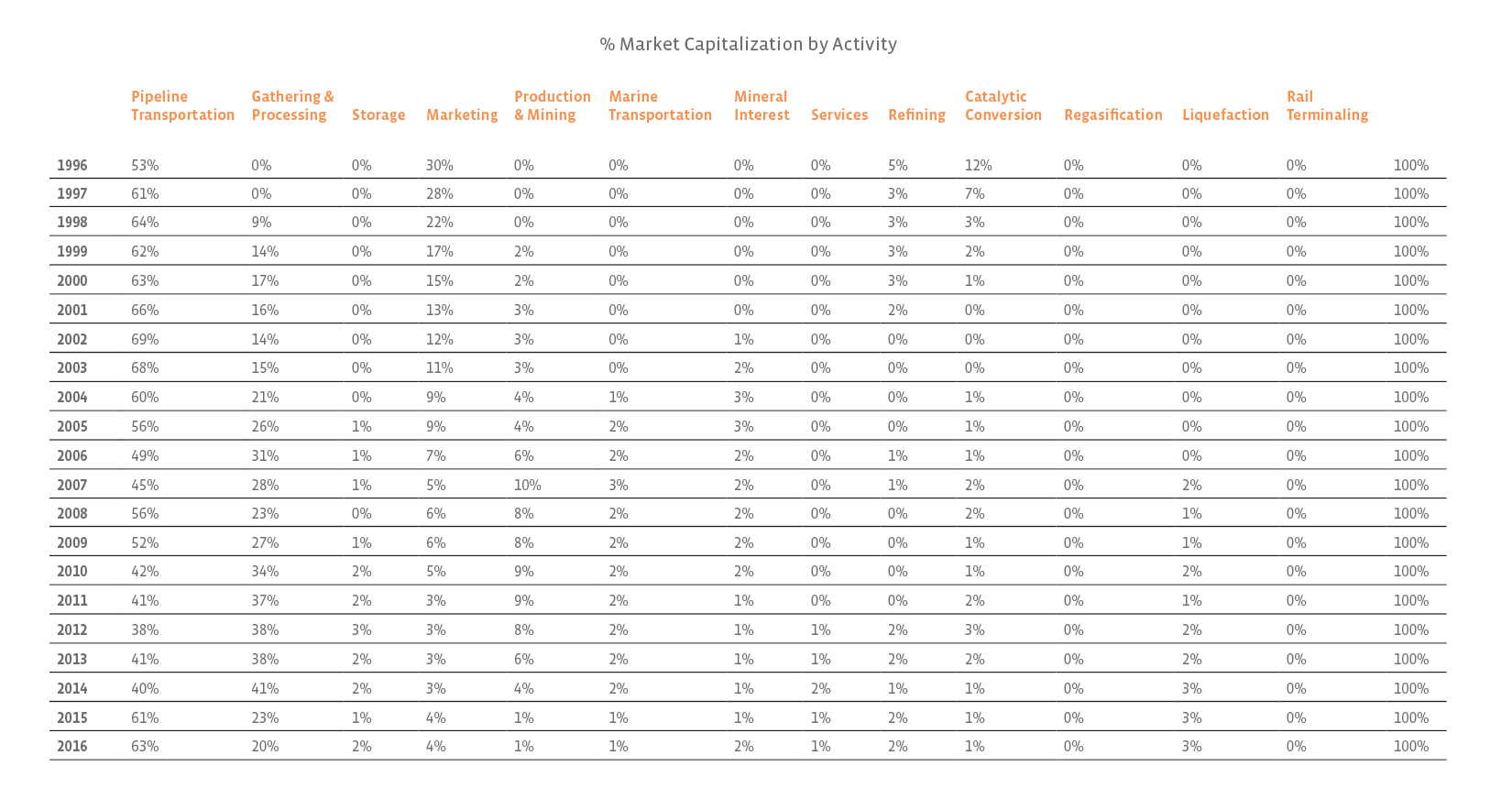 The most obvious takeaway from this data is that the Pipeline Transportation sector has been the primary business in the MLP space for the past 20 years.
However, in the most recent decade, Gathering & Processing MLPs have given Pipeline Transportation MLPs a run for their money. Back in 1998, when there were a whopping 22 MLPs, there was only one G&P company, Enterprise Products Partners (NYSE:EPD). The company comprised 9% of the total market capitalization. Thanks to the application of horizontal drilling in the Barnett in 2003 and the "shale mania" that followed, the demand for gathering and processing infrastructure (and subsequently, G&P MLPs) began to increase from 2004/2005 and thereafter. By 2006, there were 15 G&P MLPs, and as depicted, 31% of the total market capitalization. In fact, for one year (2014), G&P MLPs (41%) represented a higher percentage versus Pipeline Transportation MLPs (40%) of total energy MLP market capitalization.
On the flip side, the sector that has seen the largest decline in exposure is Marketing [4]. In 1996, six of the 21 MLPs were engaged in propane distribution, representing 30% of total market capitalization. While we've seen "gas station MLPs" enter the MLP structure [5], declining propane demand and significant consolidation in the propane space has resulted in Marketing MLPs representing 4% of total market cap.
It's important to note that within several of these categories there are also sub categories:

While looking at the pies, it's clear that Production & Mining MLPs currently make up a relatively small percentage of the total market capitalization. However, at the peak of commodity prices (crude, gas, coal, etc.) in 2007, Production & Mining names reached their highest exposure at 10% (7% to Hydrocarbon and 3% to Coal). Upstream names (Alerian classifies upstream as Production & Mining | Hydrocarbon), which previously made up the bulk of the Production & Mining category, currently only make up 0.4% of total MLP market cap, for obv reasons.
Finally, the sheer number of categories has increased over time from 4 in 1996 to 13 today, as a function of tax lawyers trying to put more businesses into the MLP structure. Just kidding, but not really. With more than 100 PLRs issued in the past two decades, qualifying income continues to be interpreted (and expanded) [6].
To learn which MLPs fit into which category, visit our screener here. To understand which business activities are carried out in each of the sectors, click here to download a helpful PDF.
Footnotes:
[1] Super proud of using what I thought was a hipster word. Evidently, the shortening of obviously to obvs started in the 80s. So, whatevs.
[2] Trust us, we've had plenty of internal discussions whether to use Diversified as a category.
[3] If you're wondering why we included Regasification and Rail Terminaling when it appears as though 0% of the market capitalization has ever belonged to these two sectors, wonder no more. These actually have a tiny slice of the pie, but the portions are so small, they rounded to zero.
[4] Retail distribution of heating fuels (propane and heating oil) and wholesale distribution of motor fuels (gasoline and diesel)
[5] Beginning with Susser Petroleum Partners (SUSP), now known as Sunoco LP (NYSE:SUN), in 2012
[6] Until it isn't. We're still waiting on final Treasury regulations
Disclosure: © Alerian 2014. All rights reserved. This material is reproduced with the prior consent of Alerian. It is provided as general information only and should not be taken as investment advice. Employees of Alerian are prohibited from owning individual MLPs. For more information on Alerian and to see our full disclaimer, visit http://www.alerian.com/disclaimers.
Karyl Patredis is the Logistics Coordinator at Alerian, which equips investors to make informed decisions about Master Limited Partnerships (MLPs) and energy infrastructure. Ms. Patredis leads the firm's ongoing efforts toward greater organizational efficiency. She also oversees Alerian's feedback process for creative output. Ms. Patredis graduated with a Master of Science in Accounting and a Master of Business Administration from the University of Dallas, as well as a Bachelor of Arts in Communication and a minor in Psychology from Texas A&M University.