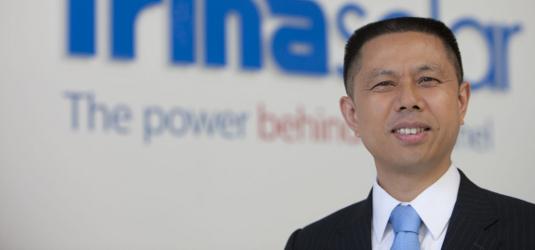 In my last article, I wrote about renewable energy's progress towards mass adoption. In this one, I will delve a bit deeper into what I think is the most attractive stock in the industry: Trina Solar (NYSE:TSL). Trina is a solar module producer with most of its production capacity and headquarter located in China.
The company was founded in 1997 and since 1998, Jifan Gao has been CEO. He has managed to grow the company to be the world's largest module manufacturer while also recently named the world's most bankable by Bloomberg New Energy Finance.
Trina Solar is a cheap company by every measure, it has a P/E of 13.8 (8.5 if you adjust for the one off cost of $45 million lawsuit settlement with Solyndra) a P/S of .32 and is trading at a discount to equity. This sounds like the valuation of a mature company, but in fact Trina has been growing its revenue by 32% on average over the last 3 years. Module shipment growth was 53% in those same years which is more than twice the rate of the industry that grew 24% per year. In this period, Trina Solar almost doubled its market share from 5.3% to 9.7%. Further gains are likely as several competitors like Yingli Green Energy (NYSE:YGE) are heavily indebted with very slim margins. These companies don't have the capital for capacity expansion.
Trina has one of the most diverse region sales in the industry, with only a third of their sales going towards their largest market.

Source: Investor relations
This year they expect to diversify further by lowering dependency on the two largest markets: China and the US.

Upstream market opportunity
World electricity generation was 23322 TWh in 2013. Let's assume for the sake of argument that solar in the future will achieve a 50% share of the electricity market. I definitely think this is possible as solar is trending towards being the cheapest source of energy. In the US utility scale, solar is expected to reach a 36.5% market share this year. If you include residential solar with an expectation of 25% growth compared to the 2 GW in 2015, then solar will reach a market share of 42.1%.
Last year PV solar had a capacity factor of 28.6% in the US, which means that 1W of PV solar generated 365*24*.286 = 2505 Wh.
We would then need 4655 GW of solar capacity to meet half the world's energy demand in 2013. Assuming the solar modules get replaced every 30 years, we would need to install 155 GW of solar per year just to keep up with 2013 demand. To put things in perspective, 59 GW of solar was installed last year.
But the demand for electricity is growing, between 1993 and 2011 it grew 3.2% per year. Looking forward, it is widely believed that the growth of electricity demand will slow down almost to a halt. But I think that is very unlikely due to the current trend of electrification of transport (in addition to the improvements in the standard of living that has caused energy demand growth in the past).
In 2013, we consumed 91 million barrels of oil per day which is the energy equivalent of 56,466 TWh per year. Using electricity instead of gasoline is 2-3 times as efficient, but it obviously still represents a huge growth opportunity for the electricity market.
If demand growth does stay at 3%, it would mean increased demand for solar modules by 140 GW per year assuming that same 50% market share.
In summary, using the assumptions of a 50% market share, a capacity factor of 28.6% and a continued 3% growth of electricity demand. The result would be a total market size of 295 GW per year or an increase of 400% compared to last year's demand.
While module prices are still going down, the ASP reduction curve has been flattening a lot in recent years. Last year the ASP dropped around 10%, and the expectation from Trina Solar is to cut module production cost by 5-8% this year. Which should mean about the same drop in ASP. So any module shipment growth from this point should translate better into revenue growth than it has in the past.
Downstream business
In the past few years, Trina Solar has moved from exclusively operating upstream to include building their own solar projects. Last year Trina built and connected 686 MW of projects to the grid, of which only 50 MW were sold. In total, 869 MW of projects was in commercial operation at the end of 2015.
Moving forward, the plan is to start selling more projects. In 2016, they expect to sell 4-500 MW of projects, which translates to $5-600 million in revenue, and close to $100 million in gross profit at the expected high teens gross margin. As for the rest of the projects, management has talked about creating a yieldco, but has put the plans on hold due to dropping valuations in the space.
At some point I do expect the yieldco to happen, which I believe will be a positive catalyst for the stock as it reduces leverage by moving project debt to the spinoff.
It will also shed some light on the size of their downstream business which might be overlooked by some investors. Currently only a tiny bit of the revenue from downstream is recognized as earnings, while most of the projects just sit on the balance sheet. This debt increase over the past year from $1.13 billion to $1.73 billion may have increased the perceived risk of TSL by investors, even though it is caused by financing of relatively liquid and profitable projects.
Risk factors
The biggest risk is definitely overcapacity in the industry like what happened in 2012, which had gross margins as well as stock prices plummeting across the industry. Trina Solar did express concern during the last earnings call about a possible overcapacity occurring in the second half of this year, due to other manufacturers having ambitious expansion plans.
In the light of this risk Trina has planned for a relatively modest module capacity expansion, from 5 GW at the end of 2015 to 6 GW at the end of this year. Cell expansion, on the other hand, will be more significant going from 3.5 GW to 5 GW. This improvement to vertical integration of the production should improve margins, which helps mitigate some of the overcapacity risk.
Other risks include breakthroughs for competing electricity sources making them significantly cheaper than solar. If subsidies for renewable energy were to be removed completely, that would also cause a large demand drop in some markets.
Conclusion
Trina Solar might carry a higher than average risk, but I don't know of any other company valued this cheaply while showing this amount of growth and prospect.
I don't think the overcapacity risk is even close to justify pushing the P/E below 10 (when adjusted for the lawsuit). If the risk of overcapacity does not materialize, I believe the stock price will at least double in 12-24 months due to the strong secular growth of the solar industry and Trina's leading performance within it.
Disclosure: I am/we are long TSL.
I wrote this article myself, and it expresses my own opinions. I am not receiving compensation for it (other than from Seeking Alpha). I have no business relationship with any company whose stock is mentioned in this article.
Editor's Note: This article covers one or more stocks trading at less than $1 per share and/or with less than a $100 million market cap. Please be aware of the risks associated with these stocks.