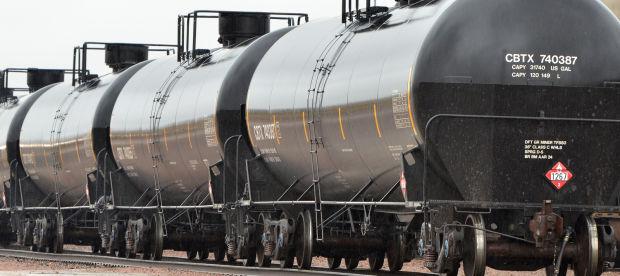 Source: Lacrosse Tribune
I have been a bear in Greenbrier Companies (NYSE:GBX) since Q3 2015. My thesis was that the company had feasted on high oil prices, and railcar demand to transport oil and frac sand cross country would tumble. In turn, demand for the railcars Greenbrier produces would have to decline. The EIA recently divulged the next shoe to drop - a decline in refineries' need to transport crude oil cross country.
The Situation
The story of the financial markets has been the free fall in oil prices since Q2 2014. Another phenomenon has been the huge spread between WTI and Brent oil prices. Oil refiners can exploit the differential; their cost of sales can be determined by crude prices, yet the price at which they sell refined oil is set by the Brent price. Now that the spread has evaporated, refiners may have less need to ship crude oil cross country via railcars. They can simply import it:
The movement of crude by rail ("CBR") within the United States, including intra-Petroleum Administration for Defense Districts (PADD) movements, reached 928,000 barrels per day (b/d) in October 2014, with most of the shipments originating in the Midwest (PADD 2) and going to the East Coast (PADD 1), West Coast (PADD 5), and Gulf Coast (PADD 3). Since October 2015, CBR volumes have declined as production has slowed, crude oil price spreads have narrowed, and pipelines have come online...

As domestic crudes that price in the Midwest, such as West Texas Intermediate ("WTI") and Bakken, are no longer at large discount to waterborne crudes such as North Sea Brent, there is less of a cost advantage for coastal refineries to run the domestic crudes... The narrower the spread between domestic and imported international crude, the more likely coastal refineries will choose to run imported crudes rather than domestic supplies shipped via rail.
In August 2015, the discount to Bakken crude and Brent averaged $8 per barrel. By November 2015 and January 2016, the spread fell to $2 and $1.69, respectively.
Refineries Importing More Oil And Shipping Less By Rail
According to the EIA, the decline in CBR has coincided with rising oil imports and have reduced the need for CBR shipments in certain instances: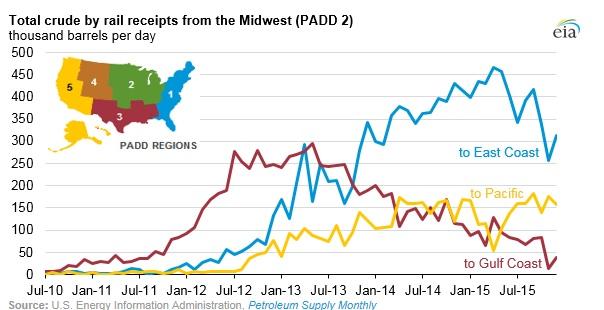 The flow of CBR from the Midwest to the East Coast (PADD 2 to PADD1) peaked at 465,000 b/d in April 2015. Meanwhile, average crude imports increased to 973,000 b/d for the week ending February 19th compared with 797,000 b/d over a month earlier.
CBR movement from PADD 2 to PADD 5 typically goes to refineries in the Pacific Northwest. The West Coast received an average of 139,000 b/d of CBR from the Midwest in 2015, similar to 2014's level.
The region was characterized by refinery outages and tightness of supply in California which caused the crack spread to increase. Imports increased to 1.2 million b/d by September and CBR increased to 182,000 b/d simultaneously.
CBR from the Midwest to the Gulf Coast (PADD 2 to PADD 3) has been negatively impacted by expanded pipeline capacity from 2013 to 2015. CBR from the region fell to 38,000 b/d in December 2015 from over 100,000 the previous year.
What Does This Mean For Greenbrier?
U.S. railcar traffic has been trending lower for a while. In my opinion, it signals a recession. The above commentary gives the impression that the decline in CBR could be intractable for the foreseeable future. This could impact Greenbrier in the following ways:
It Could Create Negative Sentiment
Greenbrier had $802 million of revenue in FQ1 and delivered 6,900 rail cars. It expects to deliver 20,000 to 22,000 rail cars this fiscal year. Those orders are included in its remaining backlog of 36,000 units. Tank cars for crude oil make up less than 11% of its backlog; however, the company's overall energy exposure (including sand cars for fracking) is about 27%. Fracking activity is down; the decline in oil prices has made it uneconomical for some firms to keep drilling.
In turn, demand for tank cars and hoppers has also slowed. Though the company has firm orders in its backlog, who's to say some of those orders will not get pushed out into the next fiscal year. We have seen this play out in other sectors. For instance, as an accommodation to clients, National Oilwell Varco (NYSE:NOV) has delayed the delivery of some of its oil rigs. It helps clients cut capex, yet pushes NOV's revenue into future periods. If railroads or oilfield services firms have ordered railcars they don't need, then it could behoove Greenbrier to delay deliveries in certain instances. This could also potentially reduce FY16 revenue.
It Could Negatively Impact New Orders And Forward Earnings
The company garnered 2,600 new railcar orders through the first four months of the fiscal year. At an annual run-rate, this would be about 68% below the 32,400 orders generated in FY15. If demand for Greenbrier's energy-related units falls further, then it could tamp down new orders. Secondly, waning demand could also cause a reduction in price-per-order. Declining prices and orders could hurt revenue and earnings for FY17. In my opinion, the lion's share of FY16 results could be in the bag. GBX will likely trade based on how dismal FY17 future earnings are expected to be.
GBX trades at less than 4x earnings. Its forward earnings multiple will likely become a focus for investors. The key is to exit GBX before the forward earnings multiple dictates the stock is overvalued.
Disclosure: I am/we are short GBX.
I wrote this article myself, and it expresses my own opinions. I am not receiving compensation for it. I have no business relationship with any company whose stock is mentioned in this article.