Normally, a high-yield stock growing its dividend is a beautiful thing. When done properly, investors can enjoy both share price appreciation and a rising income stream. But other times, companies with high dividend yields are the result of a collapsing share price due to crumbling revenue and earnings. Even worse is when these types of companies raise their dividends as a means of keeping shareholders happy, which can overshadow underlying problems at the company.
I believe Las Vegas Sands (NYSE:LVS) is the latter, not the former. Las Vegas Sands is a high-yield dividend stock, with a yield in excess of 5% as of its March 17 close. But again, this is due primarily to its falling share price, which has elevated its dividend yield.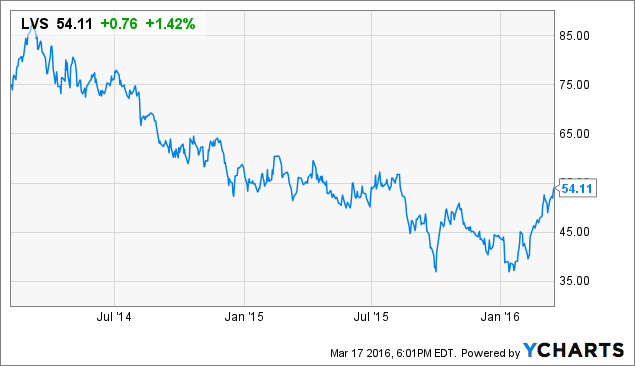 The company raised its dividend by 10% early this year, which could be taken as a sign that the company is doing well. But Las Vegas Sands is not in good shape. Its fundamentals are deteriorating due to the massive crackdown on gambling in China. The company isn't generating enough free cash flow to cover its payout.
Here's why income investors should not gamble on Las Vegas Sands.
Place Your Bets on Macao
On the surface, Las Vegas Sands looks like an income investor's dream stock. It has a high yield and even offers dividend growth. Not just dividend growth, but double-digit growth no less. It's impressive when a 5% dividend stock raises its dividend - and a double-digit increase is even more attractive. This could lead investors to believe the company's financial position is healthy. After all, why would a company raise its dividend if it weren't in a good enough financial condition to justify such an increase?
In this case, I believe management is trying to put a good spin on the situation. But Las Vegas Sands' fundamentals aren't good, and I don't see the situation improving much due to the action taken by the Chinese government over the past year.
At the heart of Las Vegas Sands' woe is the decline in gambling activity in Macao. This is a key region for the company, because Macao is the only region in China where casinos are allowed. China is also a premier emerging market. Its economy is growing at high rates, and it has a population exceeding 1 billion. Its growing economy and rising consumer class make it fertile territory for Las Vegas Sands. But China's crackdown on criminal activity and the declines in the Chinese stock market are suppressing gaming activities. Las Vegas Sands invested heavily to take a leadership position in China, at just the wrong time.
Last year, Las Vegas Sands' revenue and earnings per share declined 20% and 29%, respectively. Not surprisingly, the weakness was concentrated in its core casino operation. Revenue in that business dropped 24% in 2015. Revenue at Sands China fell 28% for the year. The company did better in its other businesses, including only modest declines in the rooms, food and beverage, and convention segments. But casino revenue still represents approximately 75% of Las Vegas Sands' total revenue, so a protracted downturn in China gaming that has little signs of reversing is a worrisome trend.
Don't Gamble On This Risky Dividend
The most important metric for dividend sustainability from consumer-oriented companies is free cash flow. On this basis, Las Vegas Sands is in trouble. Las Vegas Sands generated $1.9 billion of free cash flow in 2015. That was a 47% decline from $3.6 billion in free cash flow the previous year. This is a red flag, because Las Vegas Sands' dividend last year required $2.6 billion of cash - and with the 10% dividend raise, the payout will cost even more this year.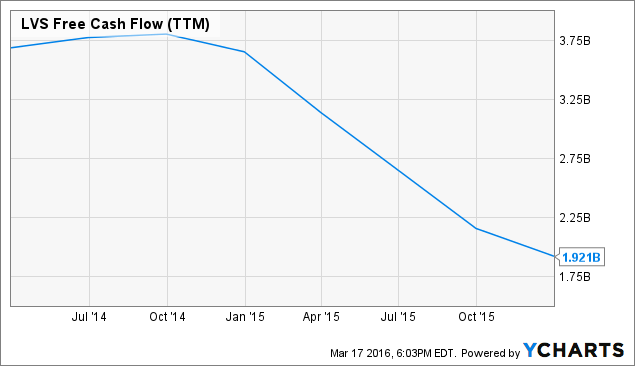 Keep in mind that Las Vegas Sands also uses cash to buy back stock. The company spent $205 million on share repurchases last year. While that was a meaningful reduction from $1.6 billion spent on buybacks the previous year, the bottom line is that even if the company eliminated its share repurchases entirely, it still isn't generating enough free cash flow to pay its dividend.
In times like this, companies often utilize debt to finance share repurchases and dividends until free cash flow improves. But that isn't likely, given the gaming climate in Macao has not shown signs of improvement. And Las Vegas Sands already has a bloated balance sheet. Its cash is down to $2.1 billion, and it has $9.3 billion in long-term debt. Its long-term debt to shareholder equity ratio is above 100%.
The buy case for Las Vegas Sands, and the sustainability of its dividend, depend on a successful Macau turnaround. Maybe Macau will see a massive recovery in 2016, and the company can bide its time until its free cash flow covers its capital returns. But that is far from a guarantee, and with so much debt to worry about, Las Vegas Sands is simply not a stock income investors need to gamble on.
Disclaimer: This article represents the opinion of the author, who is not a licensed financial advisor. This article is intended for informational and educational purposes only, and should not be construed as investment advice to any particular individual. Readers should perform their own due diligence before making any investment decisions.
Disclosure: I/we have no positions in any stocks mentioned, and no plans to initiate any positions within the next 72 hours.
I wrote this article myself, and it expresses my own opinions. I am not receiving compensation for it (other than from Seeking Alpha). I have no business relationship with any company whose stock is mentioned in this article.