Chipotle (NYSE:CMG) has experienced a restaurant's worst fear - a widespread E. Coli outbreak from its food. Needless to say, Chipotle has suffered a massive hit to its brand identity, and sales have tumbled since the incidents. However, Chipotle's handling of the situation has proven that the company has what it takes to claw its way back to its former glory.
To put this in context, I find it important to compare this situation with two similar situations in the past. The first is well known in the crisis management handbook - the handling of the Tylenol deaths in 1982. Tylenol, owned by Johnson and Johnson (NYSE:JNJ), controlled 37% of the painkiller market when tragedy struck and 7 people died as a result of taking Tylenol capsules. It was later found that an individual placed deadly cyanide into the capsules, but the damage was already done - Tylenol's market share sank to 7%.
Tylenol quickly responded to the situation by halting all of its ads, recalling 31 million products at a loss of $100 million, and introducing protective seals to its products. It also issued $2.50 coupons to win back consumers. Due to their effective and efficient response, Tylenol sales sharply rebounded to pre-incident levels by the following year. This anecdote proves that if handled properly, the typical consumer will forgive a brand in a very short time period.
Next, I want to tell the tale of Starbucks (NASDAQ:SBUX) in 2008. The CEO, Howard Schultz, believed his global company was losing its soul and artistic appreciation of coffee. He made several in-store changes, and also closed every Starbucks location for a mandatory 3.5-hour training course for baristas. In this time, baristas were taught the precise and delicate way coffee should be crafted. As a result, the quality of Starbucks coffee drastically improved, as did customer service.
It's now time to discuss Chipotle's situation and how it has been handled. When the outbreak hit, Chipotle took several steps to tackle the situation. It took a play out of Starbucks's playbook by closing all 2,000+ of its stores to train workers on food-safety procedures. It then coupled this action with offering free burritos to anyone willing (Sound familiar to Tylenol's $2.50 coupon?). It enacted another series of changes, listed below:
High-resolution DNA-based testing of many ingredients before they are shipped to Chipotle locations which "far exceeds requirements of state and federal regulatory agencies, as well as industry standards," according to the company.
Changes to food preparation and handling practices, including changing how some items are washed, as well as shredding cheese before it reaches the stores. In addition, some produce items will now be blanched (dipped quickly into boiling water), and there are new rules for marinating chicken and steak.
Paid sick leave designed to ensure that ill employees stay home when they are sick.
The company hired E. Coli expert James Marsden as executive director of food safety.
All in all, Chipotle could spend upwards of $60 million in promotions and new safety procedures. This hefty price tag is justified since the restoration of Chipotle's brand is crucial to move forward from this incident.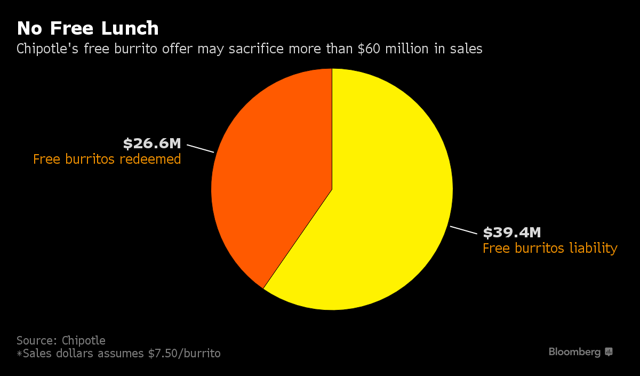 The actions seem to be helping already. The CDC declared the E. Coli outbreak over, and deemed Chipotle safe to eat at again. Sales declined YoY by 26.1% in February compared to a drop of 36.4% in January. Motley Fool co-founder David Gardner states, "I think this is going to be kind of like the Tylenol scare, which really depressed Johnson & Johnson for a little while, then of course, we all look back and forget," he said. "Or, BP. People said, 'I'll never go to BP again,' but I think a lot of us are going back to BP to fill our cars." Additionally, everyone who claimed a free burrito now receives Chipotle's text message alerts. With 5.3 million people claiming a free burrito coupon, this large base of customers can be utilized to effectively drive increased sales and repeat customers.
Chipotle has proven that it can adeptly respond to disaster scenarios such as the one it just faced. It humbled itself and learned from effective crisis responses in the past like Tylenol and Starbucks. The next couple of months will be tumultuous for Chipotle, but its sales and stock will ultimately rebound. The host of Mad Money, Jim Cramer, says to buy Chipotle if it falls under $500 a share. Chipotle currently trades at $462, well below $500. This represents a 37% drop from its highs, which signifies that most of the risk associated with the E. Coli outbreaks has been priced into the share price. Investors looking to invest long term will find Chipotle to be a wonderful addition to their portfolio.
Disclosure: I/we have no positions in any stocks mentioned, and no plans to initiate any positions within the next 72 hours.
I wrote this article myself, and it expresses my own opinions. I am not receiving compensation for it (other than from Seeking Alpha). I have no business relationship with any company whose stock is mentioned in this article.