Gun manufacturers have enjoyed unprecedented growth throughout Barack Obama's presidency. Since 2008, the share price of major gun manufacturers like Smith & Wesson (SWHC) and Ruger (NYSE:RGR) has grown over 900%. In 2016 alone, Smith & Wesson and Ruger have experienced growth of 33.03% and 27.36% respectively. The gun boom is very much alive, and investors can look towards sustained growth over the next four years if polling data and national trends are any indication.
Politics
Barack Obama has received bipartisan criticism on his policies regarding gun legislation and the Second Amendment. Many Democrats have criticized his inaction on the issue. In 2010, the Brady Campaign to Prevent Gun Violence gave Obama an "F" in every single issue it covers referencing his inaction and lack of leadership on gun reform. Conservatives across the aisle like Sen. Marco Rubio have blasted Obama as being "Obsessed with undermining the Second Amendment," and it hasn't stopped there. The NRA has also stayed firm in its opposition to Obama, releasing a video in January arguing that Obama and Dem. front-runner Hillary Clinton support gun confiscation similar to that of Australia following the mass shootings of 1994.
The possibility of scenarios like that mentioned above worries gun-owners. The figures below depict the performance of Smith & Wesson following the 2008 and 2012 election.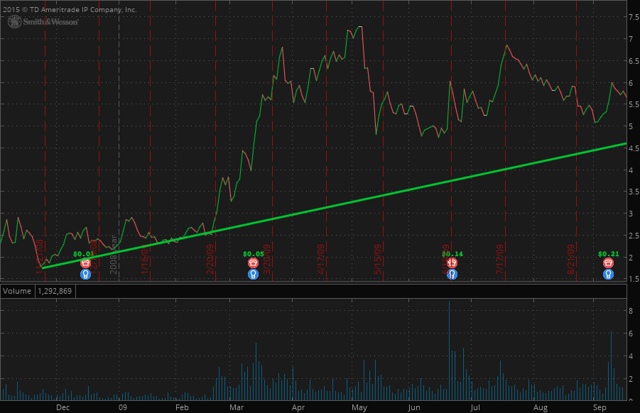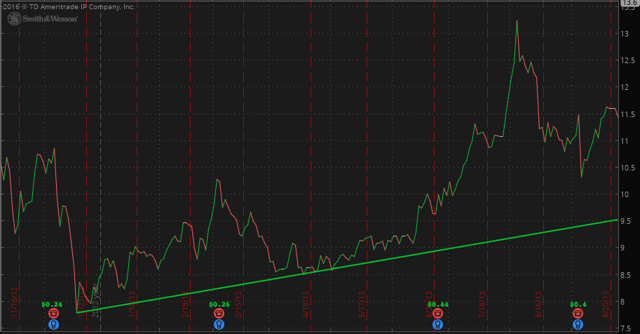 Considerable gains can be seen immediately following these elections. Fears of further gun legislation and restrictions in gun sales have actually led gun-owners to purchase more guns. Based on analysis performed by the New York Times on federal background checks, roughly 700,000 guns were sold per month in 2007. In December of 2015, that number was over 1.5 million.
Political affiliations aside, this trend is important to note given the increasing likelihood of a Clinton presidency. According to polls conducted between March 1-6, 2016 by NBC, WSJ, CNN, ABC News, and the Washington Post, Clinton is leading Donald Trump by a considerable margin.
Clinton, who recently released an ad supporting Obama's gun control efforts stating, "I'm with him," will generate the same level of fear among gun owners as Obama. Whether those fears are founded or unfounded is still to be seen. However, the very fact those fears exist means that gun purchases will likely continue to increase over the next four years.
Mass Shootings
A study conducted by Lacey N. Wallace found that a positive correlation exists between mass shootings and gun sales.
Further studies conducted by the F.B.I. have found that there has been a drastic increase in mass shootings since 2000. Though an unfortunate reality, the rate of mass shootings in the US continues to rise.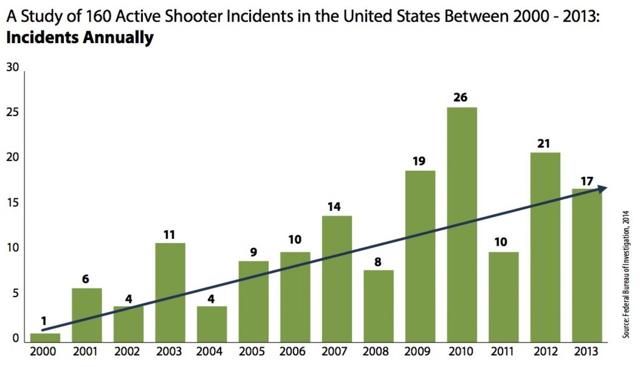 The predictability in which Americans purchase guns following mass shootings is important to note. However, while mass shootings have risen, do pay attention to the Supreme Court as a new judge is likely soon to be appointed. Antonin Scalia was a great defender of the Second Amendment in the eyes of many Republicans, and his death could mean stricter gun legislation in the future.
Earnings
Ruger and Smith & Wesson reported very strong Q4 Earnings. Sales for Smith & Wesson grew to $210.8 million, while earnings experienced a year-over-year increase of 61%. In addition, the gun manufacturer smashed EPS estimates by 20 cents, clocking in at 59 cents a share. Earnings are strong at Ruger as well, which saw Q4 revenue rise to $152.4 million an increase of 24%. EPS easily surpassed expectations as the company reported earnings of 88 cents a share, compared to predictions of 75 cents a share.
Both of these companies have hiked outlooks moving forward, and expect strong earnings through 2016 and onward.
Conclusion
A variety of factors will impact gun sales moving forward. Though my outlook is optimistic, I strongly recommend that investors pay close attention to the battle over Justice Scalia's replacement, and the upcoming presidential election. Going forward, one thing is for sure: Uncertainty and fear is a good thing for gun investors.
Disclosure: I/we have no positions in any stocks mentioned, and no plans to initiate any positions within the next 72 hours.
I wrote this article myself, and it expresses my own opinions. I am not receiving compensation for it (other than from Seeking Alpha). I have no business relationship with any company whose stock is mentioned in this article.