Introduction
In a previous article, How To Make 9%+ Annually With Canada's Big Bank Preferreds, I outlined my thesis for how to make solid annual returns with Canada's Big Bank (Royal Bank (NYSE:RY), TD Bank (NYSE:TD), Scotiabank (NYSE:BNS), BMO (NYSE:BMO), CIBC (NYSE:CM) and National Bank (OTCPK:NTIOF)) preferred shares with what I believe to be little risk. In the comments section to that article I received a very relevant question; one that I did not investigate thoroughly in my first article. The gist of the question is will the banks actually redeem the shares and/or do they need to redeem the shares for regulatory capital purposes?
My calculated returns rely on the shares being redeemed at the next redemption date (with a caveat for one issue outlined in the previous article). My simplistic reasoning was the banks would prefer to have the capital count for regulatory purposes. Why have shares outstanding that do not count as regulatory capital when they can swapped for compliant shares?
While I still believe my simplistic reasoning to be valid, I thought it appropriate to do some digging.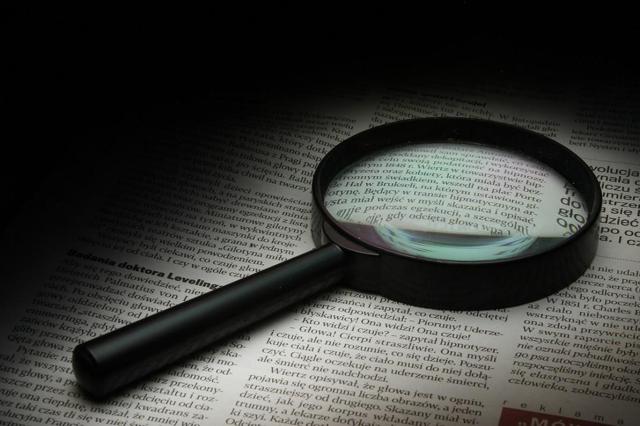 Recent activity
A good place to start is to investigate recent activity, both redemptions and purchases, since 2013 (when the new rules came into effect). Please note that this was a manual process and may not be a complete list.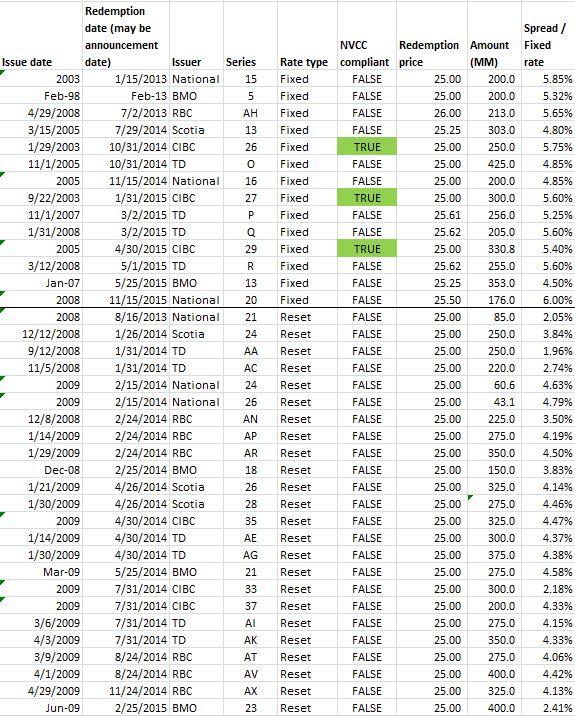 (Source: company financial reporting and news releases)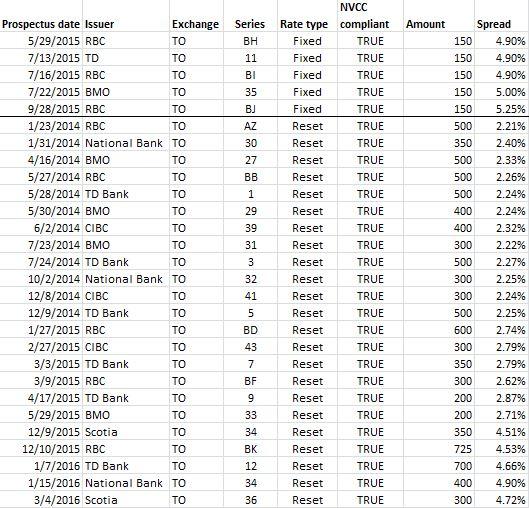 (Source: company financial reporting and news releases)
There are no surprises in either of these lists: the banks have been redeeming non-compliant shares and issuing compliant shares.
What does this mean going forward?
Normally the decision to swap non-compliant shares for compliant shares is a no-brainer. All things equal, the banks would prefer to have compliant shares that count as regulatory capital. However, in the market right now, not everything is equal.
Spreads on NVCC compliant rate reset shares have increased over the past year. This creates a decision point for the banks: redeem non-compliant shares and issue higher-spread compliant shares in their place (thus, increasing the cost of capital), or give up the regulatory capital and leave the non-compliant shares outstanding.
A lack of a historical pattern makes the situation murkier. Rate reset shares can (generally) be redeemed every five years, meaning that any series coming up for a rate reset (and potential redemption) this year can be left in the market and still be redeemed before the 2022 deadline. As such, I do not expect redemptions to begin in earnest until next year.
Can the banks just "write off" these shares?
This is the question I was asked in the comments: basically, can the banks meet capital requirements if they leave the non-compliant shares outstanding?
The short answer is "yes," although it is less clear than a one-word answer.
For some background (before I throw a bunch of data at you), these capital ratios are calculated by dividing a dollar amount of capital by the risk-weighted assets (RWA) applicable to that capital. For example, the Tier 1 Capital ratio is calculated as Tier 1 Capital divided by Tier 1 Capital RWA.

(Source: quarterly reporting. I could not find the RWA figures, so I backed them out based on the capital levels and the ratios, both of which were provided.)
Currently, each bank has a healthy buffer (rows #17 & #18) above the required capital ratio (rows #14 & #15). What happens if we remove non-compliant preferred shares?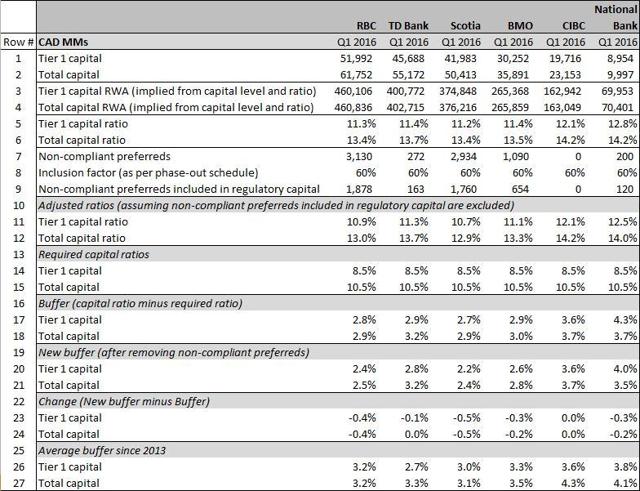 (Source: quarterly reporting, author's calculations.)
Without going into too much detail about this table, if each bank "wrote off" the non-compliant shares, the "adjusted" capital ratios would be the values in rows #11 and #12 and the new buffer to the required capital levels are displayed in rows #20 and #21.
Because data tables aren't fun to look at, the following charts summarize the changes in buffers.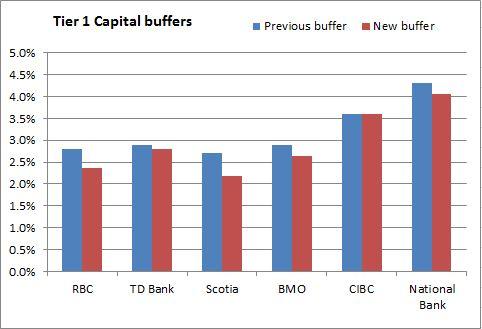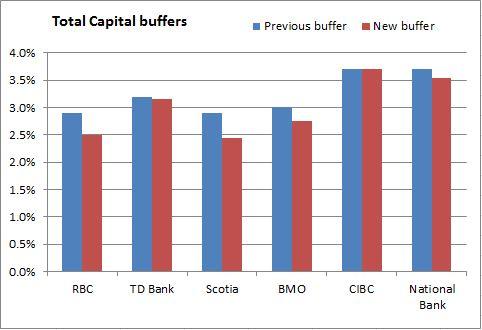 (Source: author's calculations)
So what? It looks like the banks can just write-off the shares.
This is where you say, "So, Kevin, the 'new' buffer is still quite large. Why are you still talking? Isn't it obvious that the banks won't redeem these shares?" Clearly I disagree, because I'm still talking.
To me, logic dictates that the banks will maintain a buffer above requirements in order to smoothly conduct business. Case in point, from Scotiabank's 2015 annual report (page 40):
For regulatory capital, the Bank's internal target includes an adequate buffer over the regulatory minimum ensuring sufficient flexibility for future capital deployment and in consideration of the Bank's risk appetite, the volatility of planning assumptions, the results from stress testing and contingency planning. (Emphasis is mine.)
Patterns in historical capital buffers show this to be the norm.


(Source: company financial reporting.)
Generally speaking, banks have converged on a 3%-4% buffer since 2013, a level that is breached in many cases when non-compliant shares are removed.
Have you made up your mind yet?
It's frustrating how there is no conclusive data that says, "This is what the banks will do." Personally, I look at the "adjusted" buffers and see a number of them are below average. Does this mean banks will necessarily redeem non-compliant shares and issue compliant shares? I can't say with certainty. I think it makes it more likely, but it does not have to be the case.
Remember, too, that my thesis does not depend on a swap of non-compliant and compliant shares: I simply need the non-compliant shares to be redeemed. It is possible (albeit, less likely) that banks will redeem non-compliant shares and wait for more favorable market conditions before issuing new shares.
Conclusion
I present all of this data because I was asked a very good question that I thought deserved more attention. After my investigation, I am sticking with my thesis that these shares will be redeemed before 2022.
As a potential investor in these shares, you have to answer for yourself whether banks will favor having the shares count as regulatory capital or whether they prefer the lower borrowing cost of the non-compliant shares.
Updated IRRs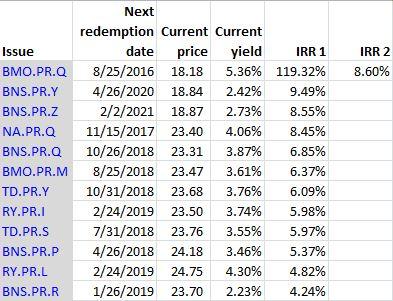 Disclosure: I am/we are long BNS.PR.Y, BMO.PR.Q, BMO.PR.R.
I wrote this article myself, and it expresses my own opinions. I am not receiving compensation for it (other than from Seeking Alpha). I have no business relationship with any company whose stock is mentioned in this article.
Additional disclosure: This article is not intended as investment advice. You are responsible for determining that a potential investment suits your portfolio and risk tolerance.
Editor's Note: This article discusses one or more securities that do not trade on a major U.S. exchange. Please be aware of the risks associated with these stocks.