As a leading provider of enterprise cloud computing solutions focused on the customer relationship management aspect, the growth of Salesforce.com (NYSE:CRM) has been tremendous. Over the past nine years, only three times have they gone below a 30% revenue growth.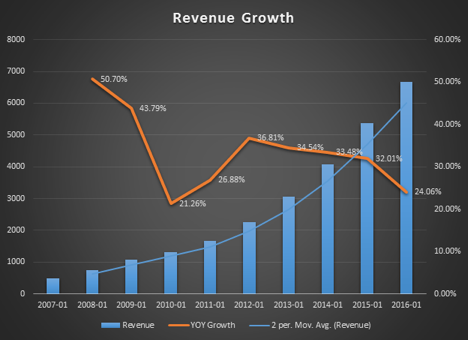 If you looked at revenue growth alone, you'd find it hard to resist investing in the company, but here's the real story:
Don't bet on them! Unless...
Those familiar with the business model of Salesforce.com will know that any potential investor's enthusiasm will die out quickly once they know how profitable Salesforce.com is. Or, in their case, isn't!
While digging through some research material for this article, just for fun, I Googled "when will Salesforce.com be profitable." Do you know what I came up with?
"Salesforce does the unusual and posts a profit - Fortune"
For 4Q 2015 ended April 30, the company posted a net profit of $4.09 million against a quarterly revenue of $1.511 billion. That gives it an EPS of 1 cent per share. Finally!
But I soon saw that it was a unique quarter that actually broke their trend of consistently posting losses.

Somehow, adding $80 to $100 million to the top line year over year doesn't seem to help their profitability.
The point here is: no matter how big they grow, there seems to be no tipping point for economies of scale to kick in.
I have to say here that this, in itself, is becoming a trend. Companies that are aggressively growing their top line revenues are "forgiven" for not being profitable, and their price to sales ratios are extremely high considering that they're actually losing money quarter over quarter and hand over fiscal.
For an investor, this strategy of putting money into companies that post consistent losses as they hunt for top line growth seems - at least to me - a highly risky proposition. This is not something an occasional investor might know, to be honest. They'll read a few analysts' takes on the company, see that growth is being highlighted, and put their hard-earned money into companies that have zero room for error with respect to investor judgment. And I think it's unfair that the advantage in these scenarios always goes to the company instead of the investor. After all, aren't the shareholders the reason stock prices are up there in the first place?
Salesforce.com is the perfect example of that. Look at the way their stock price has been growing over the past year and you'll know what I'm talking about.
Digging deeper, though, I noticed something else. The reason Salesforce.com wasn't profitable was that the bulk of its revenue was being spent on marketing and sales.
Marketing and Sales is Half Their Cost of Revenues, But Everything Else Looks "Normal"
First, let's see where their money is coming from. This is from their 10-K for the fiscal 2013, but it's still relevant:
"We derive our revenues primarily from subscription fees for our service. We also derive revenues from premier support, which provides customers with additional support beyond the standard support that is included in the basic subscription fee."
So, essentially, their user fee plus Tier 2 customer support accounts for all of their revenue. That's the typical -as-a-service revenue model and in line with industry norms.
Nothing unusual there.
As for geo distribution of revenues, things look good: 74% from a market not dependent on foreign currency vagaries and the threat of the strengthening dollar.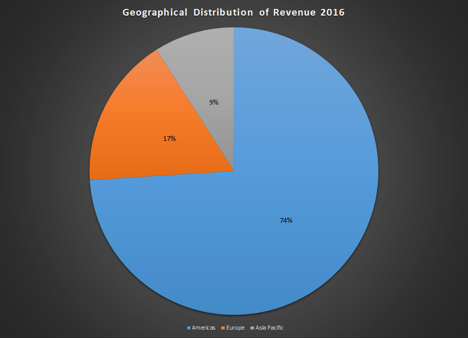 Nothing out of the ordinary there, either. But what about...
Attrition Rate?
The attrition rate, or churn rate, for subscribers has been in the 8-10% range for the past two years. Within the SaaS industry, a sub-10% rate is considered to be normal and 5-7% is considered good.
So there's no real problem with attrition rate at Salesforce.com, but something about the content of their annual report reeks of copy-paste! Just compare their 2016 annual report with the one for 2015.
"2016 Annual Report: Our typical subscription contract term is 12 to 36 months, although terms range from one to 60 months, so during any fiscal reporting period only a subset of active subscription contracts is eligible for renewal. We calculate our attrition rate as of the end of each month. Our current attrition rate calculation does not include the Marketing Cloud service offerings. Our attrition rate was between eight and nine percent during the fiscal year ended January 31, 2016, which is favorable compared to the nine to ten percent attrition rate as of January 31, 2015. We expect our attrition rate to remain in this range as we continue to expand our enterprise business and invest in customer success and related programs.

2015 Annual Report: Our attrition rate was between nine and ten percent during the fiscal year ended January 31, 2015, which is consistent with the attrition rate as of January 31, 2014. We expect our attrition rate to remain in this range as we continue to expand our enterprise business and invest in customer success and related programs."
I realize it's a silly point to linger on, but to be honest, I just think they're not too bothered about attrition rates at the moment, but since they're at an "acceptable" rate according to industry standards, we'll just let it be for now.
Operating Margins
This is where the problem starts to rear its ugly head.
It's a little perplexing to see a leading technology company posting consistent losses, because technology is inherently a high-margin business. Companies like Microsoft (NASDAQ:MSFT) and Google (GOOG; GOOGL) have impressive margins in the range of 18-25%, and even IBM (NYSE:IBM) and Rackspace (NYSE:RAX) - companies that have been tagged by some to be on a deathly downward spiral - have double-digit operating margins.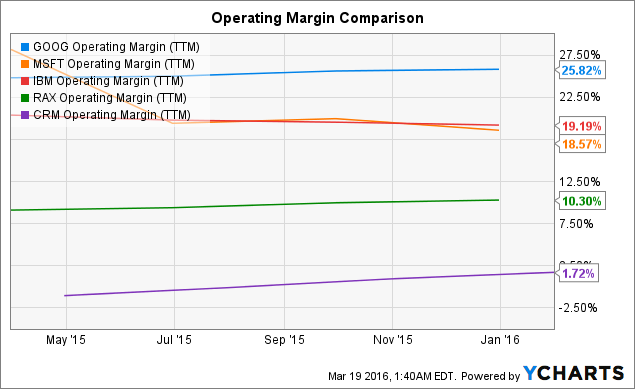 GOOG Operating Margin (TTM) data by YCharts
As I dug even deeper, I found something that rattled me. Salesforce.com has consistently been spending up to 50% of their revenue towards sales and marketing.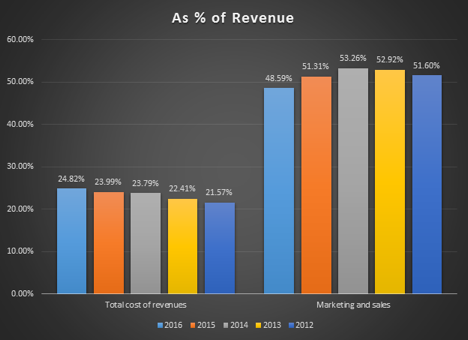 To put it in another way, to acquire every dollar of revenue, the company spends 50 cents. Add to that the cost of revenues, and between 70 and 75% of their earnings are already wiped out.
From their 2015 Annual Report:
"Cost of Revenues. Cost of subscription and support revenues primarily consists of expenses related to hosting our service and providing support, the costs of data center capacity, depreciation or operating lease expense associated with computer equipment and software, allocated overhead, amortization expense associated with capitalized software related to our services and acquired developed technologies and certain fees paid to various third parties for the use of their technology, services and data.

Marketing and Sales. Marketing and sales expenses are our largest cost and consist primarily of salaries and related expenses, including stock-based expenses, for our sales and marketing staff, including commissions, payments to partners, marketing programs and allocated overhead. Marketing programs consist of advertising, events, corporate communications, brand building and product marketing activities."
And Here's The Biggest Flaw With That Business Model
The lifeblood of any technology company - the developers and researchers - are left with a small 25% stake that they need to share with stockholders.
Not good. Not good at all.
For a technology company, CapEx, obviously, and R&D, are key areas that need regular reinvestment. These are the areas of investment that can set the future direction for the company and keep competitors at bay.
As you can see, only 18% of their top line is being spent here.

With all the other overhead expenditure thrown in, it's easy to see why the company can't be profitable if it continues this pattern of expenditure.
Why Spend So Much On Marketing And Sales?
At first glance, it would seem that an attrition rate under 10% and a revenue growth rate of over 30% wouldn't warrant a 50% of revenue spend on marketing and sales. Even if they cut their customer acquisition spend to 25% of revenue, they should still be able to grow faster than their attrition rate. Correct?
But that's not the way the company sees it, unfortunately.
Investor-speak: The Salesforce.com Sales Force Conundrum
This is a tricky situation to be in. On the one hand, if they cut their new customer acquisition spend, their top line will take a hit, and that's going to be disastrous for their stock in the short term. On the other hand, by keeping up this unsustainable spend on inorganic growth, they sacrifice the sorely needed investment into areas like talent acquisition, product development and infrastructure.
The thing that really confounds me is why they're not, at least, dipping deeper into their debt bucket to support the latter three of what I've outlined above. LTD as of the end of the last reported quarter was at $1.2 billion - not excessive for a growth company.
Do they continue to think growth always upstages profitability?
The big question from me to management is this: Why is your sales force so expensive, Salesforce.com?
And these are the "baby questions" that are born of that big poser:
Why not cut spend and invest the money in developing new revenue streams or strengthening your offerings?
Can you reduce your acquisition spend and maybe give back a tangible return to your faithful investors for the long run, not just in terms of escalating stock prices with no real substance to sustain or support them?
What's stopping you from using debt to fund research and development in any form?
How long can you sustain your trend of "non-profitability"?
These questions burn me up, to be honest. If I were a CRM investor, these are the questions I'd be throwing at management during earnings calls, not tepid questions about Systems Integrations.
The only analyst who touched on the topic of operating margins was Walter H. Pritchard of Citigroup Global Markets, Inc., but even that didn't sound like he was actually questioning the CFO, Mark Hawkins:
"Your guidance for the year in terms of operating margins is towards the lower end of your range of I think 100 basis points to 300 basis points of margin expansion, with your revenue growth at the lower end of that as well, can you talk about sort of how you are thinking about that prior framework for margins? And is there anything going on this year that we should think about impacting how you are adhering to that grid?"
Don't you think that sounds a bit too soft a line of questioning for a company that's making consistent losses year over year?
In fact, throughout the entire Q&A session, I just felt like everyone was in a congratulatory mood and completely ignored the burning issue at hand - profitability.
So, unless they do something about their spend on customer acquisition - or at least justify why that's the best (continued) course of action for the company, I would not continue putting my money into CRM.
Please follow me, and I will commit my every waking hour to finding the best and the worst of tech, retail, e-commerce, automobiles and much more.
Disclosure: I/we have no positions in any stocks mentioned, and no plans to initiate any positions within the next 72 hours.
I wrote this article myself, and it expresses my own opinions. I am not receiving compensation for it (other than from Seeking Alpha). I have no business relationship with any company whose stock is mentioned in this article.