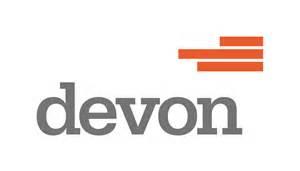 source: company website
Devon Energy (NYSE:DVN) outperformed many of its peers last quarter, garnering it a lot of positive attention, along with questions as to whether it was a one-off quarter or the company has been able to jump ahead of its competitors on a sustainable basis.
Analysts have a 12-month price target of $30 per share, which is almost halfway to meeting its goal from the time it stood at a little over $26 per share. It closed on Monday at $28.02 per share.
There is even a projected one year price target of $70, which would be a gain of close to 170 percent if it were achieved. That's a share price not based in reality, and even if it were to be achieved, it could only mean the price of oil soared and all ships were rising with the tide; meaning there may be a lot of other companies more compelling to look at if that is how it were to play out.
But since that isn't going to happen in 2016, we need to look at each company will perform in a market that will continue to be under low price pressure from oil and gas. I'm not saying the price won't rise some, especially with oil, but I am saying it will remain subdued while supply continues to exceed demand.
Concerning Devon Energy, what needs to be closely researched is whether or not it has other catalysts to drive the performance of the company beyond oil and gas hedges, which have been identified as the major reason it outperformed most of its peers in the fourth quarter. As a result it generated adjusted earnings-per-share of 77 cents in the fourth quarter of 2015, beating the consensus of 74 cents by 4.1 percent. In 2016 the hedges which helped it to beat its competitors are going to end.
While its revenue did drop by 18 percent year-over-year in the quarter, it was the lowest of it competitors. The key to its 2016 performance is if it has other measures in place and some intangibles which aren't obvious to investors, which will help it to continue to do well against its peers.
We also want to know if the price of oil does sustainably improve, whether or not Devon Energy is a good company to take a position in against those in the energy sector in general. Part of that would be determined by how high the price of oil rises and for how long. In other words, some companies that won't survive at the current price level could stay in business and remain competitors if the price of oil were to continue to rise at this rate. This wouldn't matter for its stronger competitors, but it would keep the number of U.S. shale competitors higher than if the price of oil and gas remain lower for longer.
Revenue in its oil, gas, and natural gas liquids took the biggest hit last quarter, which means it was a direct consequence of lower prices. That also means it'll move up proportionately if the price of oil and gas were to move up higher.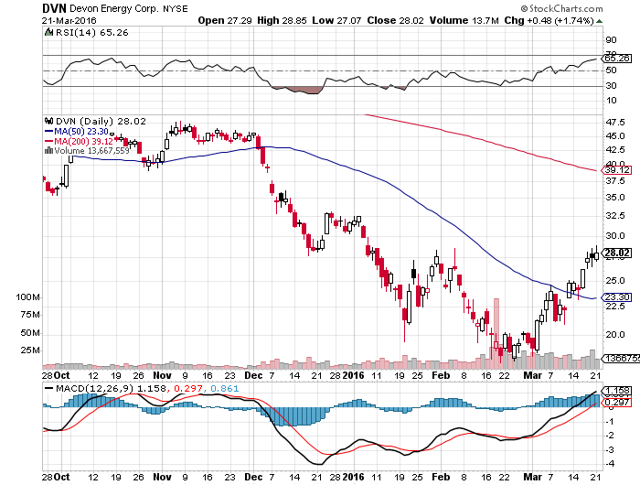 source: StockCharts.com
Balance sheet strength
Even while Devon was making some acquisitions in the last quarter of 2015, was also lowering its debt significantly during the same period of time. A number of its peers have debt levels that aren't sustainable under the current price scenario, while Devon has worked its debt down from $15 billion to $12 billion by the end of 2015. Since then it has remained close to that level.
It has divested of a number of its lower producing assets while issuing more stock, raising $1.47 billion.
Devon will continue to protect its balance sheet by funding projects with existing cash flow. It will also maintain low production levels until gas and oil prices make sense increase them. Consequently, over the last 12 months it cut capital investment by 75 percent.
Capital requirements for the year were slashed by $500 million and field-level costs by another $400 million.
In order to maintain cash flow of $1 billion on a go-forward basis, it cut its dividend, is laying off workers, and continuing to lower field level costs incrementally. It also has a goal of raising from $2 to $3 billion via divestitures throughout 2016.
As for as the next year, the company shouldn't have any problem enduring a low-price environment. If it lasts through the middle of 2017, or possibly longer, that could easily change.
Rating agency Moody's considers the layoffs as a credit negative because of the challenges the company will face once there is a sustainable turnaround in energy prices.
Short term Devon Energy has done well with its balance sheet, but it has diluted shareholders' holdings in regard to the issuance of more stock.
One important thing not reflected in the immediate balance sheet is the fact there is no large debt coming due until December 2018. This could be an important differentiator against peers with large amounts of debt needing to be paid before then. It also offers more capital flexibility to Devon.
Capital flexibility
Along with its solid balance sheet, Devon also has some intangibles going for it which adds to its capital flexibility, allowing it to hold its position or ramp up production. Also included is the absence of long-cycle projects and very few long-term contracts.
That means it isn't being forced to continue projects which would pressure its cash flow and make it more difficult to maintain its balance sheet strength. It can sit for some time on its drilled but uncompleted wells, waiting until the price environment improves, wherein it can quickly boost production.
If it takes longer than expected, the company, because of its commitment to short cycles, won't operate many projects at a loss. It could lose on the revenue side, but not on operational costs if production at the wells is held off. The flexibility also goes to the ability to make more spending cuts if prices force the company to interrupt its plans.
Devon is set fairly well on the oil side, with the expected outcome being level production in 2016 against 2015. The company has said oil production from its core assets should drop by only about 10 percent (from Q4 2015 to Q4 2016). If oil prices do surprise to the upside through the remainder of the year, those numbers could improve. It will depend on how comfortable the company feels about whether or not higher oil price will be sustainable. Gas will play a part here as well, as estimates are it will be the main contributor to a drop in top line production in 2016 of 6 percent.
For the next 12 to 18 months, Devon is positioned to endure an ongoing weak price environment because of its capital flexibility, and that could improve if it is able to get a decent price for assets it is divesting of. In that case, the higher the price of oil goes, the better it'll be for the company, because it would attract a higher bid. It also suggests if those interested in its assets want them at a better value, they may decide to be more aggressive if they believe the price of oil in particular will keep going higher.
Another positive position the company is in is most of its acreage is held by production, giving the company even further flexibility whatever direction the market takes for the rest of the year.
In order for the company to do well it'll have to be able to meet its promises of its capital program being able to be funded at current strip pricing, based upon its "operational cash flow, EnLink distributions, and expected Access Pipeline proceeds." I think for it to get the strongest response from investors it needs to get a firm deal in place for its Access Pipeline sale and close it. Devon has a 50 percent stake in Access Pipeline.
The company has performed strongly recently because of the rally in the price of oil, but that could quickly turn around once it levels out or reverses direction. Under these market conditions it has to show it can divest of non-core projects and raise additional capital to further strengthen its ability to last through an extended period of low oil and gas prices. So far it has shown it can do this well, but Access Pipeline, I believe, would close the deal in the minds of most investors.
Being able to show it is able and willing to pay down its debt even further while weathering the price storm would provide even more capital flexibility over the next couple of years. It would further its competitive advantage and performance.
At the end of 2015 it had $1.5 billion of cash and a capacity of $2.4 billion from its senior credit facility. The credit facility doesn't mature until the latter part of 2019.
Again, what this means is Devon can make a move either way in response to the market for a prolonged period of a downturn in prices. I've mentioned it probably has 18 months or so, but that could improve, depending on if it sales its share in Access Pipeline and what it gets for it.
Layoff challenge
The major challenge in laying off its workers, as Moody's mentioned, is its ability to quickly respond to more favorable market conditions by ramping up production. It's not guaranteed, as many companies in the housing market found out after demand soared and they weren't able to find the workers needed to meet the demand. That challenge remains to this day.
I think with Devon and the industry in general, that will be determined by how workers perceive the length of time it will take to reverse direction. If they are convinced it's a short term problem, they may keep themselves available to be recalled instead of getting other jobs or going to school.
This is another reason why the time it takes for oil and gas prices to rally to profitable levels is so important. Devon can afford to maintain organizational capacity for now, but it could lose the value of its flexibility if it doesn't have the required number of workers to quickly boost production levels when the opportunity to do so comes. I tend to think it will resist further layoffs of significance size, and only do so as a last resort.
It's equity offering has bought it more time and reduced the need to sale off assets at fire sale prices, but the price of oil doesn't rebound in the second half by meaningful levels, the company will be pressured to take more actions to retain a strong balance sheet and capital flexibility.
Conclusion
Hedging has helped Devon perform better than its peers, but that, for the most part, is coming to an end in 2016. Investors now have to ask themselves whether or not the company has any type of competitive advantage, or it's totally reliant upon a price rebound, which would improve the performance of all of its competitors as well.
What's important to note is Devon, in my mind, definitely has a competitive advantage in a low-price environment. But once commodity prices rise, will it retain its moat or fall behind production levels of its peers? It has done what is was able to do to prepare for either scenario.
It remains to be seen whether it's enough to turn things around and compete with fewer workers than it had in the past. That question won't be fully answered until energy prices rise to profitable and sustainable levels, and how long it takes to do so.
Devon has done very well on the defensive side of the business, and if the price of oil in particular remains low, it should continue to outperform its peers, even without the aide of hedging. It won't do as well of course, but it should do okay.
Devon has some excellent properties in the U.S., and if it can manage to hold onto its workers while maintaining the health of its balance sheet, it should be ready to compete strongly once a real turnaround in the price of oil comes.
Having lost over half its market cap over the last 12 months, I am concerned over its vulnerability to an ongoing low-price environment that, even with its current strength, would come under extreme stress in a relatively short period of time. This is why the divestitures need to be concluded and an even stronger balance sheet emerge as a result.
I see a lot of stress on Devon if in the next 9 months the price of oil doesn't jump. Pressure will accelerate after that if supply from drilled but uncompleted wells offsets loss in production from the weaker U.S. shale companies.
Many investors and analysts are rejoicing as if something significant has happened and the price of oil has bottomed out, but we haven't even seen the response from the stronger U.S. shale producers yet, and if they once again totally disrupt the market.
The next earnings report will give us some visibility, and the following one should give a solid picture of how shale producers will respond if the price of oil climbs to profitable levels. Devon Energy will be among those to watch closely.
Disclosure: I/we have no positions in any stocks mentioned, and no plans to initiate any positions within the next 72 hours.
I wrote this article myself, and it expresses my own opinions. I am not receiving compensation for it (other than from Seeking Alpha). I have no business relationship with any company whose stock is mentioned in this article.