2016 has been a horrendous year for pharma and biotech stocks in general. The iShares Nasdaq Biotechnology ETF (NASDAQ:IBB) is down 27% YTD and many of the Wall Street darlings (Gilead (NASDAQ:GILD) -11%, Celgene (NASDAQ:CELG) -19%, Regeneron (NASDAQ:REGN) -34%, and Bristol-Myers Squibb (NYSE:BMY) -11%) are down double digits (Figure 1). What happened? What has changed? Why the negative sentiment?
Figure 1. Biotech 2016 YTD
(click to enlarge)

Globally:
The first 5 weeks of 2016 were filled with fear and volatility (as seen by the volatility index (NYSEARCA:VXX) $19-$30). This was mainly due to weak international guidance in Europe and China, which brought stimulus oversees and a rising dollar. The rising dollar dented many US companies' yearly earnings which rely on international sales. In addition, the dramatic drop in oil prices based on oversupply helped to fuel this correction further.
In February, the overall market rebounded with deals to cut oil production globally, which caused an upswing in oil prices from $26 to $40. Finally, a bottom was thought to be in and the market rallied. However, international forecasts still look weak despite added stimulus. Based on the weak global outlook, the Fed has decided to slow down the pace of rate increases in the US (possibly 2 in 2016) which helped the market to rally and turn slightly positive for 2016 last week. However, pharma and biotech have not recovered. Why not?
It's an election year!
It's an election year and healthcare and prescription drug prices are a hot topic. Hillary Clinton is the democratic front-runner based on the most recent primary results (Figure 2) and she has a history of a strong stance on healthcare policy.
Figure 2.
(click to enlarge)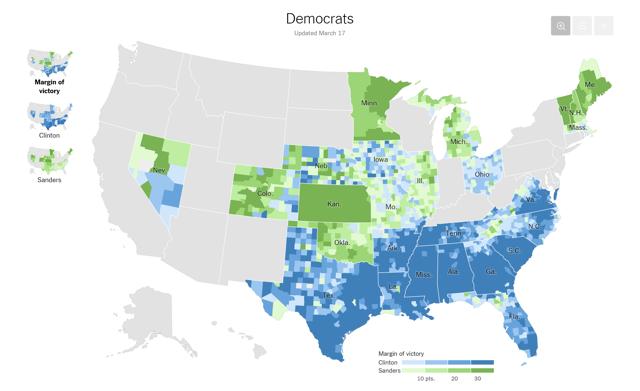 Clinton's pledge to lower healthcare prices has scared healthcare investors and has fueled the overall decline in the sector. Clinton's stance is to:
"Crack down on rising prescription drug prices and hold drug companies accountable so they get ahead by investing in research, not jacking up costs."
This is a pure play against companies like Valeant (NYSE:VRX) which acquire companies with existing drugs and mark them up substantially to reap large profits. Clinton states that she is looking to crack down on large annual price increases for prescription drugs. This will be difficult for her to achieve, but this is not a pure play against innovation and medicine. On the contrary, she is an activist for new vaccines and transformative medicines in general. In fact, Clinton encourages the next generation of health innovation and entrepreneurship.
"Hillary Clinton is committed to expanding access to high-quality data on cost, care quality, and health delivery system performance to help patients and doctors make informed choices and entrepreneurs build new products and services, making our healthcare markets more price and quality transparent as well as efficient - with careful protections for privacy and security. Innovative entrepreneurs are at the cutting edge of our health system, letting Americans monitor their heart rhythms and count their calories, matching patients with doctors, making prices more transparent and easier to understand for consumers, and even offering new ways of providing health insurance coverage that are accessible and affordable. Clinton understands that improving our health system takes innovation far beyond the federal government - and wants to leverage public and private resources when possible to encourage entrepreneurship that improves the healthiness and security of every American."
As you can see, Clinton is not anti-medicine. If you think she has a chance for uniform healthcare, think again. Even if she wins the presidency, she has a republican controlled congress which would never pass such legislation. Even with a democratic congress, I doubt this would pass. Do I think she will be able to control drug prices? No. Innovative and disease-modifying new drugs are expensive because drug discovery and clinical trial costs are high. Not to mention, this revenue pays for all the successes and failures in the clinic. You may see more push back over annual increases in drug prices in the coming years, but I would not expect new drug prices to be diminished at all without competition from other developers. You may see a cat and mouse game like Merck (NYSE:MRK) pulled in the HCV space in January.
To avoid the public criticism, Merck released the list price for its newly approved HCV regimen at $54,600, a $35k decrease from Gilead's Harvoni regimen. However, everyone following the HCV price war knows that Gilead's Harvoni does not really sell for $89k. It sells at a discounted price arranged by PBMs closer to the $50k range for a 12-week regimen based on volume discounts. This is one key insight missed by the news frequently.
Think of it like this: You go to an outlet store to buy some workout gear. The shorts you like are marked at $20 but have a ticket comparing them at $65 from the original retailer. Let's get real, the shorts were never $65 even at the retailer but provides the shopper with the idea that they are getting a deal. That's the Gilead model of a list price of $89k and a true cost of near $50k.
All that Merck did was say let's bring the list price down to stay out of the debate, but still charge roughly the same price. A pretty smart move by Merck's executives in an election year.
How would Trump influence drug prices if elected?
Trump is a free market businessman. He believes in competition to reduce healthcare costs. If elected, Trump wishes to enable citizens to purchase health insurance across state lines and buy prescription drugs in free markets that are cheaper. The first could potentially happen, but I definitely don't see Americans being able to purchase patented drugs oversees for a discount. That would violate many contracts in place between US drug companies and foreign countries to only treat citizens in their respective country for that price. Violations would be met with lengthy lawsuits.
So what is my stance on investment in pharma and biotech? Is this an overreaction or a trend?
In general, this is an overreaction in the biotech sector based on the the presidential debates and the political speeches around healthcare reform. Every nominee wants to say power to the people to get elected. However, what is actually done is another story. Biotechs are trading at least 20%-30% below their 52-week highs and offer companies with cash a tremendous opportunity for growth at a discount. One company that fits this assumption is Gilead. The big question is who is it going to buy? It has dropped to a P/E of under 8 and is unbelievably cheap compared to the rest of the S&P or pharma/biotech market. In practice, nothing has changed but the sector will be rocky in 2016 based on political talk alone.
My advice:
If you are a long-term investor, pick the winners and let them ride based on future potential and fundamentals. Even if they don't appreciate in the short term, you will be rewarded in the long term through growth of innovative medicines and high revenue. Great examples of this are Gilead, Merck, and Celgene. Each company is a proven winner with different rationale for future successes. Second, go long on high probability innovation like in the immuno-oncology sector. Immuno-oncology is hot and getting hotter and hotter by the day. However, approved indications on the currently approved drugs (Opdivo and Keytruda) are still in their infancy. With more approvals on the way from Roche (OTCQX:RHHBY) and Pfizer (NYSE:PFE) in this area and the enthusiasm by oncologists in the field, this field will be a great area for continued and future investment. Two areas to stay out of are me-too approaches that provide limited benefit to patients and companies that acquire previously approved drugs and look to profit through annual increases. The political environment is eager to stomp players in the latter two areas. Beware about your investment choices and their strategies for future growth in this sector.
Disclosure: I am/we are long GILD, MRK, BMY.
I wrote this article myself, and it expresses my own opinions. I am not receiving compensation for it (other than from Seeking Alpha). I have no business relationship with any company whose stock is mentioned in this article.
Additional disclosure: This article is not investment advice and is my opinion. I am not an investment adviser and any trades should be carefully considered prior to placing an order. All data in this report is public knowledge through company transcripts, editorials, and peer reviewed journal articles.
Editor's Note: This article discusses one or more securities that do not trade on a major U.S. exchange. Please be aware of the risks associated with these stocks.