The Wall Street Journal recently highlighted Taubman Centers' (NYSE:TCO) plans to spend $500 million to upgrade a mall in Los Angeles. Taubman called its plans a "re-imagination" of the mall. And it's obviously spending a lot of money on the project. But don't get caught up in the numbers, look at the big picture of this iconic mall owner.
How small?
One of the first things you'll notice when you look at Taubman is that it owns or operates just 23 malls. That makes it a pretty small player when you compare it to a giant like Simon Property Group (NYSE:SPG), which owns around 200 malls. In fact, over its history, Taubman has sold more malls (26) than it owns today.

That's odd for the real estate investment trust industry, which seems to cherish ever-increasing portfolio numbers. However, it speaks volumes about Taubman's focus. It wants to own the best possible malls and spends a great deal of time working with its properties to ensure that's the case. So, small is better.
And the proof is in the numbers. According to Taubman, its sales per square foot are in the $800 range. The next best competitors are in the mid-$600 a square foot range. Simon, the third best, is at around $620 or so. That leads to a favorable figure for rent per square foot. Taubman gets around $60 per square foot and Simon a little under $50. Clearly, Taubman is doing something right.
To get an idea of how dedicated Taubman is to operational excellence, consider these facts. Taubman has 615 full-time employees. That's roughly 26 per mall. Simon has 5,000 employees, or around 24 employees per mall. However, 1,850 of Simon's employees are part time, so it only has about 15 full-time employees per mall.
As a property portfolio gets bigger, there are clearly economies of scale that allow more work to be done by fewer people. But at what point does size begin to become a distraction that takes your eye off the ball and you start to pay more attention to the forest and less to the individual trees? Taubman clearly isn't there (there aren't nearly enough trees), but it would be fair to wonder if Simon is...
That said, Simon is working on refurbishing/upgrading nearly 30 properties right now, so it's hard to say they are falling down on the job. But Simon can't possibly have as much focus as Taubman; its portfolio is just too big and its employees are spread much thinner.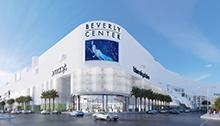 Some background
Which brings up another important fact about Taubman, which is one of the REITs on my wish list. Taubman COO William Taubman, explained to The Wall Street Journal, "You need to stay fresh and dynamic," adding that, "our competitive position would have eroded," if it didn't upgrade the Los Angeles property. And while the costs are big, he summed the industry up nicely: "This is not a game for the faint of heart."
Taubman has never shied away from taking risks. For example, Taubman has a long list of mall-life staples that it was first, or among the first, to put in place. Multistoried malls, food courts, movie theaters, column-free store design, and the use of ring roads around its properties all make the list of innovations where Taubman has been a leader. Now you might question the value of something as simple as a ring road, but it eases traffic and mall access. That makes the mall experience much better for everyone. But imagine the cost of putting one in when no one else ever had... It takes a leap of faith and finance. (I don't even want to think what malls were like before food courts.)
The takeaway here is that Taubman is a leader, not a follower. That doesn't mean it won't incorporate the successes of others, but that it is often at the forefront of the industry. And that costs money. Moreover, it means taking risks. In a day and age when the Internet is helping to diminish the value of a trip to the mall, I'd rather own a Taubman than just about any other player. It puts all of its efforts into owning the best, and with such a small portfolio, it has no choice but to react quickly to changes in the landscape.
Hey big spender...
So, as The Journal points out, owning a mall is a costly affair. That's an issue that some will find concerning as Internet sales grow, and perhaps rightly so. But property is all about location, location, location. And if you focus on owning great malls and operating them better than anyone else, then the Internet can only do so much harm. On that score, I think Taubman's spending, such as the L.A. mall, will work out just as well this time around as it has in the past. That, in turn, will keep its mall portfolio relevant even in a fast-changing retail landscape.
Disclosure: I/we have no positions in any stocks mentioned, and no plans to initiate any positions within the next 72 hours.
I wrote this article myself, and it expresses my own opinions. I am not receiving compensation for it (other than from Seeking Alpha). I have no business relationship with any company whose stock is mentioned in this article.