While the stock has rallied in recent weeks, Kinder Morgan (NYSE:KMI) remains deeply undervalued, especially when compared to its peers in the midstream sector.
The stock is trading at very low multiples to its cash flow generation, likely a result of its low dividend yield. This is despite the fact that the downside risk has lessened considerably now that the company has shifted over to funding its growth capex (and dividend) with internal cash flow.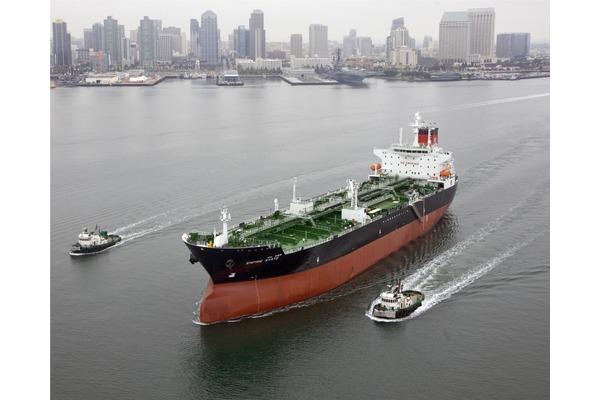 Kinder Morgan is cheaper than its peers
Using its 2016 guidance, Kinder Morgan is estimated to have distributable cash flow "DCF" of $4.7 billion and EBITDA of $7.6 billion. With a market cap of $41 billion and an enterprise value of $83.5 billion ($41 billion in debt, $1.5 billion in preferred stock), this gives Kinder Morgan a price to DCF ratio of just under 9.0x and an EV/EBITDA multiple of just under 11.0x. The dividend yield is currently 2.7%.
These are both very low multiples for the midstream sector. For example, Kinder Morgan was at one point trading at 20x P/DCF and 16x EV/EBITDA in early 2015. Though, the dividend yield is much less than what the sector offers.
How does this compare to other large-cap midstream companies such as Williams Partners (NYSE:WPZ), Energy Transfer Partners (NYSE:ETP), Plains All American Pipeline (NYSE:PAA), Spectra Energy Partners (NYSE:SEP), Enterprise Products Partners (NYSE:EPD) and Magellan Midstream Partners (NYSE:MMP)? The following chart tells the story.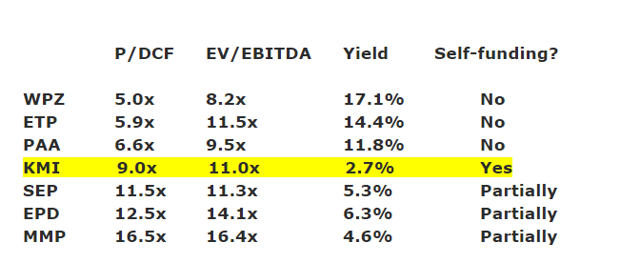 A few notes about this list. First, I am not including the pure-play General Partners in the list, only traditional midstream MLPs. I am using the full-year 2015 numbers for all but KMI. EBITDA is always "adjusted EBITDA."
Other adjustments: For PAA, I adjusted DCF lower to include the oil spill expenses (these are real expenses). For EPD, I am backing out the asset sale proceeds from DCF (it is a one-time, non-recurring item). For WPZ, I am backing out the IDR waivers from Williams (NYSE:WMB) (one-time item).
As shown, KMI is in the middle of the pact in terms of its valuation. PAA, WPZ and ETP are much cheaper in terms of P/DCF multiples and yield much more, though each of these other companies has serious problems that Kinder Morgan no longer has.
As for SEP, EPD and MMP, these are much more expensive than Kinder Morgan via both P/DCF and EV/EBITDA. But these stocks also have much more healthier yields. Though, Kinder Morgan has all of these beat by being able to fully fund its capex budget, as shown below: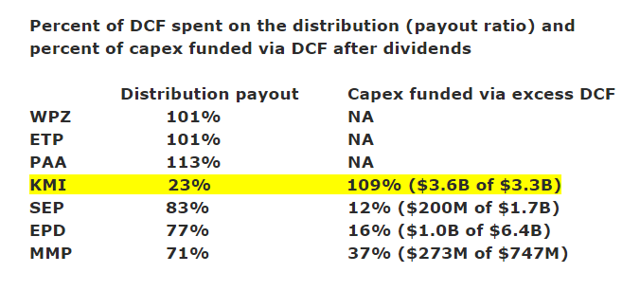 As shown, Kinder Morgan is the only one to fully fund its capex budget via excess DCF (DCF after dividends), with some cash left over. All the others either do not even cover the distributions or only partially cover the capex budget. This makes Kinder Morgan a lot less susceptible to the volatility in the equity/debt markets than the others.
Indeed, Kinder Morgan's 23% dividend payout ratio is a major anomaly in the sector. The company clearly chose to safeguard its capex spending by cutting the dividend so sharply last year.
Conclusion
As noted earlier, Kinder Morgan's valuation is likely being held back by its low dividend yield. After all, this is a sector full of income investors, not growth. Which is a shame. To put this into perspective, Kinder Morgan could in theory double the dividend, raise its yield to a decent 5.4%, have a sector best 46% payout ratio and still fund 75% of its capex budget. If this were the case, Kinder Morgan's valuation would probably be closer to that of SEP, EPD and MMP.
As to where I would value Kinder Morgan, I think the stock deserves to trade in line with EPD in terms of P/DCF (12.5x), so around ~$26 per share, which suggests 40% upside.
Disclaimer: The opinions in this article are for informational purposes only and should not be construed as a recommendation to buy or sell the stocks mentioned. Please do your own due diligence before making any investment decision.
Disclosure: I am/we are long KMI, WMB.
I wrote this article myself, and it expresses my own opinions. I am not receiving compensation for it (other than from Seeking Alpha). I have no business relationship with any company whose stock is mentioned in this article.