ARMOUR Residential REIT (NYSE:ARR) reached a deal to buy Javelin Mortgage Investment (NYSE:JMI), which was excellent for both parties. Shareholders in JMI got a substantial premium to share prices, while ARR acquired assets for less than fair market value. The two mREITs have the same external manager, which could be a challenge when it comes to establishing an arm's length transaction, but the deal produced a substantial amount of positive impacts regardless.
Book Value Should Be Updated
I'm working on establishing book value estimates for ARR, but incorporating the purchase of JMI can be fairly difficult. It should have a positive impact on BV, but the impact is limited because JMI was dramatically smaller than ARR so the purchase is spread out over a large volume of shares.
I decided to leave the impact of the acquisition off. I see it as a positive factor, but I don't see it as a huge game changer for ARR.
Normally ARR would provide updates through their website, but the last update was January 2016.
Duration
The quickest and roughest way to estimate portfolio fluctuations in value is using the balance sheet duration. This has some substantial problems since LIBOR rates deviate from treasury yields. MBS prices don't quite follow treasury prices, and the yield curve often twists rather than shifts. For investors unfamiliar with that term, it means that the yield curve movements are not uniform across the entire curve.

Since interest rates at most durations went down during the quarter, we can assess very quickly that negative balance sheet duration is probably going to a be a bad sign.
Hedges
Then we can move on and look at the individual hedges that were in place for ARR. This data isn't quite perfect, but it is provided in substantially better format for ARR than for many peers.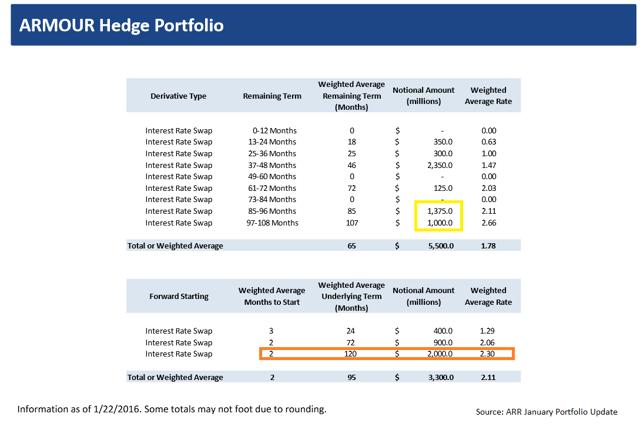 I put the orange line around the position that I believe generated the most losses and the yellow lines around another position that should be quite significant.
Why Those Positions
Remember that the yield curve often twists rather than moving up or down in a uniform fashion. We saw the yield curve flatten and we saw rates fall. The combination suggests that exposure that is farther out on the yield curve should have much larger price swings.
The changes in the swap curve looked like this: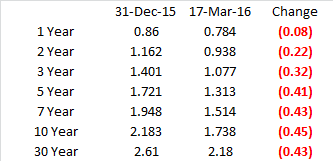 Shorter swaps were significantly less damaging than longer duration swaps due to the smaller change in rates at that point of the yield curve and the shorter duration of the position.
New BV
The following table demonstrates the calculations to prepare a rough estimate of the new BV before the impact of buying JMI. It is worth noting that the model is also currently not factoring in the economic costs that come from using forward starting swaps. This leaves off one negative factor and one positive factor. I believe the economic cost of those swaps is larger than the gain generated through buying JMI at a discount to book value, so I believe the real book should be lower than this estimate unless ARR was buying back shares.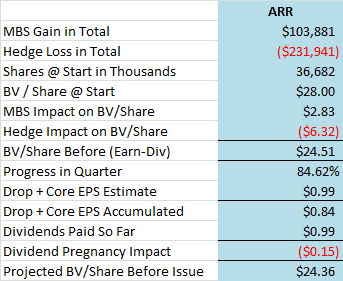 The earnings estimate is very rough and in this case simply represents the current quarterly dividend. Whether ARR declares higher or lower Core EPS may be significantly influenced by whether their forward starting swaps become current swaps and require a payment in the first quarter or whether that would happen in the second quarter.
New Discounts
Using these rough figures suggests the discount based on a last price of $21.31 would be a mere 12.5%. Since I'm still doing some work on the models I expect my estimates to be a little rougher than normal, but it should be in the ball park. The substantial hedge loss relative to the MBS gains may seem fairly harsh, but MBS didn't rally particularly well given the change in rates. Investors are concerned about high levels of prepayments, which would drag down the yield on assets and justifies a lower price.
Hoping For More
Since ARR had fairly weak price performance since the start of the quarter relative to peers, I was hoping for a fairly compelling opportunity. After updating my tools and estimating the BV, I'm no longer seeing a compelling opportunity. If I thought BV was still in the ball park of $28, I would see a compelling buy. When I'm estimating the BV as running around $24 to $25, I don't see enough potential returns to justify the risk.
Conclusion
I'm firmly bearish on ARR. I thought it looked like an opportunity with some strong potential, but the expected losses on hedges are simply too much.
There is one positive that I want to point out. The way ARR hedged the portfolio would protect the mREIT from a steepening of the yield curve that would hit most mREITs. Had the yield curve steepened, rather than flattened, ARR would have been thoroughly outperforming. One reason I want to keep an eye on the stock is because they could suddenly become more attractive if the yield curve started to steepen.
Disclosure: I/we have no positions in any stocks mentioned, and no plans to initiate any positions within the next 72 hours.
I wrote this article myself, and it expresses my own opinions. I am not receiving compensation for it (other than from Seeking Alpha). I have no business relationship with any company whose stock is mentioned in this article.
Additional disclosure: Information in this article represents the opinion of the analyst. All statements are represented as opinions, rather than facts, and should not be construed as advice to buy or sell a security. Ratings of "outperform" and "underperform" reflect the analyst's estimation of a divergence between the market value for a security and the price that would be appropriate given the potential for risks and returns relative to other securities. The analyst does not know your particular objectives for returns or constraints upon investing. All investors are encouraged to do their own research before making any investment decision. Information is regularly obtained from Yahoo Finance, Google Finance, and SEC Database. If Yahoo, Google, or the SEC database contained faulty or old information it could be incorporated into my analysis.