Infinity Property and Casualty (NASDAQ:IPCC) is a rather small insurance company, which offers strong dividend growth and share price appreciation to its owners. Its latest results were alright, and the company remains inexpensive.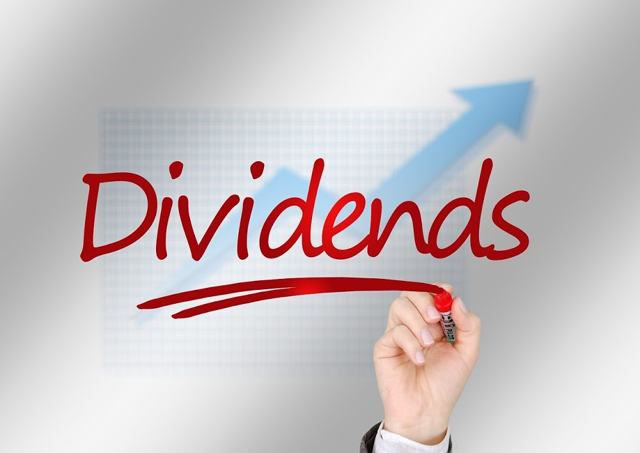 In 2015, Infinity Property and Casualty grossed revenues of $1.48 billion, an increase of 1.5 percent versus the prior year. Gross written premium grew 2% to 1.39 billion in 2015. Net income declined 10% to $52 million, and earnings per share were down 8.9% to $4.51. This was based on the accident year combined ratio increasing from 95.1% to 95.6% in 2015, which led to an underwriting income decrease of 9%.
The fourth quarter saw gross written premium increase of 2.7% (to $311 million), but an unusually high combined ratio of 96.7% (versus 91.8% in the prior year), which made underwriting income fall 59% to $11 million.
I believe the revenue and gross premium numbers are the ones investors should focus on, and they look rather good. Revenues grew for the year, and gross premium growth accelerated towards the end of the year. Lower underwriting income was based on a higher combined ratio, which is unlikely to remain at these elevated levels. As the combined ratio gets back down to its historical levels, Infinity Property and Casualty will be able to show strong income growth due to higher gross premiums, thanks to growth in this area.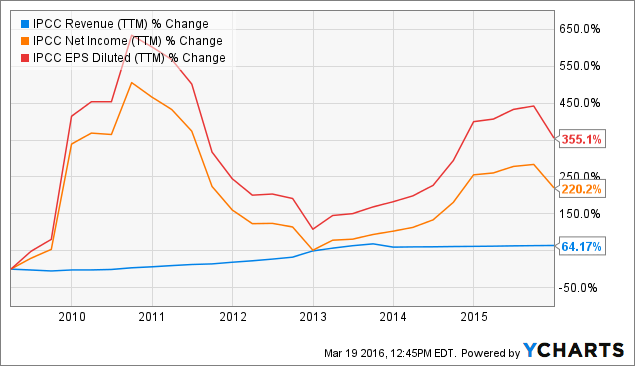 The company has always seen bigger swings in its net income and earnings per share relative to its revenue growth. For long-term investors, these short-term swings are not too dramatic.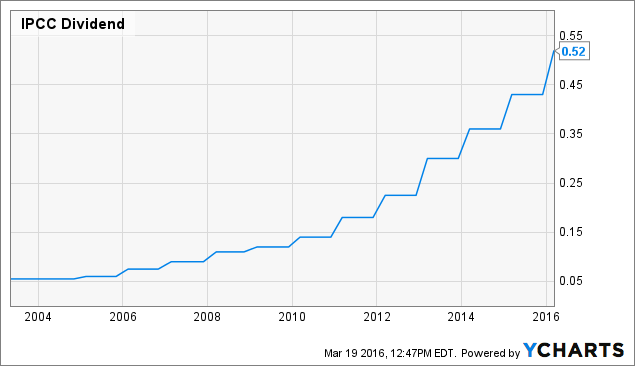 Since it went public a little more than 10 years ago, Infinity Property and Casualty has increased its dividend each year, by a combined 850 percent. This equals a very substantial dividend growth rate of 19% annually, and the company is not slowing down its dividend growth. With its most recent dividend announcement, Infinity Property and Casualty has increased the quarterly payout by 21% (from $0.43 to $0.52). Investors who buy at today's price get a 2.7 percent dividend yield, which has the potential to grow significantly over the next years if the company is able to keep the dividend growth rate at the current level.
Infinity Property and Casualty's payout ratio is 46 percent, the company has generated operating cash flows of $70 million over the last year and has $65 million in cash on its balance sheet, and its dividend totals $20 million a year. The dividend is, thus, well supported and can easily be grown over the next years, even if net income and cash flows would not grow over that time.
In addition to its dividend payments, the company also returns cash to shareholders via stock buybacks, which totaled $12 million in the last quarter (which is equal to 1.5 percent of its market capitalization). It could thus reduce the share count by about 6% a year, if the pace of share repurchases is kept at the current level.
With a dividend yielding 2.7 percent right now (which is almost 30 percent more than the broad market's 2.1 percent dividend yield), strong dividend growth (with a dividend growth rate of about 20 percent for all of its existence as well as for the most recent increase) and a rather low payout ratio, Infinity Property and Casualty looks like an attractive pick for dividend growth investors. If the company was able to increase its dividend by 20 percent over the next five years as well, the yield on cost for someone buying now would be 6.7 percent, not including any dividend reinvestment.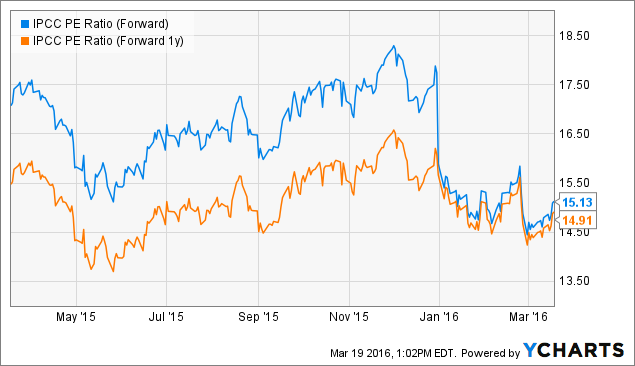 Infinity Property and Casualty's valuation came down over the last months - the company trades at 15.1 times forward earnings and 14.9 times forward (one-year) earnings. This is a rather low valuation - its forward earnings yield is 6.6 percent right now. Looking at the price-to-book multiple, we come to the same conclusion: Infinity Property and Casualty is rather inexpensive right now, trading at 1.26 times book value. One year ago, the company's shares were sold for more than 1.3 times book value, so the company's shares got even more attractive by that metric over the last year.
Infinity Property and Casualty is active in the so-called nonstandard car insurance market, which provides insurance to people unable to get insurance from standard car insurance companies. This can be due to these people being of a certain age, the car being of a certain type or the person having a record of accidents, tickets or drug use (DUI). These people do not get car insurance from standard car insurance companies, and will thus have to get insured by specialized companies such as Infinity Property and Casualty.
The nonstandard car insurance market is growing at a faster pace than the standard insurance market, which means Infinity Property and Casualty is active in a fast-growing market niche. Its peers include Geico (a subsidiary of Berkshire Hathaway (BRK.A, BRK.B)) and Progressive Corp. (NYSE:PGR), which has about 20 times IPCC's market capitalization. Infinity Property and Casualty is the third-largest nonstandard car insurance provider, and with more than 12,000 agents, the company should be able to capitalize on the niche's fast growth rate. It is focused on the California market, which, together with Texas and Florida, makes up 60% of the US-wide market. The company thus is in a strong position to grow its number of customers, gross premiums, revenues, income and its dividend.
Lastly, it is not unlikely that Infinity Property and Casualty will get acquired in the future, as the nonstandard car insurance market has seen a lot of M&A activity in the last years. In this case, IPCC investors would not see a lot of dividend growth going forward, but a takeover would probably come with a high takeover premium and, thus, substantial capital appreciation.
Takeaway
Infinity Property and Casualty's gross written premiums and revenues keep growing, and if the combined ratio is around historical levels, the company should be able to keep net income growing as well.
Its dividend yield of 2.7 percent is attractive, and the steady dividend growth since the company went public makes IPCC attractive for dividend growth investors.
With a huge cash position (relative to the company's size), a low payout ratio and high shareholder returns, the company looks compelling at the current (rather low) valuation.
Disclosure: I/we have no positions in any stocks mentioned, but may initiate a long position in IPCC over the next 72 hours.
I wrote this article myself, and it expresses my own opinions. I am not receiving compensation for it (other than from Seeking Alpha). I have no business relationship with any company whose stock is mentioned in this article.