After declining for the last 12 weeks, the US oil rig count has gained by one unit to 387, the latest data from Baker Hughes (NYSE:BHI) shows. The news comes following oil's 50% rise from last month's lows. Some analysts are expecting a rebound in drilling activity in the coming months. The sentiment in the oilfield services market has improved. The Market Vectors Oil Services ETF (NYSEARCA:OIH) has moved back into positive territory, rising by 3.5% on a year-to-date basis. But there's likely more pain in store for Schlumberger (NYSE:SLB), the world's leading oilfield services company.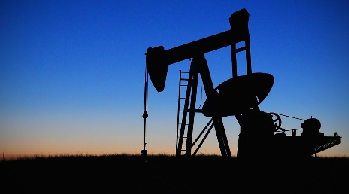 The persistent weakness in crude prices prompted shale drillers to remove more than a dozen rigs each week, but some oil producers seem to be optimistic about the near-term future. Oil producers have removed roughly three fewer rigs each week in 2016 as compared to 2015. Last year, 18 rigs were taken off-line each week, on an average, but this number dropped to 15 weeks this year (for eg., the latest week). Finally, for the week ending March 18, oil producers actually added a rig.
The market sentiment has improved significantly ever since the major oil producing countries, including Saudi Arabia and Russia, showed their willingness to freeze output in order to bring some stability. The leading oil producing nations haven't reached on an agreement yet, but Mr. Market is hoping they will, and that's what fueling most of the rally. The fact that US crude output has been going downhill and dropped to its lowest level since November 2014 for the week ending March 11 has also helped, according to data from EIA.
But Schlumberger, which has already reported significant decline in revenues and profits due to pricing pressure and weak demand from oil producers, will remain under pressure. In the previous quarter, the company posted a 39% year-over-year drop in revenues in the previous quarter to $7.74 billion, with a 55% decline in North America and a 30% drop in international markets. Its profit, excluding the impact of one-off items, tumbled 56.67% to $0.65 per share. On a reported/GAAP basis, Schlumberger swung to a loss of $0.81 per share from a profit of $1.21 per share a year earlier. This was the first loss for the company in 12 years.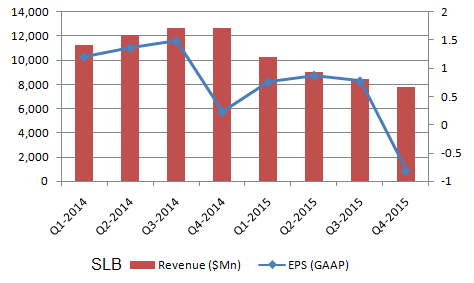 Schlumberger has recently given the current quarter's guidance, which wasn't pretty. The company expects to generate revenues of $6.5 billion in the quarter, which is lower than analysts' consensus estimate of $6.94 billion, according to data from Thomson Reuters, and will likely be the lowest revenues over the past several years.
And it is unlikely that things will turn around quickly. Although the decline in rigs has slowed down, the fact remains that the rig count has reached decades lows, and continues to get worse. Despite the addition of an oil rig, the total number of oil and gas rigs dropped by four to 476 units, its lowest level since 1940 - that's when Franklin Roosevelt was president. For natural gas, the rig count is at its lowest since 1987 - that's when Ronald Reagan was at the helm.
Meanwhile, oil and gas producers are keeping a lid on capital spending while looking for ways to further reduce costs. According to various estimates, including from the EIA and crude oil pipeline operator Enterprise Products Partners (NYSE:EPD), the US crude oil output is positioned to drop by 1-2 million barrels a day between YE-2015 and YE-2017. That's also a testament to prolonged weakness in drilling activity.
These estimates, which are fairly recent, also suggest that despite significant gains in oil prices, producers are not going to meaningfully ramp up drilling activity in the short term. Why? Because the producers will likely consider increasing drilling activity only when oil prices stabilize and the markets get back to rewarding production growth, as opposed to the current environment that is all about preserving financial health. In fact, Mark Papa, the former head of EOG Resources (NYSE:EOG), one of my favorite shale drillers, believes that oil producers have become more cautious, which implies that drillers aren't exactly eager to add new rigs.
On top of this, Paal Kibsgaard, Schlumberger's head has said in the backdrop of a recently held energy conference that the energy industry is going through the worst downturn of its history, and that we are currently going through what could be the most difficult part of this cycle. Kibsgaard is not expecting significant uptake in drilling activity until 2017.
Therefore, I believe the one rig addition we saw last week was likely a one-off event. As we move forward, the total number of oil and gas rigs will continue to decline. For now, Schlumberger's shares will likely remain range-bound as the company battles through the downturn.
Disclosure: I/we have no positions in any stocks mentioned, and no plans to initiate any positions within the next 72 hours.
I wrote this article myself, and it expresses my own opinions. I am not receiving compensation for it (other than from Seeking Alpha). I have no business relationship with any company whose stock is mentioned in this article.