By Geoffrey Fitzgerald Jr., James Callaway, and Peter Hagerty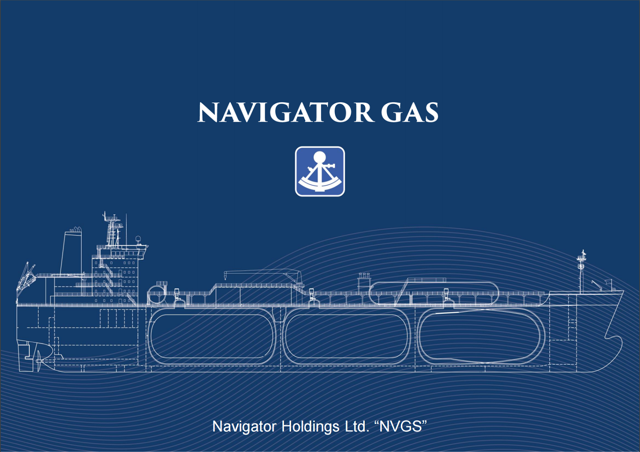 Source: Navigator Holdings Company Website.
Moore's law is the observational law that throughout the history of the tech industry, the number of transistors within a circuit doubles approximately every two years. As a result, circuits become more complex. While seemingly out of place, Moore's law is pertinent to the natural gas industry. As applied to the industry, it has meant that the amount of natural gas produced by drilling companies has increased, even as the number of drilling rigs has decreased.
The United States once ran on coal, as most countries across the globe did. However, coal is a very finite non-renewable energy source, and as a result, has become more scarce as the years progress. As a result, the expenses for using coal have not decreased. In other fields, as industry-relevant technology is invented, operating cost goes down and efficiency rises due to new technology. However, this is not the case with the coal industry, due to the overdependence on coal and excess demand on the coal industry. The natural gas industry, on the other hand, which has not seen the over-reliance as the coal industry, has been booming, and because it is in its very formative stages, has seen reduction in the expenses associated with the production of natural gas. Ergo, natural gas is beginning to replace coal as the energy source of choice within the United States.
Natural gas also serves to help the United States and the growing need to reduce carbon emissions. When burned, natural gas produces more energy and less environmental damage, unlike coal. Natural gas also has a lower carbon content than coal, so plants can make the same amount of energy using less gas than coal, or conversely, using the same amount of natural gas as coal, the plant can make more energy and emit less carbon dioxide into the environment. In short, natural gas is both a more efficient and cleaner fuel source than the arcane form of energy coal.
The natural gas industry is projected to continue its steady trend of double-digit growth into the early 2020s. Global demand is expected to increase 20% year over year until 2020, with the United States retaining its position as the global export leader. Furthermore, the global demand for natural gas is projected to originate mostly from foreign markets, including the BRIC and Asian markets. As a result, United States natural gas producers will need to ship their supply of gas to the growing foreign demanders. In steps Navigator Holdings (NYSE:NVGS), the industry leader in the LPG (liquefied petroleum gas) transport industry.
Navigator Holdings currently employs a fleet of 28 ships, consisting of semi-refrigerated, fully refrigerated, and ethylene-capable vessels. Unlike some of their competitors, all of Navigator Holdings' ships are handy-size, which are ships classified as medium-sized vessels. Although having comparably smaller vessels could be seen as a drawback, by utilizing only handy-size vessels, Navigator Holdings' fleet is capable of docking in any port around the globe, not just the deep water ports the larger vessels must use. This increased versatility gives the company a competitive advantage over its competitors, especially in emerging countries which have yet to established robust deep water ports. It also owns a leading 26% market share of the handy-size ship gas shipping business, which allows the company to continue to grow as the industry leader.
It is also poised to take advantage of many trends within the natural resources industry. The ethylene market - an industry Navigator Holdings is exposed to - is projected to grow at 6% annually at least through 2020. Furthermore, the company has recently purchased 4 new ethylene-capable vessels, which will allow it to continue to grow alongside this emerging market. These four carriers, it should be noted, are more than 1.5x the size of the largest existing ethylene-capable carriers, meaning each new ship should be able to hold more gas than any existing, with the ratio of capacity at 3:2. Even still, the entire LNG industry is set to continue to grow at an alarming compound growth rate of 15% per year, and as Navigator Holdings adds another eight vessels, (4 semi-refrigerated, 4 ethylene-capable), it will be in a perfect position to capitalize on these trends.
The company has continued to improve its business management and administrative techniques striving towards a more efficient and economical transportation system. Dry docking is a large expense for Navigator Holdings. Dry docking hurts the company in two ways - as a direct cost and as an indirect cost due to lack of revenue. Because the ship is out of water while dry-docked, it obviously cannot transport natural gas. As a result, Navigator Holdings is hurt both by the monetary cost of the repairs and maintenance associated with the ship being in the dry dock, and the decrease in the amount of revenue it can produce. Last year, the company spent $11.6 million on dry docking, accounting for its ships spending a combined 238 days in the dry dock. Navigator Holdings has already projected its 2016 numbers, which account for a cost of $7.2 million and only 146 days of time to be spent in the dry dock.
The company itself has also continued to improve its business efficiency, cutting general expenses and continuing to efficiently streamline its business segments. As Navigator Holdings integrates newer ships into its fleet, the company subsequently sells off older, more costly ships and lowers the average cost of maintenance, described as the cost per vessel per day. The company continues to lower the average cost per vessel per day, which allows it to grow profit margins and retain more cash for investment and continual growth. Furthermore, it has continually made an effort to integrate technical planning into its interior business, and management plans to have "the first vessel under in-house technical management in the next two months." Should this integration prove successful, Navigator Holdings would be taking another step in the right direction towards cutting expenses and maximizing margins.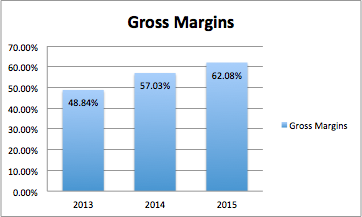 Navigator Holdings has been overlooked in the past, because of some seemingly alarming concerns. The company has had negative free cash flows for the past few years, but this is actually a positive indicator of future growth, rather than a sign for concern. The reason that Navigator Holdings has recently had a massive Capital Expenditure expense is because of the eight new vessels, which cost about $44 million per year each. This Capital Expenditure is set to end in mid-2016 or 2017 as the new vessels are added to the current fleet. Even with this expense, however, the company has continued to grow revenue and keep its cost of goods expenses stable, leading to a growth in profit.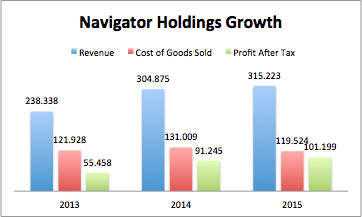 Finally, Navigator Holdings provides something of a secure growth opportunity. For example, because of its expanding fleet, even if shipping volumes (the number of ships moving the natural gas) were to decrease by 20% within the next year, the company would be expecting to see a growth in its revenue. And in case that is not enough of a reason to purchase the stock, the recent slide of oil prices over the last year and a half was projected to kill the natural gas business, and yet, Navigator Holdings has recently reported record-setting revenue.
Disclosure: I am/we are long NVGS.
I wrote this article myself, and it expresses my own opinions. I am not receiving compensation for it (other than from Seeking Alpha). I have no business relationship with any company whose stock is mentioned in this article.