Since our last bullish article on Cisco (NASDAQ:CSCO) just over a month ago, the shares are up 15%. This is in part due to a broader market rally which has seen the Dow Jones Composite rise 12.6% in the same time frame, but we attribute the slight outperformance in CSCO to the fact that the shares are fundamentally and significantly undervalued. We expect the shares to continue to rally over the next 12 months.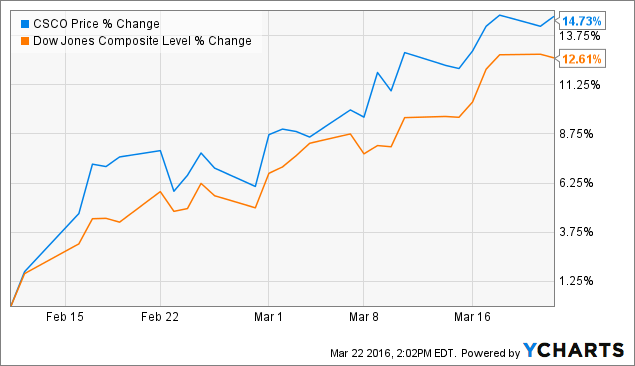 CSCO data by YCharts
In our previous article, we asserted that the 2Q16 results supported our thesis that the company is appropriately transitioning its product offerings and business focus to adapt to a cloud-dominated market. As a result, we maintained a favorable outlook on Cisco's ability to migrate its hardware business model to a software and services business model.
Since then, we believe continued aggressive M&A activity illustrates the company is strategically positioned for disruptive moves in the security space. According to this interview, it seems like Cisco is essentially attempting to reinvent the way security systems operate. For a company that some consider to be an antiquated cash cow, the moves it is making in the security systems space are refreshingly innovative and disruptive.
Cisco recognizes that a problem in the security systems space is the high level of fragmentation within security networks. This is a result of each of its customers having, on average, between 50 and 60 vendors in their security networks. The traditional precedent is that each of these vendors is handled as a separate element in the security network. Thus, 50 or 60 vendors means 50 or 60 separate elements, and Cisco calls this a "patchwork of point products". This unconsolidated, often mismatched patchwork of products means there is a great deal of complexity embedded into multi-vendor security networks. Ultimately, this complexity erodes the efficacy of those security systems.
Cisco is attempting to reduce this complexity and bolster efficacy through creating a consolidated architecture for handling multi-vendor security. It is creating a single system tied together by the cloud. The company is putting some serious money into fleshing this system out through acquiring security vendors and integrating them into the consolidated architecture. According to senior VP of Cisco's security business, David Goeckler:
We've spent approximately $4 billion in M&A in that timeframe to bolster the portfolio, pivot up the threat, fill in gaps, extend the portfolio, basically accelerate the building of that architecture and then we partner. No security vendor is going to have every single function. It's a big market. We want to build an architecture that's open and extensible and we partner and drive innovation around that architecture.
We have written several bullish articles on Facebook's (NASDAQ:FB) app consolidation plans. Facebook is attempting to consolidate multi-app functionality into its single app network, and we believe this is something the company can successfully deliver on because of its size.
We think there is a similar story at play here. Cisco is attempting consolidation in the security space, where it can use its size as leverage. It is the leader in the security market, with 17% market share. We see a simplified, consolidated security architecture run through the cloud as having multiple benefits for Cisco's security customers and being a boon to the company's overall security business, which grew 11% last quarter (deferred revenue up 26%).
This is only one moving part of the entire Cisco business which seems to be moving forward with significant momentum. Cloud-based SaaS revenue was up double-digits last quarter, while the ACI business more than doubled last quarter to a $2 billion run rate. Despite this diversified growth, the stock remains remarkably cheap. At a ~$28 quote, the stock is trading at ~7.5x EV/OCF on 24.45% OCF growth so far this year. It is just as cheap on a free cash flow basis, with a ~8.3x EV/FCF multiple on 26.7% FCF growth. The ex-cash P/E hovers right around 10x, while diluted EPS is up almost 33% this year. Across the board, the stock still trades at a dramatic discount to its growth.

CSCO is also trading at a discount to where it has historically traded. At 6.9x EV/EBITDA and 14x trailing earnings, the stock is markedly cheaper than it was a year ago, when it was trading around 8.5x EV/EBITDA and 17x trailing earnings.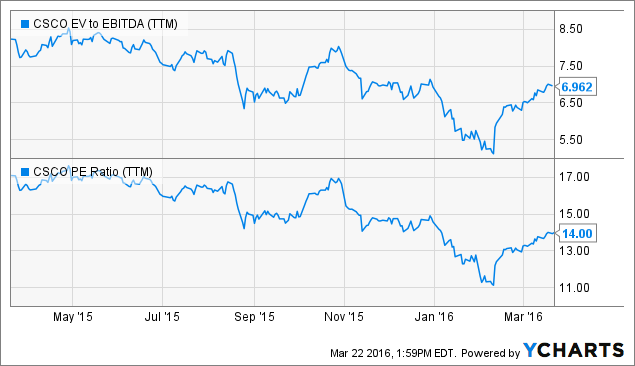 CSCO EV to EBITDA (TTM) data by YCharts
Overall, we think that even with a 15% rally over the past month, shares of Cisco remain fundamentally and significantly undervalued. The stock is cheap, trading at a discount to where it has traded and to its growth. The growth potential is promising. The balance sheet is strong. The ~3.5% dividend yield is attractive. There are several things to like about this stock and this company, and we believe the shares have significant upside over the next 12 months.
Disclosure: I am/we are long CSCO, FB.
I wrote this article myself, and it expresses my own opinions. I am not receiving compensation for it (other than from Seeking Alpha). I have no business relationship with any company whose stock is mentioned in this article.