Johnson & Johnson (NYSE:JNJ) is a conservative dividend growth investor's dream. This company delivers dividend hikes like clockwork every April.
The dividends are backed by solid earnings - in fact, adjusted EPS has been rising every year for 32 years, as detailed on page 23 of its latest earnings presentation. To my knowledge, no other company can sport such earnings stability over such a long period of time. To top it all, the company's AAA credit rating makes it a safer counterparty than the U.S. government.
OK, so we can be pretty confident about this company's solid fundamentals, but perhaps stability and safety has come at the cost of low returns? To answer that, let's review the stock price development over the last five years.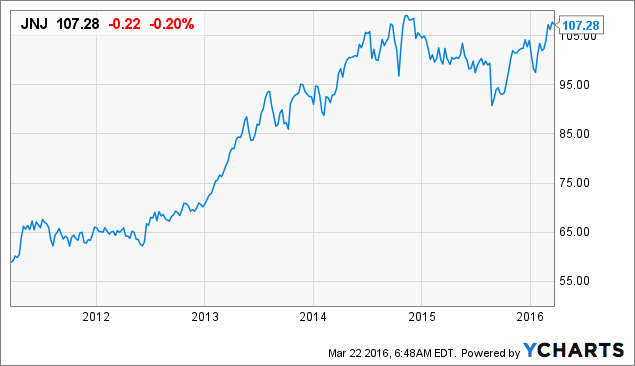 JNJ data by YCharts
The stock has moved from approximately $60 to $107 for a return of 78%, or 12% a year. Considering the company also paid a dividend yield of about 2.5% over the period, that translates into a pretty decent return of about 14.5% annually. Rock-solid stability, a steadily rising dividend and nice capital appreciation. Not much to complain about here.
Historical Dividend Growth
Johnson & Johnson has paid rising dividends ever since the early days of the Beatles, and when John F. Kennedy was president - for a long time, that is.
A long-term track record is all well and good, but investors also want to see that the company's dividend isn't slowing down. After all, if it offered bumper increases back in the day, that doesn't help investors currently contemplating whether or not to buy the stock.
Between January of 2006 and January of 2016, the quarterly dividend per share grew from $0.33 to $0.75 for a total of 227%, or an average annual rate of 8.6%. In the years 2013 and 2014, the dividend went up by 8.2% and 6.1%, respectively. Last year, I predicted it would rise by 6-8%. The result was 7.1%, right in the middle of the range. The dividend raises thus seem to be quite consistent in recent years, but rising at a slower pace than they used to historically.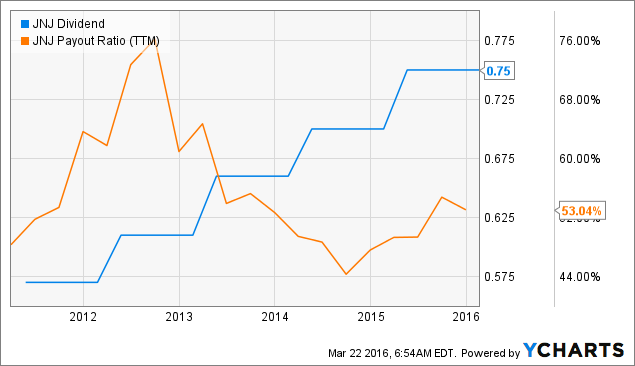 JNJ Dividend data by YCharts
We already know the steady increases to the dividend, so the most interesting thing in the chart above is the development of the payout ratio. We can see that it rose sharply until the end of 2012, when it reached a peak of 76%, before backing off again. Currently, it is at 53%.
Johnson & Johnson's operations are divided into consumer, pharma and medical devices. All of these lines of businesses, especially the last two, require a constant stream of investment to develop and launch new products. This consumes a fair chunk of earnings, which again means that the payout ratio can't be too high at Johnson & Johnson. I would be worried if it stayed at the 76% level, as I don't think that would be sustainable over the long term. A situation like now, where it pays out roughly half of earnings should, in my view, be no problem at all.
April Dividend Hike
How time flies! It'll soon be April again, and that means time for Johnson & Johnson's Board to deliver a little income boost to their investors. This will be the 54th year in a row. Call me a dividend nerd, but I think more people should celebrate achievements like this!
As can be seen in the company's Q4 earnings release, it is doing fine, but has nonetheless been hurt by a rising U.S. dollar. Currencies, of course, fluctuate, so this effect will probably reverse sometime in the future and will probably not impact the Board's decision in a meaningful way. Just as important as earnings is free cash flow, and the company generates a lot of that. On page 7 of the presentation, it notes that free cash flow for 2015 came in at $15.9 billion, compared to $14.8 billion in 2014.
In other words, there is no reason for panic at Johnson & Johnson, so I see no reason that the Board should go for a dividend hike below historical rates, which means I have a floor of 6%. That is in line with the EPS growth expected by analysts for the current year.
Given the relatively conservative payout ratio, there is some room for a more aggressive hike. Given its conservative history, the Board is unlikely to boost the dividend substantially above EPS growth, but it might see through the current drag from the dollar and go for a couple percentage points more than what is warranted from EPS growth alone. Historically, though, it has not gone above 8% in recent years, so I am quite confident JNJ won't push it further than that this year either.
Therefore, my prediction is for a dividend hike in the range of 6-8%. That would put the new quarterly dividend between $0.795 and $0.81. As the Board has shown a tendency to not want to have too many decimals in the dividend, I think the most likely new dividend is $0.80, which means a hike of 6.7%.
Risk Factors
Currencies have already been mentioned, and they have been a very clear risk factor in recent years. It will remain so as long as the company operates around the world. Over time, currencies tend to mean-revert, and should therefore not be a material risk to the operations of such a solid company as Johnson & Johnson. With a presidential election coming up, there is increased risk of future regulations on drug prices, as Hillary Clinton keeps reminding us. There is constantly the risk of competitors coming up with new drugs that reduce the profitability of existing drugs. Also, there is risk of Johnson & Johnson not being able to invent new profitable drugs, and as a consequence, suffer reduced earnings when patents on older drugs expire.
Current Valuation
Often, stability and consistency come at a price - a steep price. We know that Johnson & Johnson can tick off the two first boxes, but to gauge whether it is pricey or not, we should look at some key multiples and compare the company to a couple of its competitors. I've chosen Bristol-Myers Squibb (NYSE:BMY) and Novartis (NYSE:NVS).
| | | | |
| --- | --- | --- | --- |
| | Johnson & Johnson | Bristol-Myers | Novartis |
| Price/Sales | 4.3x | 6.4x | 3.5x |
| Price/Earnings | 19.6x | 67.3x | 25.6x |
| Yield | 2.8% | 2.4% | 3.8% |
Source: Morningstar
Novartis wins the Price/Sales competition, with Johnson & Johnson in second place. When it comes to the Price/Earnings ratio, the winner is Johnson & Johnson as the only company with a ratio below 20x. Bristol-Myers looks flat-out expensive at 67.3x. The dividend yield category is won by Novartis with its quite high yield of 3.8%. Again, Bristol-Myers is the most expensive, and Johnson & Johnson comes in second with a yield of 2.8%, slightly above the S&P 500, which yields 2.5%
All companies are priced above the S&P 500 on Price/Earnings, as the index is currently trading at 17.7x. If it is priced just above, as in Johnson's case, I'm not worried, as you get rock-solid fundamentals for only a slight premium. But I would stay away from Bristol-Myers for the moment.
Analysts on Wall Street expect Johnson & Johnson to deliver an annual EPS growth of 5.3% over the next five years. Assuming a stable Price/Earnings ratio and adding in the 2.8% yield, we arrive at an expected annual shareholder return of 8.1%. That is slightly below the historical return of the market, but you get that from a AAA company and with the certainty that the dividend will grow. If you are an investor at or near retirement, I would add some Johnson & Johnson at the next pullback. If you have to see double-digit expected annual returns, you have to wait for growth prospects to improve or have a go at a slightly more risky company - like Raytheon (NYSE:RTN), for instance.
Conclusion
Johnson & Johnson is as stable a dividend growth stock as you can get. With soon 54 years of dividend increases under its belt and 32 consecutive years of adjusted earnings growth, you really can't ask for anything more. On top of that, the company's debt is AAA rated, making sure you can sleep well at night. On the other hand, dividend growth is not the fastest at this company, so if you need double-digit expected returns, look elsewhere. However, if you like a rock-solid dividend stock with dividend growth above the inflation rate, consider adding this stock at the next pullback and enjoy the dividend hike in late April.
Disclosure: I/we have no positions in any stocks mentioned, and no plans to initiate any positions within the next 72 hours.
I wrote this article myself, and it expresses my own opinions. I am not receiving compensation for it (other than from Seeking Alpha). I have no business relationship with any company whose stock is mentioned in this article.