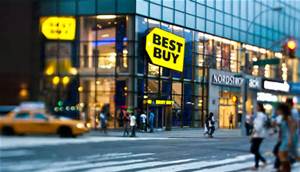 After being left for dead in 2014, electronics retailer Best Buy (NYSE:BBY) staged an epic rally that saw its share price almost double. But it was pretty clear at the cessation of the rally that the shares weren't worth $39, and the stock began a slide. I've been pretty bearish on the stock since then, most recently calling out Best Buy's margins as a reason to sell back in December. But Q4 earnings have given some bulls a reason to buy again, and the shares have flown higher from $24 to $32 in just a handful of weeks. But has the stock come too far, too fast?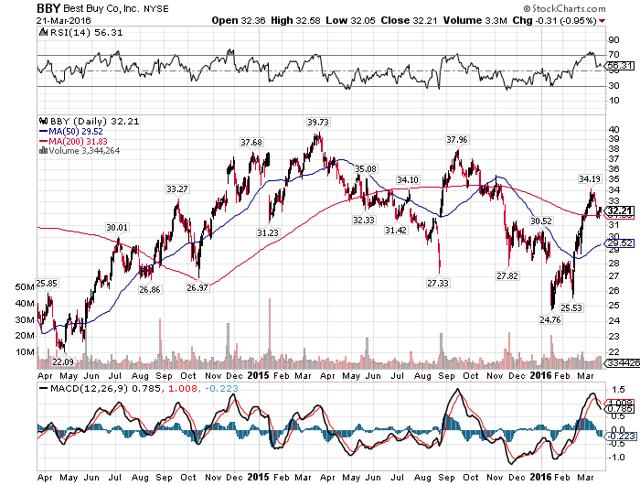 My bearishness on Best Buy is based upon one simple thing: the idea that the physical electronics store is going to struggle as more and more retailers support online sales of the same merchandise. There is simply little reason to actually drive to a store for something you can buy at hundreds of places online. Why go to a store? This is not new, of course; Best Buy has been struggling with this for years, and its comp sales and margins show it.
This phenomenon has led to the tangible reasons why I don't like BBY shares - which are lower sales and margins. Comp sales in Q4 fell 1.7% despite the fact that online sales compared at +13.7% during the quarter. This is Best Buy's problem - the company has zero competitive advantage or value proposition for consumers. It sells commodities a consumer can get any number of places, and it doesn't differentiate; that's why its sales are tanking, and why they will continue to do so for the foreseeable future. The declines for the International segment are almost unbelievable, coming in at a 26.1% loss in sales during the quarter. About half of that was due to forex translation, but the loss is no less ugly.
To its credit, reduced promotional activity led to a slight rise in gross margins, adding 40bps on the domestic business to 21.6%. Best Buy's gross margins will always be terrible because of the commodities it sells, and while the company continues to suffer somewhat from unfavorable mix shifts, it is working to reduce promotions, and that is helping. With gross margins that low, every basis point counts.
The problem is that the gain in gross margins was once again eaten up by SG&A increases, as Best Buy's deleveraged 40bps there. The culprit was lower sales but roughly flat expenses, as Best Buy needs to cut costs, but isn't. The fact that the company continues to see higher SG&A costs as a percentage of revenue should be concerning for shareholders, as management continues to spend as though no declines in sales are occurring.
Best Buy's guidance for Q1 was, shall we say, underwhelming. Meaningful sales declines are slated to continue, as revenue is going to fall about 3%. That is something the company simply cannot afford, because it is exhibiting very little in the way of cost discipline. As we saw in Q4, its hard-fought gains in product margins were destroyed by overspending on SG&A. There is simply no way that Best Buy's cost structure is as efficient as it can be right now, and the fact that management is doing little to improve that is disheartening. I expect this weakness in sales will continue indefinitely, for the reasons I cited above; BBY is a melting ice cube. On the flip side, if Best Buy's cost structure is as efficient as it can be right now, that is perhaps the most bearish piece of evidence of all. If the company can't cut any more than it has, it is in very, very deep trouble. I don't think that's the case, but I could be wrong.
The one real bright spot for Best Buy is its capital returns, something it takes very seriously. The company announced about a year ago that it would buy back $1 billion in stock over the succeeding three years. However, it has blasted through that authorization in just about one year and authorized another $1 billion this February. That is good for almost 10% of the current float, and that is certainly significant. And it's a good thing; this is the only source of EPS growth the company has right now as it struggles fundamentally.
In addition, its yield is well in excess of 3%, excluding the special dividend it announced for April distribution. Best Buy has tried to make itself a capital return story as its business has weakened materially - a playbook tried before by a diverse set of dying companies. I wouldn't say the company is dying yet, but it certainly isn't healthy, and it is trying to goose returns on its stock by spending heavily. I respect the effort, but above all, Best Buy needs to figure out a way to stem the decline in sales, not return more and more money to shareholders.
Estimates for this year and next year are way too high. Analysts are looking for basically flat sales over the next two years - an idea I find almost laughable. Best Buy guided for a 3% sales decline in Q1, after doing the same thing for many quarters now; what makes analysts think the company has some magic formula to stop the sales declines? The fact is that it doesn't, and with the only source of strength being web sales that are cannibalizing store sales, there's little reason for optimism.
The good news is that at 11 times this year's estimates, BBY isn't expensive. However, I'd still argue that for a company that is steadily shrinking, even 11 times earnings is probably too high. Best Buy's negative revenue growth is here to stay for the foreseeable future, and its margins are still awful, as spending is too high. The only source of optimism is the buyback, but that alone is no reason to own a stock. Until the company shows it can stem the decline in sales, the bias is lower, and after the recent, substantial rally, I'm reiterating my bearishness on Best Buy here.
Disclosure: I/we have no positions in any stocks mentioned, and no plans to initiate any positions within the next 72 hours.
I wrote this article myself, and it expresses my own opinions. I am not receiving compensation for it (other than from Seeking Alpha). I have no business relationship with any company whose stock is mentioned in this article.