Sure gold opened higher in New York after news of the terrorist attacks in Brussels, as there was concern there could be more to come. However, by the end of the day, gold had given back most of its gains. Why would gold behave in such a counter-intuitive manner to an event driving a clear flight to safety? It was because the terrorism happened overseas and not in America. The flight to safety should be to the #1 destination for foreign funds when there is trouble overseas, the good old USA. That result raised the dollar and in turn drove down gold traded in dollars. As tension and fear rises in Europe now, gold should give way in an even bigger way.

Spot Gold in New York Tuesday March 22, 2016
The spot gold chart covering the precious metal's trade in New York Tuesday probably spawned more than one flawed argument from an expert pundit or two. The real reason for gold's dramatic reversal is clear.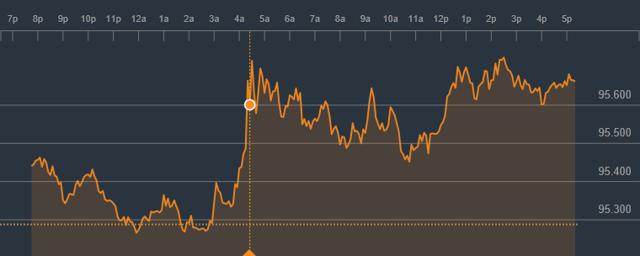 Dollar Index Chart for March 22 at Bloomberg
The dollar index chart for the same day tells the story. Of course the dollar gained ground versus the euro on the terrorism event in the heart of the euro-zone; Brussels is where the European Union is headquartered. Both the dollar and gold gained ground immediately, but the dollar retained its strength and built upon it while gold gave way.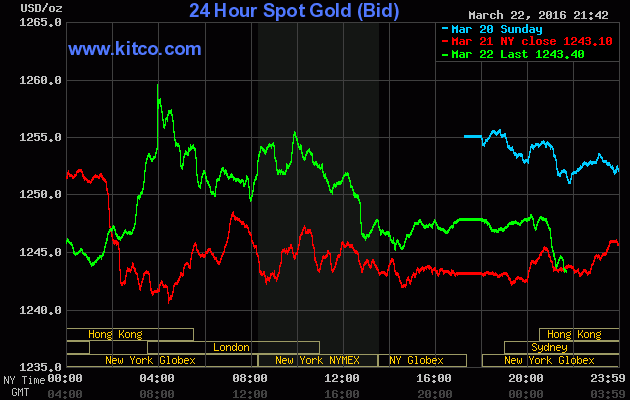 This 3-day gold chart shows (see the yellow line) that gold continued to shed ground after U.S. markets closed Tuesday evening.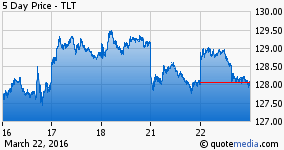 5-Day Chart of TLT at Seeking Alpha
Capital did not appear to flood into U.S. treasuries as would be expected, given that treasury yields hardly budged Tuesday. Also the prices of Treasury bond ETFs dropped during the day, with the iShares 1-3 Year Treasury Bond (NYSE: SHY) and the iShares 20+ Year Treasury Bond (NYSE: TLT) declining, though the TLT from a gap open higher.
What happens next likely changes all that. As media and markets start to explore the possibility of more attackers on the loose and more attack plans possible for Europe, and possibly as a few play out, capital should find its way into U.S. Treasuries. Foreigners will buy dollars and bid up the currency to protect their wealth against the undermining of society and asset values in Europe.
| | |
| --- | --- |
| Precious Metal Securities | 03-22-16 |
| SPDR S&P 500 (NYSE: SPY) | -0.1% |
| SPDR Gold Trust (NYSE: GLD) | +0.3% |
| iShares Gold Trust (NYSE: IAU) | +0.3% |
| iShares Silver Trust (NYSE: SLV) | +0.4% |
| Direxion Daily Gold Miners Bull 3X (NYSE: NUGT) | +0.2% |
| Direxion Daily Gold Miners Bearish 3X (NYSE: DUST) | -0.3% |
| Market Vectors Gold Miners (NYSE: GDX) | +0.1% |
| Market Vectors Junior Gold Miners (NYSE: GDXJ) | +0.8% |
| Goldcorp (NYSE: GG) | -1.2% |
| Newmont Mining (NYSE: NEM) | -1.4% |
| Randgold Resources (NASDAQ: GOLD) | +0.7% |
| Barrick Resources (NYSE: ABX) | -1.3% |
| Yamana Gold (NYSE: AUY) | +1.6% |
| Gold Fields Ltd. (NYSE: GFI) | +0.5% |
| Silver Wheaton (NYSE: SLW) | +0.5% |
| Coeur Mining (NYSE: CDE) | +0.7% |
As that capital bids up the value of the dollar relative to the euro, gold must give way in dollar terms. So, Americans thinking gold ETFs might be a good protection play now had better account for that. But, skeptics will counter, the SPDR Gold Trust gained by 0.3% Tuesday. And my answer is, exactly, it only went up 0.3%, after starting the day much higher.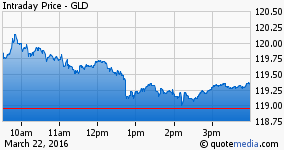 Day Chart for GLD at Seeking Alpha
If there was something here, gold shares would have opened higher and kept climbing. Rather, the only way terrorism can drive a sustained gain in gold versus the dollar is if the terrorism is in the United States and if it is significant. I know even gold investors are not wishing for that, but that is what it would take for terrorism to matter for dollar buyers of gold. ISIS has made a dark threat post the attack in Brussels, but until it succeeds in a significant manner in America, which is harder for it to reach in that manner than Europe is today, gold will not gain in dollar terms. So, gold will counter-intuitively decline for American buyers on terrorism in Europe. I cover gold closely and invite relative investors to follow along via my column here at Seeking Alpha.
Disclosure: I/we have no positions in any stocks mentioned, but may initiate a short position in GDX over the next 72 hours.
I wrote this article myself, and it expresses my own opinions. I am not receiving compensation for it (other than from Seeking Alpha). I have no business relationship with any company whose stock is mentioned in this article.
Additional disclosure: My previous GDX short position was through options with expiration date last week. I intend to establish a new short position possibly near-term.