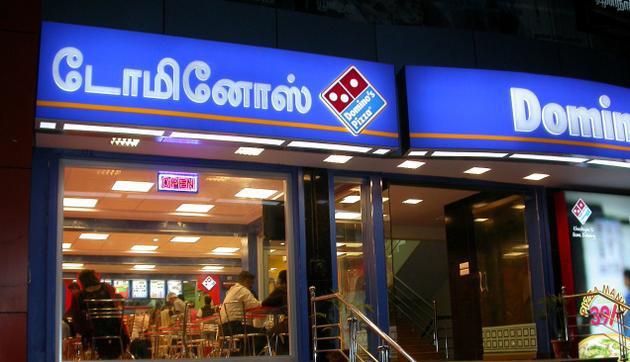 India is now Domino's (NYSE:DPZ) largest international market with roughly 1000 stores. Local food-service company, Jubilant FoodWorks (OTC:JBLWY), controls the master franchise agreement.

With an aggressive expansion plan, Jubilant has doubled the store count in the past 4 years and leapfrogged other large Domino's markets such as the UK, Australia and Canada. A combination of affordable prices, local product offering and a strengthening delivery platform helped the brand command 72% of the pizza market (a small, but fast growing segment).
Since the company earns a royalty on international sales, the success of Jubilant in India means success for Domino's and higher income for shareholders. From Domino's Q4 conference call:
India was our biggest store growth champion for 2015, adding 159 net new stores and recently hitting the 1,000 store milestone, the first market outside of the U.S. to do so.
My previous Domino's article explored the opportunity in Europe. Hopefully the two are additive to your Domino's research.
The India Opportunity
Jubilant has introduced and grown the Domino's brand in India. While it recently added the Dunkin Donuts (NASDAQ:DNKN) brand, Domino's remains more than 90% of the business. Growth in same-store sales and the store network has contributed to a meaningful rise in sales (and thus royalties to Domino's).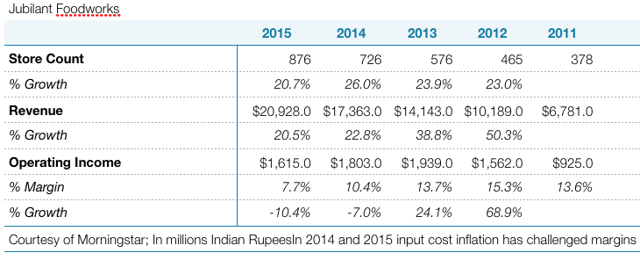 In the 2014 Annual Report, Jubilant shares a few interesting notes regarding the India opportunity:
- Young: working-age population expected to rise to 64% of total population by 2012;
- Urbanization: individuals are increasingly moving to urban centers;
- Double Income Households: More women in the workforce increase family incomes but also demand for convenience such as food delivery;
- By 2025, it is estimated that India will be the world's fifth largest consumer market
- More than 200 million smartphone users - something vital to an digital delivery platform like Domino's. Currently 36% of delivery orders are though digital platform
- Expanded the brands awareness and reach from 90 cities in 2011 to roughly 200 today.
However, the path toward becoming a large consumer market is not smoothly paved with gold. It is bumpy. In recent years, the foreign quick-service entrants have seen sales weaken - down from 20-25% growth seen between 2010 and 2012. Westlife, which manages McDonald's (NYSE:MCD) though its Hardcastle subsidiary, commented in early 2015:
Amit Jatia, vice-chairman, Westlife Development, said in a recent analyst call: "FY15 has been the most challenging year for the sector due to muted consumer sentiment, footfalls being under pressure and no growth in eating-out frequency. Specifically, eating out (growth) was stagnant in India. Western fast food is only one per cent of the total eating-out market in the country."
Still, the IMF expects India to recover and emerge again as one of the world's fastest growing economies. And Domino's expects India will remain its largest international market.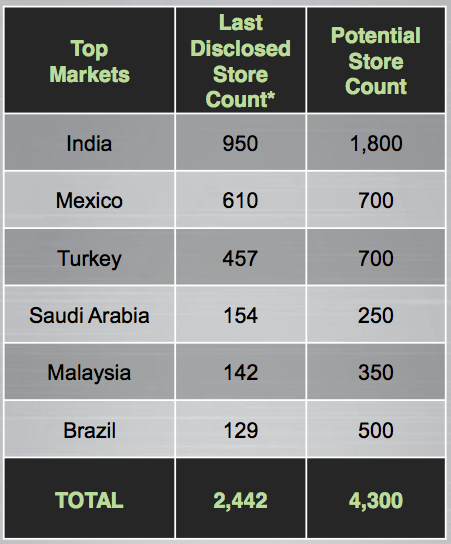 Success Factors
I am by no means an expert on India but there are sufficient resources available to provide insight into Jubilant and the India opportunity.
Jubilant plans to add approximately 150 store per year and will reach the potential store count in roughly 6 years. They are aggressively opening new commissaries and should have 10 next year - enough to support 1,600 to 1,700 stores.
Analysts attribute their success to many of the same things as Domino's elsewhere in the world: technology, affordable prices and low costs.
Experts say the secret of Jubilant's -and hence, Domino's - success in India has been its back-end that has allowed it to cut costs and expand aggressively, even as other retailers have struggled to get a handle on the two. While the company's same-store sales growth has slowed as a result of this rapid expansion - from high teens four years ago to mid-single digits now - analysts expect this to pick up as urban recovery sets in. "With macro conditions improving in the coming quarters and a recovery in urban sentiment, same-store sales growth should bounce back, while supply chain efficiencies and operating leverage will ensure profitable growth," says Nitin Mathur, emerging markets consumer research analyst, Societe Generale.
As the working-age population and percentage of double income families increase, the value of convenience is expected to increase and consumers will increasingly value delivery. Domino's is also trying to increase brand awareness - last year they announced plans to open 12 stores in Indian Railway stations.
Still there are challenges for western brands. Input cost inflation caused Jubilant to raise prices twice in 2015. Despite that, same-store sales remained flat. At the time, management expected the recovery in consumer spending to support positive same-store sales in Fiscal 2016.
In Q1 they reported a 4.6% increase (while peers Yum and McDonald's were -11% and 4.9%) and indicated they expect high-single digit same-store sales. Results thus far have come in well-below at 3.2% and 2% for Q2 and Q3, respectively.
While the road is proving rockier than expected, Jubilant is powering ahead with new store openings along with increasingly refining the product offering to the local market.
Local Menu
The company has increasingly customized menus to regional tastes whether it be adding vegetarian options or more spicy ingredients. Understanding the regional differences is vital to succeeding with a western brand in India. For example, Jubilant speaks about having a map of India that includes all the different foods and spices favoured in different regions.
For Domino's green bananas was another step to win over south Indian consumers:
"We studied what south Indian families kept in their fridge, what spices they stacked up on their kitchen shelf, what they ordered when they went out for dinner," said Harneet Rajpal, Domino's marketing head.

And green banana, he said, emerged as the winner.
While it is probably too early to gauge success, the pizza is an excellent example of how brands such as Domino's must study local tastes and increasingly localize their menus.
Small but Growing Market
While the QSR market is small (Crisil estimates it is 2-3% of the food industry), it is reportedly growing ~25% per year. Confirming what was suggested by Jubilant, the drivers are an expanding middle class, a young population and more dual-income families.
The eating-out culture in India is in its infancy and many local and international brands are vying for a share of the price. With respect to Domino's, Yum Brands (NYSE:YUM) has not sat on the sidelines idly and is aggressively investing in delivery and new stores at Pizza Hut (although its still lost share)
Still, its a very interesting to see how international brands adjust their offering for a unique market like India. While it is normal for Domino's to adjust their menu in France or the Netherlands, the regional taste varieties of India appear much broader. Assocham commented:
To withstand the competition, most of the players are tailoring their offerings in terms of flavors, pricing, services etc. to meet Indian consumers' inclinations.

Some efforts reflecting this include the opening of pure vegetarian restaurants in certain parts of the country, offering no beef based products, establishing separate cooking areas for vegetarian and non vegetarian food, introducing local flavors in the menu, offering home delivery services etc.
Concluding Thoughts
Domino's International franchise revenues represent less than 10% of sales but roughly 30% of operating income. With international sales forecast to increase faster than domestic sales, success in countries like India increasingly become important
With so many brands vying for the share of the Indian market ,the success of partners such as Jubilant is even more important. If it doesn't run stores well, sales will struggle and so will the brand. In October Reuters reported:
Yum posted its third straight quarter of sales declines in India, where analysts say it is being outpaced by ambitious rivals like Domino's Pizza Inc and McDonald's Corp.

Adding to Yum's pain, both its restaurants and other fast food rivals face tough competition from a proliferation of smartphone apps, which allow Indians in most large cities to order a wide choice of food.

"Food apps have made it way easier to order from work or home, and have definitely meant I order more food in," said Sashi Menon, a software professional in Bengaluru.
It is not simply a rising tide to lift all boats. In a country with such regional differences in taste, unique, customized and local products are increasingly important to success.
Disclosure: I/we have no positions in any stocks mentioned, and no plans to initiate any positions within the next 72 hours.
I wrote this article myself, and it expresses my own opinions. I am not receiving compensation for it (other than from Seeking Alpha). I have no business relationship with any company whose stock is mentioned in this article.