Introduction
Amira Nature Foods' (NYSE:ANFI) wonderful growth story continues. Contrary to fellow contributor Sven Carlin's recent bearish article, numerous positive indicators of growth remain with Amira Nature Foods. In addition, his assessment that his article caused the market to move is unfounded given actual movements in the options market last week. What is odd about Sven's articles is that he undercuts his excellent argument from earlier this year that does a good job of highlighting Amira's long-term potential. After all, Amira continues to work hard to thrive in a challenging market environment, even after overcoming false fraud allegations from Prescience Point last year that hammered its share price and investor confidence.
But investors are impatient and want to see returns immediately. However, patient investors will be handsomely rewarded as more details are released about progress with the company and once its lawsuit against Prescience Point is resolved. Last Friday, Amira Nature Foods released a new 6-K reiterating ongoing progress with the company. The investor presentation provides guidance for FY16 of "double-digit revenue and adjusted EBITDA" growth. The recent pullback in Amira's share price presents an ideal opportunity for long-term value investors to consider starting a long position with the company or picking up additional shares while its share price remains undervalued.
Long-Term Growth
The key aspect that investors should focus on with Amira Nature Foods is its prospects for long-term growth. The chart below highlights ANFI's growth since its IPO.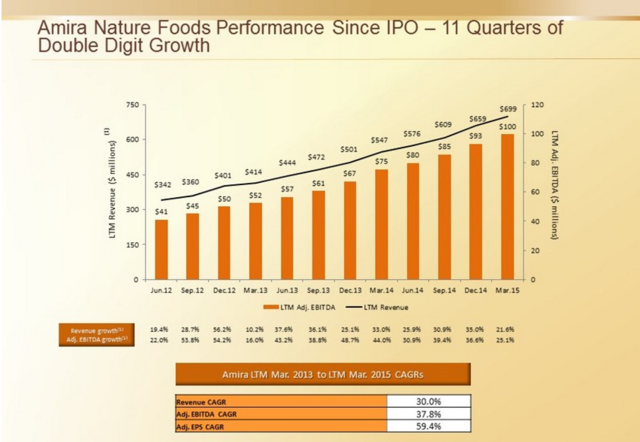 Source: Amira Nature Food's 2015 Investor Presentation
This graph clearly demonstrates tremendous growth between 2012 and 2015. This is indeed a wonderful growth story with over 30% CAGR in revenue and adjusted EBITDA on an annual basis. In addition, Amira finally surpassed $100 million in adjusted EBITDA last year and reiterated its intent to eventually reach $1 billion in annual revenue. However, 2015 was a challenging year because of a cancelled bond offering that would have raised additional capital for planned expansion and Prescience Point's short seller attack. But given that guidance is for double-digit revenue and adjusted EBITDA growth for this year, can the company actually reach this target in spite of these setbacks?
Amira absolutely can achieve this and it likely already has done so. Although the exact financial details will be released in the upcoming weeks ahead, ANFI has signed numerous deals in the past few months that demonstrate its continuous growth in spite of other challenges.
Late last year, it continued its expansion into the US market through deals with Whole Foods (WFM) and with Shaw's Supermarkets. Amira also filed a 6-K at the end of last year that announced it had entered into a $92 million contract with a repeat customer in the Europe, Middle East, and Africa region. Just last month, Amira signed an agreement with MAN Consumer in the United Arab Emirates to increase its distribution network in the region. What all of this demonstrates is that growth and expansion continue at a rapid pace.
In January, ANFI finally released its 2015 20-F. The report was delayed because of an independent audit that verified the accuracy of its financial reporting and a switch in auditors. This report confirmed its revenues of $700 million and nearly $100 million in adjusted EBITDA, thus indicating sustained growth in FY 2015. At the same time, it noted in a 6-K that the board had authorized an "opportunistic share buyback program." This move is meant to assuage nervous investors that the management team is serious about boosting its depressed share price and will continue to push back against short sellers.
Challenges
Two recent developments have highlighted the uncertainty around Amira. One issue that Sven highlighted in his first article is the question of a "return to normalcy and growth." The other issue is the persistence of short sellers betting against Amira Nature Foods.
On the first point, it appears that Sven is reading too deeply into the language of the 6-K from January. It appears that a return to normalcy and growth is what Amira still expects going forward, but that it will not be as high in 2015 as it has been in the past. However, the 6-K released last Friday still contains guidance for FY16 of "double-digit revenue and adjusted EBITDA" growth. Although it is unlikely to hit 30% this year, investors should still expect double-digit growth, even if it is in the low-double digits.
I also think that Sven puts too much of an emphasis on comparing Amira with KRBL Limited (NSE:KRBL). Yes there are similarities between the two companies, and Amira will no doubt face some headwinds from lower basmati rice prices. However, there are numerous differences between the companies investors should keep in mind. Amira is traded on the New York Stock Exchange and continues its international expansion. KRBL is traded on the National Stock Exchange of India and, while it does have a significant international footprint, it has a different customer base. In addition, Amira continues to ramp up its presence in the high-end organic market abroad. As Amira continues its international expansion into new markets like Iran, its products will help meet new demand in emerging markets well beyond India.
The second issue is the persistence of short sellers. This is a legitimate issue that can help explain the incredible volatility seen in its share price in general and especially last week.
Above all, investors should keep in mind that the public float is only around 9 million shares because 75.5% of the company's ~37 million shares are held by CEO Karan Chanana, who has never sold any of his shares. Of the 9 million shares that are not owned by the CEO, nearly 3.3 million are held by institutional investors. In addition, there remains nearly 2.6 million shares sold short. That means that there are only around 3 million shares that are either not sold short, held by institutions, or held by the CEO. Because of this, market makers can substantially move Amira's share price if and when they choose.
Looking at Amira's share price change over the past month presents an interesting paradox.

Source: YCharts
What explains that gradual share price appreciation followed by the precipitous drop last week?
It would appear to be caused by two related trends, both related to short sellers.
The first appears to be a gradual period of short covering that helped push the share price briefly above $14/share. Short covering has been expected for some time, though short interest remains high.
But then the share price completely dropped last week. On March 16 - two days before the monthly options were set to expire - its share price touched an intraday low of $8.75 before bouncing back some and closing at $9.65 that day. In addition, the volume of trading was nearly four times normal levels with 1,576,430 shares traded that day.
It is important to note that options contracts expired on March 18 and it is possible that market makers kept the share price well below the $12.5-strike in order to maximize earnings from put contracts and to have the $12.5-strike call contracts expire as worthless. This also allowed holders of $10-strike put contracts to exercise them before expiration. In addition, a lot of put buying occurred that day for the April options contract with puts outpacing call options by about a 5-to-1 margin. The most popular option traded is the April $7.50 put. Current open interest of calls and puts can be seen in the snapshot below: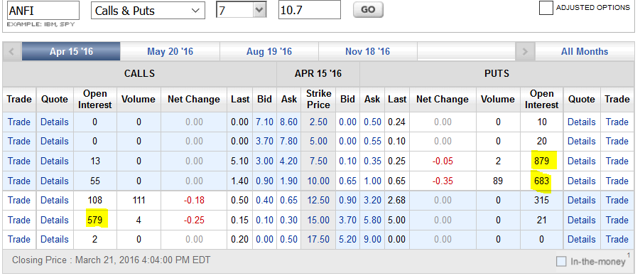 Source: ETrade
I've highlighted a few numbers in the chart above. For April, there is significantly more interest in the $7.5 and $10 puts than any of the call options out there, and the $15 call options are unlikely to be realized in such a short period of time barring major news from the company. Between the $7.5 and $10 put options, there are an astounding 1,562 contracts. For those who follow options to inform shorter-term trading strategy, this provides a clear near-term bearish indicator.
But what happened to push its share price down so much and why? One possible answer is that market makers artificially pushed the share price lower in order to purchase cheap put options for April in addition to exercising various March put options to drive the share price lower. As many put writers will sell their shares in the open market after they have been assigned, it is possible that this caused a snowball effect that helped push the share price significantly lower during this short period of time. With such a low volume of shares in the public float and the likely effect of automatic selling from retail investors who utilize stop-loss orders to minimize losses, this might be why the stock shifted so massively in such a short period of time. Although bear raids of this sort are officially illegal, the possibility that this continues with Amira cannot be ruled out, given Prescience Point's short seller attack in 2015.
But these short-term price shifts will not ultimately deter Amira Nature Foods' gradual share price appreciation or undermine the intrinsic value of the company. The company has real products sold in over forty countries around the world, and it continues to demonstrate impressive growth. Although FY16 growth will likely be lower than previous years, it will still be in the double digits.
One other action that the management team is likely already executing is its opportunistic share buyback program. Investors that follow Amira will note that nearly every trading session ends with at least 100 shares being bought afterhours like clockwork. This indicates some type of automatic buying that continues to occur at preset prices and this could very well be a part of the opportunistic share buyback plan.
Conclusion
There are a lot of known unknowns with Amira that continue to hold down its share price. The biggest unknown is how Amira has performed financially since last April. Although its share price has more than quadrupled since its all-time lows from last August, it will not see major share price appreciation until investors find out the current financial health of the company.
The other major unknown is when will Prescience Point finally be out of the way. Amira continues to challenge Prescience Point's short seller attack from last year in court and this lingering court battle remains unresolved. A positive resolution to this issue will help push ANFI's share price higher.
The bottom line with investing in a company like this is to have patience and wait for the known unknowns to eventually clear. At times like these, it is important to remember Warren Buffett's sage advice: "Time in the market is more important than timing the market." In this case, investors can still do both by buying a growth company at a reasonable price and then holding it for the long run.
Given the evidence available to investors today, there are a lot of positives still going for the company that remain unrealized because of still extant uncertainty. Although short-term volatility will remain, long-term investors will be handsomely rewarded for patiently watching the next chapter of Amira Nature Foods' wonderful growth story unfold.
Disclosure: I am/we are long ANFI.
I wrote this article myself, and it expresses my own opinions. I am not receiving compensation for it (other than from Seeking Alpha). I have no business relationship with any company whose stock is mentioned in this article.