Investors in SeaDrill (NYSE:SDRL) have had a lot to be happy about over the past few weeks. SeaDrill set a new all-time high earlier this month and has since gone on to shatter it.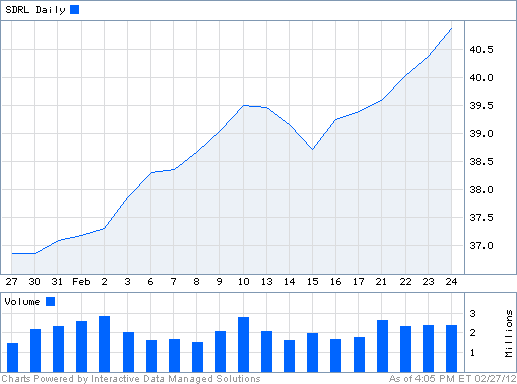 Source: Fidelity Investments
SeaDrill's stock started out the month at $37.10. Since that time, the stock has appreciated 10.67% to close at $41.06 on February 27, 2012. This stock appreciation is not without good reason. The economic tailwinds and industry trends that the company has at its back are incredibly strong.
Over the last two months, I posted two articles to Seeking Alpha that highlight a major trend in the offshore drilling industry. This trend is the rapidly increasing demand for drilling rigs that is causing dayrates for ultra-deepwater and semi-tend rigs to soar upward! You can read my articles about this at Seeking Alpha:
SeaDrill operates the largest fleet of tender rigs in the world and so they are well-positioned to take advantage of the climbing dayrates for this type of rig. The higher dayrates will generate more revenue for the company and since costs are relatively static (or at least not increasing as quickly as dayrates), profits should climb as a direct result of the higher dayrates.
SeaDrill also has a large ultra-deepwater fleet and the beneficial trend holds true here as well. Dayrates for ultra-deepwater rigs have been climbing steadily. It looks like the dayrates for these rigs are set to skyrocket! On February 27, 2012, SeaDrill announced that it is ordering two ultra-deepwater drillships with delivery dates in the second and third quarter of 2014 respectively.
SeaDrill stated in their press release that their rationale for ordering these two drillships is to take advantage of the opportunities which I discussed in my previous articles (linked above). The increasing demand for units that are capable of drilling in ultra-deepwater environments is growing much faster than the supply of these rigs. Furthermore, the aftermath of the Macondo spill in the Gulf of Mexico has led to an increasing focus on safety within the industry. Customers want new, high-specification rigs outfitted with all the latest safety features. There are fewer of these rigs than there are ultra-deepwater rigs in general and so this is further constraining supply.
SeaDrill is maneuvering to take advantage of this opportunity that they see. John Fredriksen, Chairman of SeaDrill, explains how:
"Through significant investments in modern high-specification equipment and our focus on quality operations, we have been able to differentiate this company from its competitors and create a basis for a strong sustainable cash flow and a solid return to our shareholders. Our long relationship with Samsung has given us access to a proven rig design and favorable delivery slots. In combination with attractive global yard prices, this has created an opportunity to continue to organically build SeaDrill with very compelling economics. SeaDrill will have five new ultra-deepwater rigs scheduled for delivery in the period 2013-2014 and four existing units coming off current contracts in the same period. There has already been specific discussions regarding chartering of part of this capacity. We believe the open ultra-deepwater exposure position will serve SeaDrill well and create a unique exposure to one of the fastest growing and most profitable energy businesses in the world. We also believe that this open exposure can be used to further strengthen our relationship with fast growing and dynamic oil companies. The recent increase in daily rates for drilling rigs will generate excess cash that can be used for a balanced combination of organic growth and a strong long-term dividend distribution. It is likely that SeaDrill's commitment to tender and ultra-deepwater new buildings will be further increased in the weeks to come."
The specific language used in this press release seems to indicate that Fredriksen and other members of SeaDrill's management team are predicting a drilling rig shortage. They are not the only ones making this sort of prediction. Assuming that their management is correct and there are a lot of signs that they are, then the company is quite well-positioned to grow and to deliver stellar stock returns over the next few years. This is on top of their already strong returns. Fredriksen's statement indicates that SeaDrill will likely increase their already substantial dividend going forward as higher dayrates push up revenues and cash flows. Historically, the company tends to do just that.
SeaDrill will announce its fourth quarter earnings results prior to the market open in Oslo on February 29. I am very interested to see the company's final results. I do suspect, though, that the results will not be quite as good as hoped. This is because the company will take a $463 million impairment charge due to its stake in Archer Ltd. This is a non-cash charge so it will not negatively impact the company's ability to earn money for investors nor will it have any effect on cash flows. It will however reduce the company's net income and earnings per share. This could be enough to send the stock down after the market opens on earnings and if it does, there may result in a nice entry point to buy the stock. The market may also shrug it off. I am curious to see what happens.
Disclosure: I am long SDRL.