In terms of its coverage here on Seeking Alpha, L'Oréal (OTCPK:LRLCF) surprisingly tends to fly completely under the radar compared to its more popular large-cap industry peers. Chalk that up to a primary listing in Paris rather than New York, but nevertheless this beauty giant is an exceptionally high quality company with a history to match any global blue chip.
It's a true buy-and-hold forever type stock; a perfect candidate for those seeking long-term income and dividend growth. What makes it so? In particular, there is the stable (albeit glamorous) industry, huge branding power (and associated competitive advantage) and its highly stable profitability metrics. It's pretty much the epitome of a sleep well at night share, and despite the great run in the stock price over the last few years, it remains one that has a place in any long-term holder's portfolio.
L'Oréal: Beauty is Stability
Owing to its pretty recognizable brand, the company probably doesn't require much by way of formal background or introduction; suffice to say they are a global leader in cosmetics and beauty products. What is worth pointing out though is that L'Oréal, founded in 1909, is now approaching its 110th year in existence. Longevity isn't a particularly scientific method to gauge a stock's investment case, but when it comes to a mega-cap that's not operating in a particularly disruptive space, it actually sums up the company, and the sector, quite well. L'Oréal, and the underlying business of cosmetics, hygiene and personal care have enormous staying power. Indeed, you can gauge this to a pretty good degree just by looking at the major players in the industry.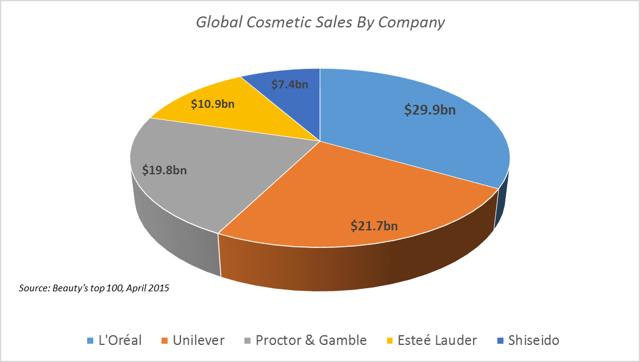 Shiseido, perhaps the least well known to westerners, is Japanese based and was founded 1872. The rest need no further introduction; they're all established businesses with long histories. This is a great indicator of how important branding power is here. All in all, it's not really an industry that is prone to huge disruption, something, which is great if you are long-term orientated. Unlike Unilever (NYSE: UL) and Procter & Gamble (NYSE: PG), L'Oréal is pretty much exclusively focused on cosmetics and beauty, albeit with a diversified base of products as seen by the fiscal year 2015 revenue mix.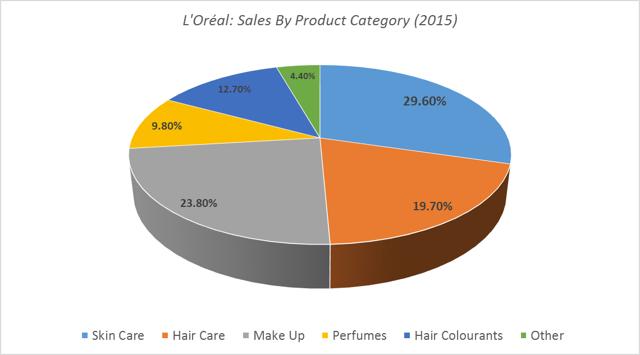 It's something that works very much in the company's favor, as these products tend to have much stronger branding power than other kinds of personal goods. Indeed, one of the current headwinds to Procter & Gamble, for example, is the encroachment of generics and cheaper alternatives. Cosmetics and luxuries in general tend to be a lot stickier in that sense.
It's not that much of a surprise then that braking sales down geographically reveals that the wealthier, developed markets of North America and Western Europe still comprise the majority of company revenues (60% combined in 2015). Establishing market share in new geographies can be extremely tough in certain industries (food and beverage for example), however the stability of market share the group commands in the globally developed markets, combined with the luxury symbol of its brands, has largely mitigated this effect in their push into emerging markets. L'Oréal has the number one market share in the Chinese skincare market, which itself represent two-thirds of the total local cosmetics market, and has established positions in developing markets in Asia and Eastern Europe. Overall, 'new markets' now account for almost 40% of total sales compared to 22% a decade ago.
The up-shot of having a very stable core market combined with the growth opportunities in emerging markets has been consistent, if not spectacular, top line growth over the past couple of decades. The top line growth figures since 1994 average out to about 5.8% CAGR.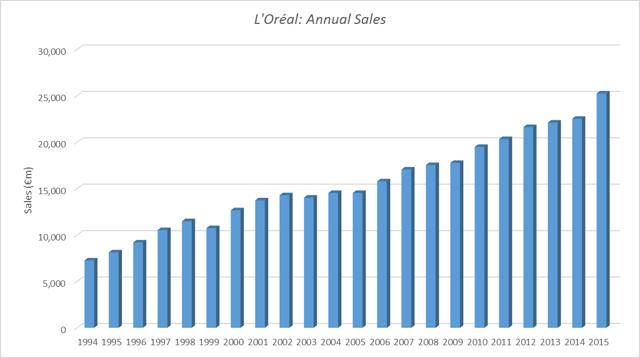 L'Oréal's make-up moat: profitability
To best capture how solid the underlying business is just check out a twenty-or-so year chart of the company's operating margins.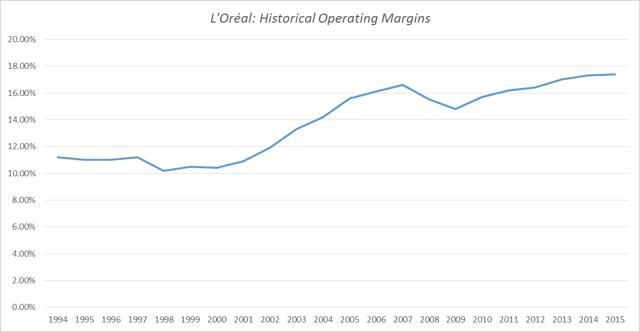 Granted that corporate margins in general have been expanding over that twenty-year period, but even so, you have to appreciate the performance here. There's a brief blip during the financial meltdown of 2007-09, but generally very stable and improving margins from about 11% in the mid-nineties to over 17% today. With the group now already established in many of the 'new markets' it represents a good signal that their moat and durable competitive advantages remain ever present, globally. It also compares quite favorably to the industry peers mentioned above: Unilever, Procter & Gamble and Estée Lauder (NYSE: EL), which are all similarly wide-moat stocks, although only the latter resembles a similar pure-play cosmetics group.
To further hammer home the point about L'Oréal's predictably stable and high profitability, consider the returns on invested capital and cash returns on invested capital. On the five-year chart, you could almost sit a spirit level on top of it, such is the stability of the company's profits: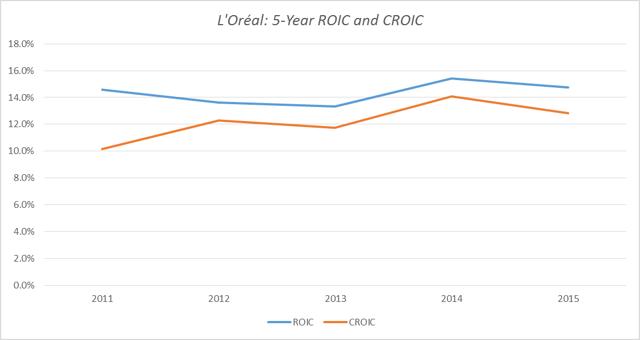 If we go back to the historical revenue chart above, then what stands out is comparing it to EPS growth over the same time frame. Per share earnings have run up at almost double the top line rate since 1994 (10.93% CAGR). What's great to see here is that although that double-digit clip is, at least in part, down to the expected effect of stock buybacks, a significant portion is down to the steady strengthening in the underlying profitability metrics. Combine that fact with the ongoing push into emerging markets and it shows that L'Oréal is able to maintain a strong degree of pricing and branding power in newer markets.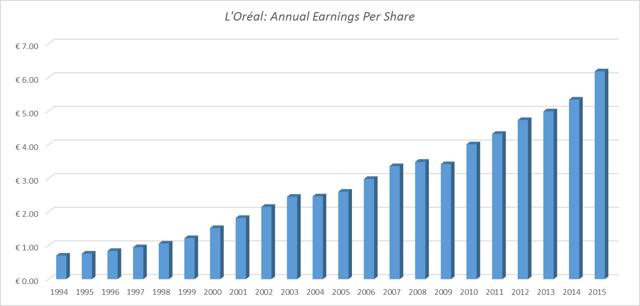 To get a feel for that look at the ROIC chart on the twenty-year time frame. Once again, it's a model of consistency, with a slight increase in their underlying profitability over time. It's branding power that the company is able to leverage across the globe: established markets and newer emerging markets alike. This is extremely positive for the company as these markets likely represent the best avenues for organic growth going forward.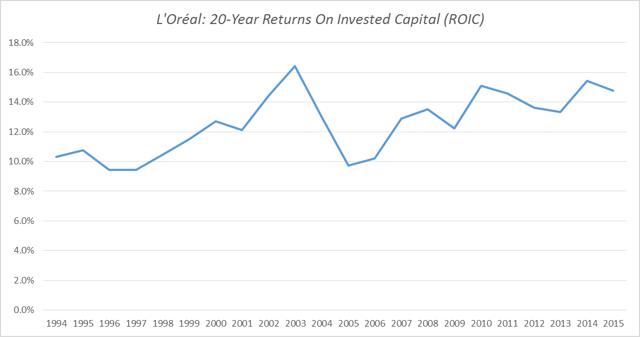 Considering the brands they have, the role that beauty and personal care are playing in a consumer orientated world and the power to which the company is able to market their brands (including legions of highly paid celebrities that will appear in those funny over the top commercials), it is very difficult to see any disruptive threats going forward. L'Oréal is set to remain a stalwart alongside the very greatest global brands for a long time to come.
Dividends, dividends, dividends
When you digest all the factors above then it also won't be too difficult to imagine that L'Oréal has also been very shareholder friendly. Stable, predictable cash flows after R&D and acquisitions still leave plenty of free cash to be returned to shareholders. Per share dividends have grown at a very impressive rate approaching 15% on the twenty-year chart, which surely puts it comfortably alongside any of the popular aristocrat stocks.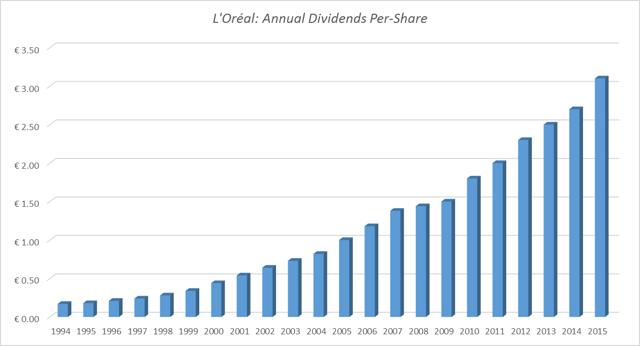 Since the growth rate in the distribution per share has been running higher than earnings, there has been some expansion in the payout ratio, which was up to around 50% of earnings at the end of 2015 compared to 20% in the mid-nineties. That said the eventual slowdown in cosmetics sales to match general levels of economic growth will naturally allow the company to pay out more of its earnings to shareholders.
A more important point to takeaway though is that L'Oréal generates fantastic amounts of free cash flow, typically in the ratio of 70% of operating cash flow. What's more is that for the reasons set out above the cash flows are also highly predictable: six out of the past seven years have reported a free cash flow to operating cash flow ratio of between 72-73%. It's unlikely that this will change going forward and you can expect the underlying business to remain relatively capital light long into the future. At a very sustainable 50% payout ratio, the group still throw off plenty of cash for acquisitions and periodic stock buybacks without degrading the balance sheet. Add in some modest organic growth going forward and the outlook for the dividend remains in fantastic health.
Outlook and value
Trailing ten-year growth in the cosmetics industry was somewhere in the mid-single digits for the period 2005-2015, and came in at around 4% last year. Going forward it's pretty reasonable to assume a similar growth rate, where slightly higher growth in the newer markets will counter lower growth in the mature markets of Western Europe and North America.
Taking that into account, the current multiple of 26 times earnings looks incredibly expensive at first glance. Even more so when the dividend yield is also stubbornly under 2%. There are a few points that need to be considered here though. First and foremost is that the company usually trades at significant premium in any case, and from 2009 has only very briefly traded below 20x earnings (and typically trades in the mid-twenties).
Secondly, the company has an exceptionally high quality and stable underlying business owing to the nature of the cosmetics industry, which is itself very resilient. It's a buy on the dips type stock, and if you're looking for stable long-term income growth and capital appreciation then L'Oréal is a great candidate.
Disclosure: I am/we are long LRLCF.
I wrote this article myself, and it expresses my own opinions. I am not receiving compensation for it (other than from Seeking Alpha). I have no business relationship with any company whose stock is mentioned in this article.
Editor's Note: This article discusses one or more securities that do not trade on a major U.S. exchange. Please be aware of the risks associated with these stocks.