We believe Chipotle's (NYSE:CMG) Q1 guidance update implies that the shares are materially overvalued at a market quote of ~$460. February and March comp trends indicate that it will take longer than even we anticipated to sharply shake the negative sales momentum. A health-related issue at a Boston location doesn't help and will force the company to further ramp marketing and promotion spend to recapture customers. These higher costs will couple with increased labor costs to intensely pressure margins over the next several quarters and years. Our model indicates a fair value of $400, implying the market is currently overpricing the equity by 15%. We are strongly considering re-shorting the stock here given new information.
The Q1 update wasn't pretty. Comps fell nearly 29% in February (ex Leap Day). This was a recovery from the negative 36% comps CMG saw in January, but is relatively in line with December comps of negative 30% and still significantly worse than November comps of negative 16%. While comps did show sequential improvement into the first week of March (negative 21.5%), they fell to negative 27.3% during the second week of March as a result of a Boston store closing. We can see that the comps are still actively event-tracking.
This is worrisome, because although many were saying that CMG must be the safest place to eat now because everything has been "hyper-cleaned", several employees were still infected with Norovirus in Boston only a few weeks ago. The situation there seems to have been cleaned up very well by CMG, but it is nonetheless worrisome that there was another health-related issue only weeks after the closing of the CDC investigation. This means there is significant risk of more similar store closings in the future, and because comps have proven to be event-tracking, this implies comps are significantly at risk of having sporadic and dramatic dips.
On the expense side, this also means marketing and promotion costs are significantly at risk to sporadic and dramatic spikes, because the company will have to spend more to recapture customers. Management now expects Q1 RLMs in the mid-single digit range and to lose at least a dollar per share on the bottom line. These marketing and promotion costs will taper back as comps recover, but we do not believe this implies dramatic margin expansion. In the long term, we see labor costs as the bigger issue for margins here. Labor costs represented 26.1% of revenue in 4Q15, versus 22.2% of revenue in 4Q14. This 390 basis point increase in labor cost rate has gone largely unnoticed by many investors, but increasing labor pressure, coupled with flattening comps was one of our main concerns with the company prior to the E. coli breakout.
The problem with the stock is the valuation doesn't seem appropriately baked with all these concerns. Despite the recent drop in share price, the valuation remains extremely rich. A $460 quote equates to a $13.8 billion market cap. Striping out $870.9 million in cash gives CMG an enterprise value of $12.9 billion. This is a ~19x multiple on LTM operating cash flow that was essentially flat Y/Y in 2015. It is also a ~30x multiple on LTM free cash flow that was down last year. The ex-cash P/E hovers around 27x on 6.86% diluted EPS growth, and that is a trailing PEG of almost 4.

We have updated our DCF model to compress unit sales further this year. We still believe unit sales will recover next year given historical precedents. We have also compressed margins to represent increased marketing costs this year and increased labor costs in future years.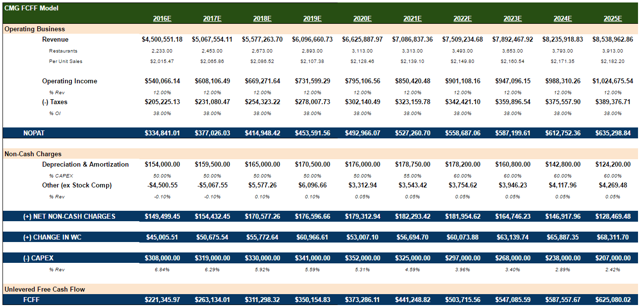 Updating our discount rate to account for a 10-year Treasury yield which is holding below 2%, we arrive at a fair value of roughly $400 per share. This implies the shares are currently 15% overvalued.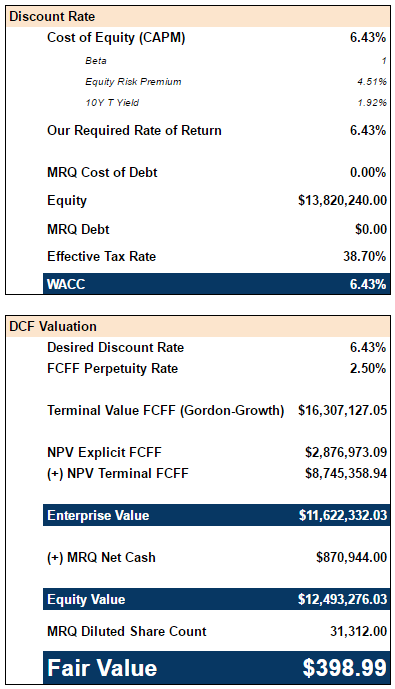 While 15% isn't enough of a margin of safety for us to short here, if the stock price runs up to 20% above our fair value (~$480), we will strongly consider shorting the stock there.
Disclosure: I/we have no positions in any stocks mentioned, but may initiate a short position in CMG over the next 72 hours.
I wrote this article myself, and it expresses my own opinions. I am not receiving compensation for it (other than from Seeking Alpha). I have no business relationship with any company whose stock is mentioned in this article.