A rose by any other name would smell as sweet.

-- William Shakespeare's play, Romeo and Juliet
The above quote is often used to imply that the names of things does not necessarily reflect what they really are.
I use a few ETFs in addition to individual stocks to form the foundation for the "core" part of my portfolio. The reason I use ETFs is because they help to reduce volatility (due to diversification) compared with individual stocks alone. A major goal of the portfolio is to achieve dividend growth that outpaces inflation, aka, "the DGI way." Arguably, two of the most well known funds for dividend growth investing are the Vanguard Dividend Appreciation ETF (NYSEARCA:VIG) and the Vanguard Dividend Growth Fund (MUTF:VDIGX). The difference between the two is that the former is an passive index ETF and the latter is an actively managed mutual fund. The names of the funds say it all, doesn't it?
Before I begin, for the record, I love Vanguard. They have some of the best funds with the lowest cost around. This article isn't meant to diss Vanguard at all.
So the road to a "dividend growth ETF" led me to VIG. I've purchased it on two separate occasions, both not too many months ago. I honestly did not pay much attention to this position until last Friday, when the next dividend distribution for VIG was announced. Looking at the comments, user FittestBits observed not only was there NO dividend growth YoY, but there was a DROP. I had to check it out for myself, and sure enough, he's right (dividend table and chart are at the bottom portion):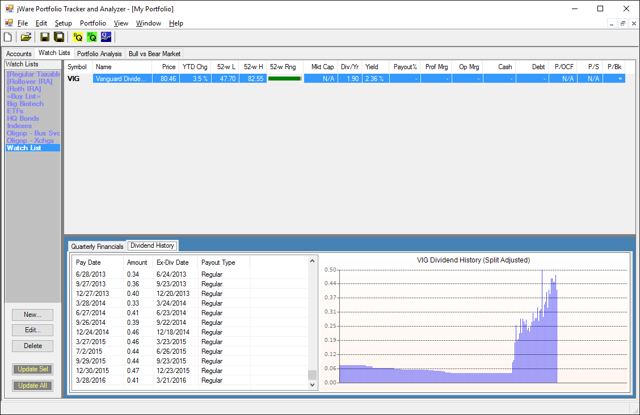 In March of last year, the dividend was $0.46/share and this year, it's $0.41. That in of itself is no reason to panic I thought. Maybe some holdings in the fund had temporary hiccups, and ETF distributions tend to be lumpy anyway. Besides, I can see a very nice upward slope in the dividend history chart. Dividend.com shows it has a nice dividend growth rate of 8.9% over the last 3 years. Not bad, I thought, but I was still curious about the YoY drop.
I went and checked the fund's Top 10 Holdings again. It has the usual blue chips, but the two that caught my eye were Coca-Cola (NYSE:KO) and Pepsi (NYSE:PEP), which I like because they are consumer staple stocks. My allocation in this space consists of PEP, Costco (NASDAQ:COST), and the Consumer Staples Select SPDR (NYSEARCA:XLP). Out of curiosity, I decided to compare XLP and VIG, since I was impressed with XLP when I was researching it before.
I remember when researching XLP that it also had decent dividend growth. This confirms it: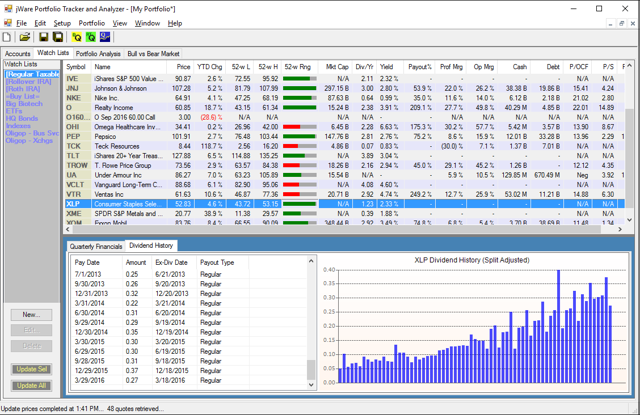 Nice upward slope in the dividend history. Exactly what I wanted to see. Dividend.com says XLP has an annualized dividend growth rate of 24.0%, which surprisingly is much higher than VIG! However that didn't feel right when looking at the raw numbers in the table. Time then for some number crunching, and here's what I found:
| Year | VIG | XLP |
| --- | --- | --- |
| 2013 total divs per share | $1.39 | $1.02 |
| 2014 total divs per share | $1.59 | $1.17 |
| 2015 total divs per share | $1.81 | $1.28 |
| 3-Year CAGR | 9.20% | 7.86% |
Bummer I thought, since XLP didn't beat VIG. The difference between my numbers and Dividend.com's must be how they aggregate the years.
However I became curious about the price performance (not including dividends) between the two. I decided to compare the short, medium, and long term price charts, and it astonished me.
Here's the 1-year chart (in all charts, VIG is black, XLP is orange):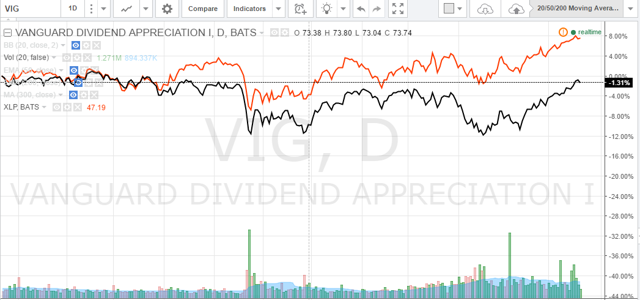 ... and the 5-year: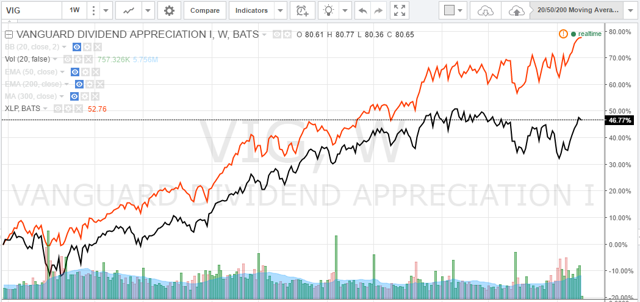 ... and finally all-time (from the looks of it, it looks like 10 yrs):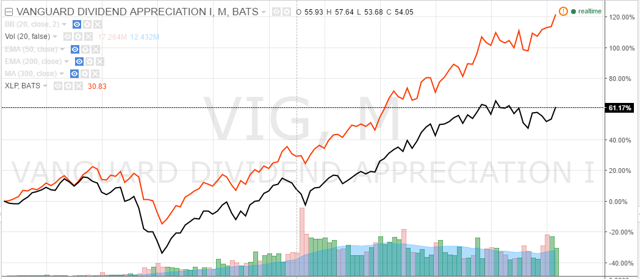 It's safe to say these charts say XLP has trounced VIG in all three periods. Not only did XLP win big in the end, but it barely trailed VIG at any point!
Although I was disappointed that the 3-year dividend growth of XLP did not beat VIG, it did come close enough. The big factor though was the total return. Hands down, XLP ruled. Normally I'd be curious about the longer-term dividend rate growth comparison, but these charts made that a moot point in my opinion.
Conclusion
After the dividend projector updated, I saw that the ex-dividend date for VIG is today. That means I can sell VIG today and keep the upcoming dividend. That's exactly what I did, selling 400 shares of VIG and bought 500 additional shares of XLP (I had 500 shares of XLP before) and 50 shares of TLT. (I like round lots, and I intend to significantly add to TLT in the future...) To summarize, the reasons are as follows:
XLP has a pretty decent dividend growth rate.
Both have virtually identical yield today, so I'm not giving up income for switching.
XLP also has the usual blue chips that VIG has, but in this aging bull market, I'd want to stick with consumer staples vs. what's in VIG.
XLP way outperforms VIG in the short, medium, and long term periods as the above charts indicate.
So in the end, I sought a DGI ETF and it turns out for me, the ETF that fits my needs better doesn't have the words "dividend growth" or "dividend appreciation" in its name. That is, the "rose" by any other name would smell as sweet.
Have fun investing.
FINAL NOTE: I won't make it a habit of writing an article whenever I make a transaction. I just thought in this particular instance, there was an interesting story to tell. Lastly, in the interest of transparency, I intend to post an entry in my Instablog shortly after every transaction I make.
Disclosure: I am/we are long XLP, PEP, COST, TLT.
I wrote this article myself, and it expresses my own opinions. I am not receiving compensation for it (other than from Seeking Alpha). I have no business relationship with any company whose stock is mentioned in this article.