From out the din of the Connecticut Maritime Association Annual Conference, VesselsValue.com has issued a Red Report, detailing the current value of the US-built fleet and its activity over the past year. The report is available to VV subscribers so I'll highlight it here.
Image: Fotolia-JH
VesselsValue.com (NYSEARCA:VV) is the world's leading source of real-time commercial ship and market valuation; the go-to source for ship brokers and owners.
VV data shows 160 US-built bulkers, tankers and gas carriers in the order book. This figure excludes offshore and passenger vessels.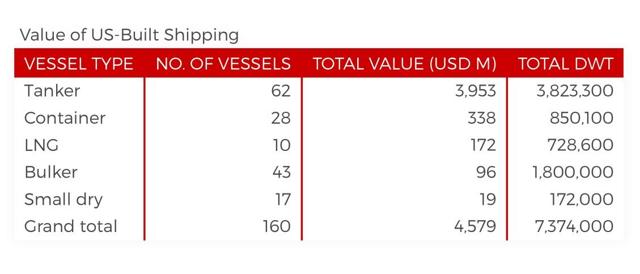 Image: VesselsValue.com
The total fleet value is ~$4.5Bn US. This places this US-built fleet 7th in value behind Korea, Japan, China, Philippines, Germany and Turkey.
Among US builders, the most generative company is NASSCO, the commercial/naval subsidiary of General Dynamics (NYSE:GD). According to the GD-2015 Annual Report, NASSCO has construction contracts for eight ships scheduled for delivery thru 2017, including the world's first LNG-powered container ship. Given the international industry push for reduced emissions, the company is also producing LNG-conversion-ready ships for commercial use. GD anticipates increased demand for shipbuilding for two reasons: the age of the Jones Act fleet and the more stringent emission standards.
That Aging Fleet
The Jones Act is the source of much debate in maritime circles, with one side arguing for its preservation to secure American jobs and shores, while the other side stumps for free trade to reduce ship building as well as shipping costs. These stifling rates have particularly hit outlying regions, such as Hawaii, to the point of shuttering businesses. I'll not take a side here, but my cowardice is defended by the complexity of the issue and my lack of professional competence about the local, regional and global implications of repealing the act. Although, I did enjoy reading Nick Gillespie's piece about the "Dumb Protectionist Law." I tend to side with the Libertarians in most economic issues and no, I don't keep a bust of Cliff Asness on my desk.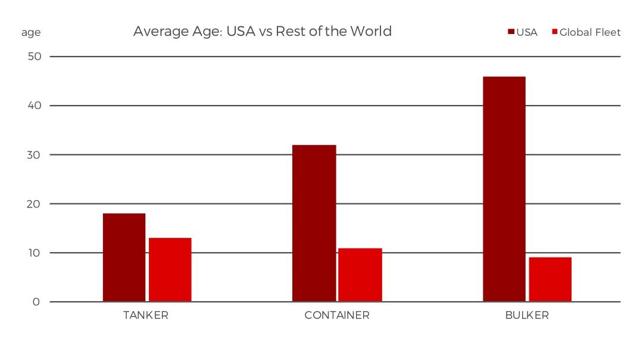 Image: VesselsValue.com
Whether the older US fleet is a direct consequence of the act or correlated, along with other factors, such as the desire to upgrade, is irrelevant. It's old, averaging thirty-three years compared to the global average of just thirteen years. The US dry-bulk fleet is forty-six years old.
Who Owns Them
The Red Report states, "The top ten shipowners, ranked by value, control around half the capacity (48%) of the US fleet. The top ten shipowners are tanker companies or tanker arms of the oil majors." Though an order book exists, such as it is, no bulkers, tankers or gas carriers have been ordered in the last twelve months. Sidebar: yes, the drybulk sector, globally speaking, is still over capacity, but Jones Act provisions don't allow younger foreign-built vessels to be purchased on the open market to replace the geriatric hulls on our waterways, thus the pool for potential purchases is meager.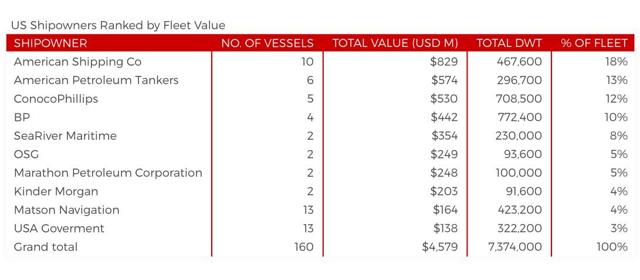 Image: VesselsValue.com
Sales
The Americans have been busy selling. Eighty-eight vessels have been sold by US owners in the past year for a combined value of ~$3.4Bn US. The sale of vessels far outruns purchases (just eight ships bought) with eleven times that number sold.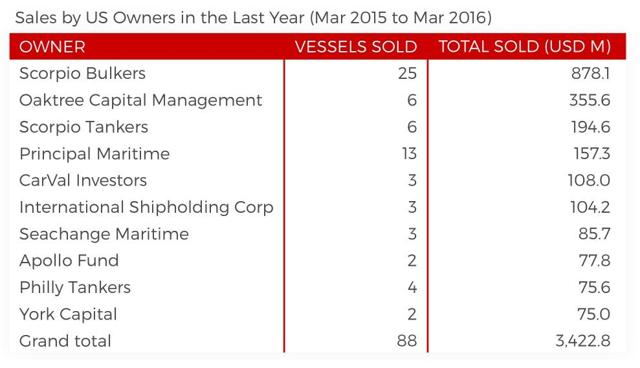 Image: VesselsValue.com
What Are Our Options?
A premium is added to the ships because they must be built here in the US. The simple view is this makes America less competitive and the act should be torn asunder. The long view is ambitious but not insurmountable. Surely there is an effective, free-market solution between the extremes. It should be discussed by our current crop of presidential candidates but such issues tend to be glossed over with simplistic rhetoric.
In January, 2015, Senator John McCain filed an amendment to repeal the Jones Act, officially The Merchant Marine Act of 1920, calling it, "an antiquated law that has for too long hindered free trade, made US industry less competitive and raised prices for American consumers." As of October, 2015, The Hill was still calling for its repeal, citing the higher energy bills on the west coast, due to the cost of shipping Alaskan oil and further citing a Congressional Research Service Report which found the cost of an American-made MR product tanker to be triple that of the worldwide price for the same vessel. It's doubtful industrial powerhouses like Germany and Korea are building ships with slaves at the end of a lash. We should be able to compete while protecting jobs and securing our coastal waterways. It's a matter of commitment, not capacity.
Investors who wish to play here have limited options; the aforementioned General Dynamics, or alternative asset management firms such as Oaktree Capital (NYSE:OAK) who invest in shipping. A repeal of this act would instigate a flurry of activity, but to what extent it would benefit investors is for deeper consideration than offered here.
I welcome any insight readers can offer, particularly as to how the repeal or preservation of this act will affect equities and the market economy going forward. That is our collective mission at SA and an honest discussion will lead us to the truth.
Disclosure: I/we have no positions in any stocks mentioned, and no plans to initiate any positions within the next 72 hours.
I wrote this article myself, and it expresses my own opinions. I am not receiving compensation for it (other than from Seeking Alpha). I have no business relationship with any company whose stock is mentioned in this article.