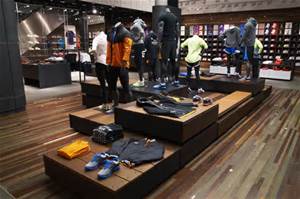 Few companies have dominated their respective segments over the years like Nike (NYSE:NKE) has. Regardless of how big NKE gets it always seems to keep growing at tremendous rates and profits continue to improve materially. But shares in the past few months have stagnated after a very long uptrend that has lasted multiple years. And with Q3 earnings sending the stock about 5% lower, it seems that choppiness may continue. So what should investors do with NKE trading back down at $62?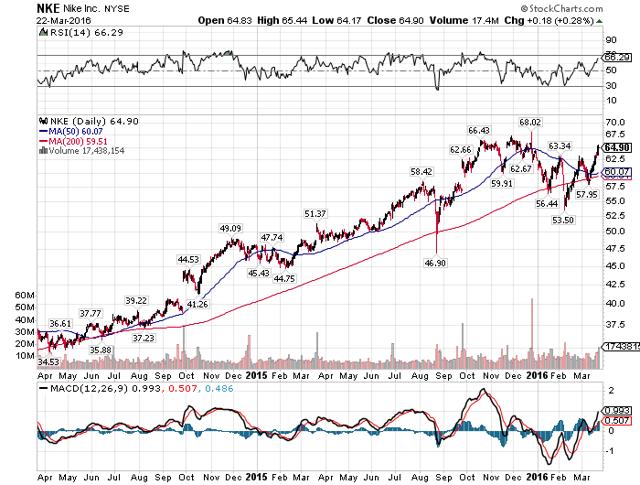 NKE's formula over the years has included very strong sales numbers that have led to the ability of NKE to price its products aggressively. This has created a virtuous cycle where NKE's profits rise more quickly than revenue and you get a stock chart like what we see above. But in Q3, some potential cracks in the armor appeared for NKE, sending shares lower.
Revenue was up 8% during the quarter, missing estimates, although the ex-currency number was much stronger at 14%. Nike sells all over the world and as such, is beholden to the whims of the currency market more so than other multinationals. Nike is a truly global company and it shows when it cedes 6% of its total revenue to forex losses. That's a huge hump to have to get over and in Q3, it was too much for Nike.
The good news for Nike and other multinationals is that the dollar has seemingly topped out in the past few months, having peaked in early December of last year. Since that time the index has moved about 5% lower and that is great news for Nike. The problem is that the dollar was lower throughout the quarter Nike just reported and yet, sales were whacked by 6%. This is certainly going to be a problem for Nike for the foreseeable future - including fiscal 2017 - but it is worth keeping an eye on the dollar as it pertains to Nike going forward.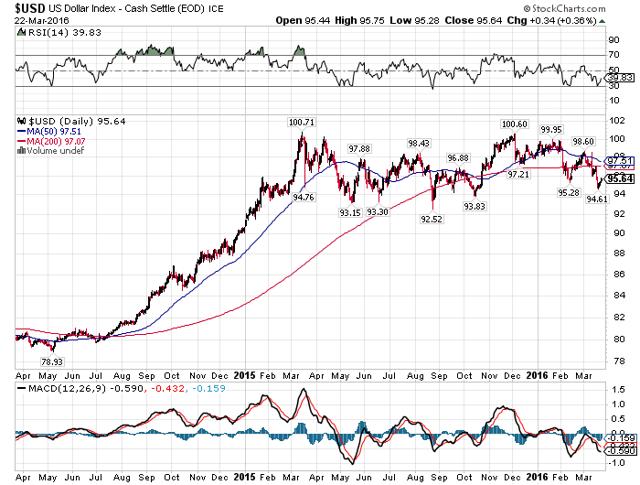 Earnings beat estimates in Q3 but to be honest, Nike's guidance for Q4 and FY2017 made it such that I don't think anyone cares what happened in Q3 anymore. Futures orders were up 'only' 12% against expectations of 15%. Again, the dollar crushed Nike's results as currency removed a full 5 points from the futures number as well. I still think this number was very strong but Nike's track record has made it such that analysts are uber-bullish and that leads to really high expectations. I don't think Nike failed in Q3; I think it was the victim of unrealistic expectations. That's an important distinction to make as a weak company should be sold; a strong company with estimates that are too high is much easier to own as estimates can simply come down.
Nike's guidance on the earnings call was underwhelming, as I mentioned above, and that is why the stock is selling off. However, I think this just may be the reset lower that shares need in order to power the next leg higher because it is very obvious that Nike is not a broken company; it was simply the victim of high estimates.
Guidance for revenue for the fourth quarter missed as analysts were looking for almost 9% revenue growth but Nike guided for just mid-single digits. In addition, the company said that EPS growth would be in the low teens for next year as analysts are at 15% EPS growth for FY2017. The good news is that the sheer magnitude of the guidance misses are fairly small but when a stock is valued at a premium like Nike, it doesn't take much to spook investors. That's why I think this earnings-related selloff can end up being very healthy for Nike over the long term as the weak hands are shaken out and the stock takes a breather from its move higher.
Nike's gross margins were flat in Q3 and the relatively weak guidance for FY2017 suggests that may continue to be the case. Revenue guidance was a little light as well but operating margins are implied to be flat next fiscal year if Nike is going to miss current consensus. The good news is that with Nike dropping all of this weak guidance at one time, if it can find a way to improve upon its results, it will be against lowered expectations next year. The dollar and gross margins will be key as the former could end up being a tailwind for revenue should the dollar weaken and the latter could help EPS grow in excess of revenue if Nike can resume its margin uptrend. Time will tell but Nike has reset expectations lower for FY2017 and that's a good thing.
Shares are trading at $62 as I write this, just above the steeply rising 200DMA that has served as a guidepost for the stock's epic rally over the past few years. Shares have chopped around and even penetrated the 200DMA to the downside in the last few months but have always recovered quickly and it seems this selloff will remain above the line. As long as the 200DMA continues to rise it should serve as support for Nike and that makes the current selloff an opportunity to buy. The sharp rally from $58 to $65 was probably too quick and some consolidation is needed; that is being provided to us now.
At roughly 26 times next year's earnings, Nike isn't cheap but it never will be. This is a premium growth stock that is best of breed not only in its sector, but the entire market. That kind of valuation is actually pretty reasonable for Nike and in concert with shares trading near support, I think the time to buy is now. As I said, Nike's business isn't broken; it's only problem in Q3 was overly bullish expectations. With those expectations now reset, I think we'll see Nike into the $70s over the course of the next year.
Buying the stock outright here is obviously something that I see as prudent but for those of us that like to produce high yields and create a margin of safety, the selloff has created an opportunity to generate lots of income on Nike while lowering the cost basis for shares. I like to sell puts to get long stocks I want to own because it produces high yields and also sends the cost basis much lower. For example, with shares trading at $62, the January 2017 $62.50 strike put can be sold for about $6.25, good for a yield of around 10%. The put expires in 10 months so the annualized yield is north of that and aside from providing lots of income, it lowers your cost basis on Nike shares to just $56.25. If shares trade above $62.50 by expiration next January, you get to keep your 10%. If they trade below that number, you are protected from losses until $56.25 should you end up being put the stock. This is a much lower risk way to own Nike and in the process, you can collect a huge yield in just 10 months. This is my preferred way to own Nike in this uncertain market as the only thing you're giving up is potential upside should the stock shoot higher from here. But with a 10% yield, that's a chance I'm willing to take here. In addition, you can play with the strike price and expiration to fit your goals. Either way, I think selling puts on NKE looks too good to pass up here.
Disclosure: I/we have no positions in any stocks mentioned, but may initiate a long position in NKE over the next 72 hours.
I wrote this article myself, and it expresses my own opinions. I am not receiving compensation for it (other than from Seeking Alpha). I have no business relationship with any company whose stock is mentioned in this article.
Additional disclosure: I intend to sell puts on Nike in the near future.