Richardson Electronics Analysis
by Evan Bleker
March 21st, 2016.
Introduction
Richardson Electronics is the third analysis I've conducted on an American net net stock over the previous 12 months.
Over that time period, the NCAV stocks available in the American markets have been sub-par at best: resource exploration companies, Chinese reverse mergers, or stocks that have traded below their net current asset value (NCAV) for close to a decade. But recently Richardson Electronics caught my eye and I decided to take a closer look to see if it's as attractive of an opportunity as it first seemed.
When it comes to net nets, as terrible as these companies are, quality still matters. I recently came out with an net net stock article showcasing the difference in returns between an overly inclusive net net portfolio and one that excluded resource exploration firms and companies with major Chinese operations. The results were revealing, and highlight the need for deep value investors to only buy the highest quality opportunities.
But does Richardson Electronics fit that mold? Read on to find out.
Net Net Stocks In Brief
Despite the tremendous success of net nets over the past 100 years, not much has been written about them until recently. Part of that may be due to the fact that professional money can't really use the strategy, which shelters Graham's classic net net stocks from sophisticated competition and ensures that the strategy remains open for people like you and me.
Over those past 100 years, or so, the returns on offer have been great. Based on a mountain of evidence in the form of academic studies and use-in-practice, small investors can reasonably expect their portfolio to grow at over 25% a year.
So, what exactly is a net net stock?
Benjamin Graham first developed his net net stock strategy during the 1930. Essentially, a net net stock is a Low Price to Book stock, but where the company's Long Term Assets and Preferred shares have been stripped out of the calculation of Book Value. Graham called the resulting figure the company's Net Current Asset Value (NCAV) and found that it was a very good approximation of a company's real-world liquidation value. Graham had a slightly different idea of liquidation than you or I do, however. He saw it as not only the value management would receive from selling off the company's assets but also the value that would be realized when handing the company over to a third party. For a more detailed look at Graham's strategy and modern net net stock investing, check out this net net stock guide.
As a net net investor, I aim to buy into good quality opportunities when the stock is trading well below NCAV and then holding onto that stock until it reaches NCAV. Just trading below NCAV isn't enough, and I always try to diversify over 10 to 20 positions depending on the quality of the stocks in my portfolio.
Since quality is important, I look a lot for net nets overseas and often target firms with no debt that are growing NCAV, earnings, and have tiny Price to Earnings ratios. These are, without a doubt, the best net net stocks to buy.
I've created a very practical checklist to assess net net stocks to ensure I'm buying into a great situation, called my Core7 Scorecard. This checklist is aimed at assessing a typical situation with net net stocks, that of a decently profitable company that was hit by a major business problem and is now trying to turn things around. The checklist is based off of contemporary academic research, industry white papers, and actionable advice from Warren Buffett & Peter Lynch. There's no doubt that the scorecard has helped me earn not only market-beating returns, but also returns that beat net nets as a group. Because of that, I'm going to look at Richardson Electronics under more Core7 framework.
Summary
Name: Richardson Electronics.
Country: USA
Symbol: RELL
Share Price: $5.33
NCAV/Share: $8.85*
Current Discount: 39.7%
Market Cap: $69.14M
Net Cash per Share: $3.40
Price/Net Cash: 156.7%
Debt to Equity: 0%
Current Ratio: 6.18x
Burn Rate YoY: 15.26% decr
Burn Rate QoQ: <1% incr
*Note: I have used the company's dividend policy (explained below) to help calculate per share liquidation values. Since the company's Class B shares are entitled to 90% of the dividends that the firm's Class A shares are entitled to, I have reduced the number of Class B shares by 10% for liquidation value per share assessments. I've left the share count as is when calculating Market Cap, though. This makes the per share figures much more accurate.
Business
Richardson Electronics is an "engineering solutions" company that designs and manufactures a wide range of parts for the electronics industry. Among its products, the company lists "power grid and microwave tubes and related consumables; power conversion and radio frequency (NYSE:RF) and microwave components; high value displays, flat panel detector solutions and replacement parts for diagnostic imaging equipment, and customized display solutions."
The company operates under 3 segments: Power and Microwave Technologies, Canvys, and Healthcare. Power and Microwave Technologies designs and supplies parts for the alternative energy, aviation, broadcast, communications, industrial, marine, medical, military and semiconductor markets; while Canvys provides customized display solutions to medical, industrial and original equipment manufacturers.
The company's Healthcare foray is fairly recent. Management sees significant opportunity in hospitals as budgets become more constrained. To take advantage of this, management is focusing on developing and marketing replacement parts, and offering service solutions, so hospitals can sidestep expensive OEM agreements they rely on to maintain their equipment.
Richardson Electronics is based out of Geneva Illinois and markets its products internationally in a wide range of countries in North America, Europe, Latin America, and Asia.
Net Net Hunter Investment Scorecard
Not Chinese - Pass
Hat-tip to Muddy Waters Research for bringing the Chinese reverse merger scam to the public's attention. Unfortunately, a lot of small investors are still getting suckered into buying Chinese reverse mergers, never mind Chinese net nets. If you've been in the dark for the last few years, Chinese companies began to flood Western markets over the last decade, and many of them were outright frauds. When selecting net nets, I always stay clear of companies with major operations in China.
Richardson is an American company with offices and facilities in the USA. It does not appear that the company has significant operations or assets in China.
Low Price to NCAV - Pass
As I write this, the company is trading at a Price to NCAV of roughly 60%. This is at my cut-off for net net stocks. Ultimately, the larger the discount to NCAV, the better the net net will perform as an investment. On the other hand, demanding no discount to NCAV can result in no excess profit over the market. Most of my stocks were purchased with discounts greater than 40%, but Richardson's discount is adequate.
Low Debt to Equity - Pass
The company does not have any outstanding debt disclosed on its Balance Sheet. In fact, the company has been debt-free for a number of years which is a very strong characteristic of this investment.
Companies trading as net nets are often going through some major business problem and both revenues & profits have fallen off of a cliff. In that type of situation, debt, which once may have provided the company with operating leverage, now hangs around its neck while the company struggles to stay afloat. Net nets go bankrupt less than 5% of the time, versus under 2% for companies in general, but debt is always the major factor. That's why I always try to stay away from indebted companies when buying net net stocks.
Adequate Past Earnings or Catalyst - Pass
Richardson is not currently profitable but it was in the past. This is another positive in the company's favour.
It's common to find companies trading as net nets which have never turned a profit. In those types of situations, an investor is right to ask whether the company will ever turn a profit and call into question the firm's valuation. These same companies can also trade under their NCAV for years, ensuring that any investment made in the company's stock is dead-money.
My Core7 Scorecard is set up to map out a typical net net stock scenario: a company with decent operations that was hit by a major business problem and is now trying to turn things around. If a firm has never been profitable in the past, they really don't have anything to turn around.
Richardson was adequately profitable from 2012 and before so passes this criteria.
Past Price Above NCAV - Pass
Another test to avoid value traps is looking at the trading behaviour of the stock. While I base my valuation on fundamentals and the attractiveness of the investment on various quality measures, it is very revealing if a company has traded below its NCAV for years on end.
A company that has traded below its NCAV for years may have done so because management is either uninterested or unable to turn the business around. In this situation, investors are right to punish the stock since investors are less likely to realize the company's intrinsic value in a reasonable amount of time, if at all.
Some companies fit this situation better than others, so it's important to know when an investor should ignore this criteria or not. In the case of Japanese net net stock Twinbird, for example, the company had been growing its NCAV for the previous few years at a fast clip so there was significant evidence that investors would realize the company's NCAV.
Richardson's stock price traded above NCAV as recently as 2015. In fact, its dip below NCAV was a recent phenomenon. Because of that, the company passes this check.

Existing Operations or Liquidation - Pass
The company has significant ongoing operations. I avoid firms that don't have operating businesses for the same reason that I avoid firms that have always lost money - I want to make sure there is a once profitable business to turn around.
One quick note about these checks: When assessing the quality of the investment situation I'm bound to pass up net net stocks that will ultimately prove profitable investments, false negatives. The idea with my Core7 Scorecard is that by putting these checks in place, I'll screen out the majority of value traps and low quality situations. So long as I am able to avoid these traps, my portfolio should do well since the quality of stocks that I do include in my portfolio will be much higher on average. Looking for other promising characteristics will also boost my ability to select net nets that outperform net nets in general.
Large Current Ratio - Pass
Richardson's Current Ratio has shrunk over the last few years but remains large. In 2012 the company recorded a Current Ratio of 10x, but it's since slipped to 6.22x. Despite the deterioration, the company's Current Ratio is more than adequate.
Small Market Cap - Pass
When it comes to net nets, smaller firms tend to produce much higher returns.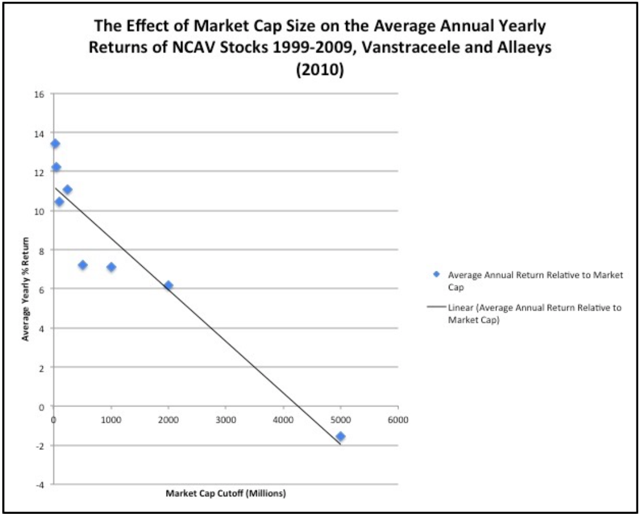 With a Market Capitalization of $69.14 Million USD, Richardson is well within my $100 Million cut-off.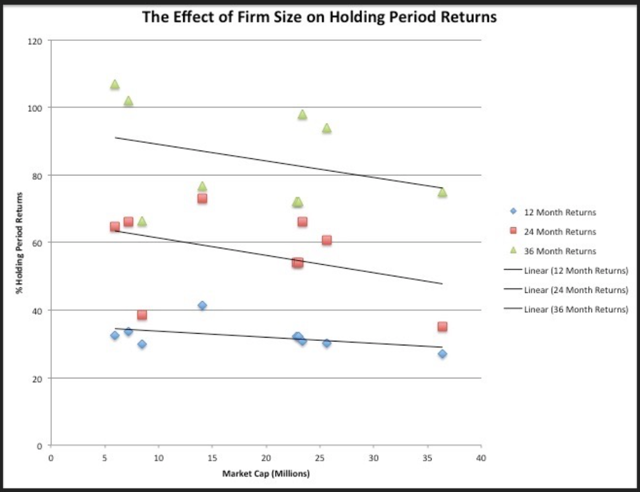 Low Price to Net Cash - Fail
Richardson has a strong cash position. Most firms do not record net cash on their Balance Sheet, Cash and Equivalents less Total Liabilities, so the fact that the company has net cash at all is a plus. Unfortunately the stock is not trading below its net cash so doesn't pass this check. Its shares are priced at roughly 165% of net cash.
Financial/Regulated/ADR/Real Estate/Closed Fund - Pass
Net net stock studies avoid these firms due to complications that can arise with calculating NCAV, the rapid erosion of NCAV seen by certain types of firms, or because government interference can prevent 3rd party buyouts or restructuring plans that often trigger share price recovery.
Resource exploration companies pose a special risk. These sorts of firms often turn up as net nets because they're flush with cash but the nature of the business operations, hunting for a high value asset, is a significant cash drain. Often a company will scour an area for resources, using up all of its invested capital, then go back to shareholders for more funds. Less than 2% of exploration companies actually find something in the ground and it takes a substantial amount of cash & debt financing before resource extraction can begin.
Richardson Electronics does not fit any of these industries.
Company is Buying Back Stock - Pass
Share repurchases are a strong indicator that management considers the current business crisis temporary and that the company will soon see brighter days. Conversely, management is not likely to spend money on share buybacks if they feel that the firm needs the cash to survive an uncertain period for the firm. Not buying back shares, however, is not a major concern because in many situations where an undervalued firm is not facing large business challenges, management opts not to buyback shares.
In the case of Richardson, the company has been repurchasing its shares for the previous few years. Over the previous 6 months, the company has spent $2.6 Million on buybacks, as shown in the table below.

The company's Shareholder Yield is very good. In the first 6 months of fiscal 2016, the company's shareholder yield was 4% and is on target to reach 8% this year.
Insider Ownership - Pass
Richardson is a duel share structure company. The company is split into Class A and Class B shares, Class A shares making up the bulk of the firm's capitalization. As of the last financial report, November 28th, the company has 10.698 million Class A shares and 2.141 Class B shares.
The two share classes differ due to voting rights and dividend entitlements. Class B shares are entitled to 10 votes per share, versus Class A's 1 vote per share, but are only able to receive 90% of the dividends that Class A is entitled to. Class B shares, therefore, have 66.68% of the company's voting rights.
The company's Chairman and CEO, Edward Richardson, is also its largest shareholder, owning 99% of the company's Class B shares and 15.3% of the company's Class A shares. While this gives him full control over the company, it also ties his financial fate closely to the fate of the firm. While I would prefer room for a hostile takeover or activist, the fact that Edward Richardson is so closely tied to the fate of the company is a very good thing.
The company's Executive Vice President also owns less than 1% of the company's outstanding Class A shares.
Insider Buys/Sells - Pass
There is no indication that insiders either bought or sold stock within the previous 12 months. This is a slight positive for the investment.
When it comes to insider transactions, insider buys are always a good sign. Insiders may sell stock for any number of reasons (to diversify holdings, to help a family member, to buy a new house, etc) but the only reason a manager buys stock is because he believes he can make a good amount of money on the investment.
Burn Rate Low or Positive - Pass
The company's NCAV has shrunk over the previous few years, most notably dropping just over 15% over the previous 12 months and 22.4% from the end of fiscal 2014 to fiscal 2015. While this is definitely a negative factor, the company's Year-over-Year -15.25% Burn Rate is within my -20% Burn Rate cut-off.
More positively, over the previous quarter the company's NCAV Per Share has grown slightly, less than 1%, due to the company's recent share buybacks. Buybacks that take place below NCAV are accretive to the remaining shareholders, increasing their value in the company.

There are large jumps and drops in the company's NCAV per share over the previous 4 1/2 years. Part of the reason for the firm's negative Burn Rate over the previous 12 months was due to the purchase of a medical parts & services company for cash. While this acquisition should add meaningfully to earnings going forward, it did shrink the NCAV of the company.
Catalyst - Pass
While there is no hard catalyst on the horizon, the company has a history of redistributing capital to shareholders and has recently purchased a healthcare company, International Medical Equipment and Services Inc., which has very large operating margins. The company's strategy is to distribute the new company's products through Richardson's existing international distribution network and to forge ongoing service contracts.
Insider Pay - Fail
One of the dark spots of this investment opportunity is the compensation received by top management, specifically Edward Richardson. In 2015, his pay stood at $892 000USD, a large chunk of money for a CEO that has repeatedly failed to meet projections and is leading a firm that is losing money.
Edward Richardson's underlings, COO and Executive Vice President Wendy Diddell, and Kathleen Dvorak, the firm's Secretary and Chief Strategy Officer, took home $630 000USD and $690 000USD during fiscal 2015. In my opinion, this pay is excessive given the company's current performance and displays a lack of leadership.
Business Problem or Reason for Undervaluation
Net nets are ugly, almost by definition. You'll never see a Buffett-styled moat trading down below NCAV. Companies that trade as net nets are almost always going through major business problems and there's a lot of negative sentiment attached to the stock.
When it comes to Richardson Electronics, the company has been unprofitable for the previous couple years and continues to miss its own sales & profit forecasts. Slipping sales has meant that there is not as much money needed to cover the company's Gibraltar-like fixed assets, which has crushed operating profits. Most recently, the firm has doubled down on its investments in its healthcare division which has hurt profitability even more.

Attempts to Address the Problem
Management is trying to transition the company to focus more heavily on the healthcare industry. With state budgets under pressure, management believes that there is a large opportunity to provide parts and services to hospitals for existing medical equipment, allowing hospital administrators to break free from costly Original Equipment Manufacturer (OEM) agreements. This would help administrators reduce operating cost.
Other Factors
The company's move into healthcare is, in my opinion, a smart strategic play. Having said that, nobody knows what the future holds and classic Ben Graham investors should always base their investment decisions on important quantitative factors.
Valuation
When looking at Richardson from a strictly quantitative point of view, the company is a bargain. Its NCAV Per Share comes in at $8.85 and its Net Cash Per Share at $3.40 against a share price of $5.33. The company is trading at a substantial discount.

Conclusion
It's worth noting here that net net stocks work out well in general. So long as you're buying a diversified basket of high quality net nets, and avoiding basic mistakes, a net net stock portfolio will perform very well on average over the long term.
When it comes to analyzing net net stocks, the key goal is to assess the company to avoid making a major error in purchasing the investment; and, to identify key characteristics associated with outperformance over other more typical net nets.
My Core7 Scorecard is set up to do just that, and when looking back at the company's key characteristics, it's clear that Richardson Electronics is a good investment opportunity. It has a small Market Cap, no debt, and the company's CEO owns a significant percentage of the company's outstanding shares. While executive pay is a dark spot, and the firm is only trading at a 40% discount to NCAV, all of the above are associated with average returns over and above net nets generally.
From a risk reward point of view, the company is clearly not a bankruptcy candidate given its strong Balance Sheet. Its NCAV has also seemed to have stabilized over the previous 12 months, when factoring in their recent purchase. While the company's operations may deteriorate further, I think management's recent push into healthcare should strengthen margins and may lead to profitable operations.
This suggests good things for investors. Net net stocks work out within a 2 year period 70 to 80% of the time. There's little reason to think that Richardson Electronics won't follow that pattern. This is why I have recently added the company to my portfolio.
Disclosure: I/we have no positions in any stocks mentioned, but may initiate a long position in RELL over the next 72 hours.
I wrote this article myself, and it expresses my own opinions. I am not receiving compensation for it (other than from Seeking Alpha). I have no business relationship with any company whose stock is mentioned in this article.