Please take note, this is only one aspect in assessing the attractiveness or non-attractiveness of Caterpillar (NYSE:CAT) as an investment and should not be used independent of other factors.
Short-Term Woes: Excess Capacity And Re-balancing Of The Chinese Economy
Caterpillar's performance has been hit on multiple fronts, including low oil prices and a slowing Chinese economy which has contributed to a weak mining and construction industry. Consequently, the world's largest seller of construction and mining equipment has seen negative monthly sales growth rates for the past 39 months.
Construction equipment companies responded to China's property bubble (2005-2011) and the government's one-time 4 trillion yuan stimulus package by rapidly increasing capacity. Caterpillar, for instance, announced expansion plans in 2010 to increase Chinese excavator production capacity by 400%. The timing was unfortunate, not just for Caterpillar, but for other equipment manufacturers as well; production capacity in China, the world's largest market for mining and construction equipment, was ramped up just as the Chinese government began to tone down the pace of investment in infrastructure and property.
By 2012, construction equipment manufacturing capacity in China was double that of global sales, and the softening of the construction industry had already just begun; growth in China's construction industry was 13.5%, 9.7%, 9.3%, 9.5% and 6.5% in real terms in 2010, 2011, 2012, 2013 and 2014, respectively.
With the Chinese government trying to rebalance the country's economy away from manufacturing and infrastructure investment towards consumption, the boom days of China's construction and mining industry are unlikely to happen again in the foreseeable future. The likely consequence of this rebalancing from the investment-intensive growth model to a consumption-led growth model is slower growth. This has already begun to take shape; the annual growth rate of China's fixed asset investment continued to cool in 2015 to 10%, down from 15.7% in 2014.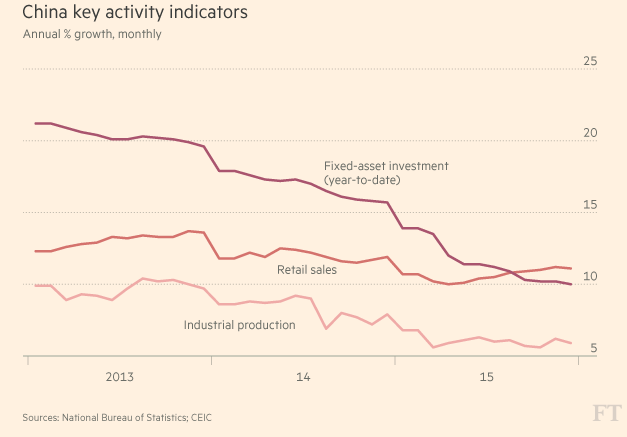 Source: Financial Times
New starts on residential and commercial buildings have been shrinking since 2014.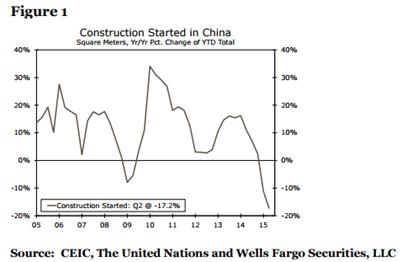 Source: Wells Fargo Securities
This turn of events have largely contributed to slowing GDP growth. China's 2015 GDP growth was 6.9%, down from 7.3% a year earlier and below their target of 7%, marking its slowest growth rate in 25 years.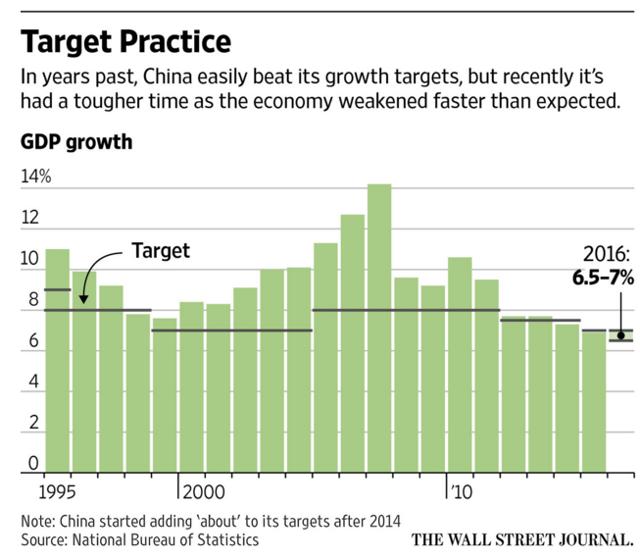 Source: Wall Street Journal
Over the next five years, the government aims to maintain a 6.5% average annual GDP growth rate.
With China's economy entering an era of "new normal" slower growth, it unlikely the construction equipment industry will see a rebound in the near term.
For Caterpillar, the situation is exacerbated by the fact that the company's machinery are long-lasting and expensive investments. In good times, customers are able to afford new, cutting-edge equipment, but in bad times, when corporate budgets tighten, customers put off buying new equipment, and cash-strapped owners of Caterpillar machinery flood the market with second-hand equipment which still has plenty of life left ahead.
Barring any unforeseen events, the above observations suggest the company's woes are likely to continue in the near term.
Long-Term Opportunities: "One Belt, One Road" Initiative and Continuing Chinese Urbanization
As with any cyclical industry, the downturn is unlikely to last forever. On the supply side there is continuing restructuring among equipment manufacturers; major players including Caterpillar, Komatsu (OTCPK:KMTUY), Hitachi (OTCPK:HTCMY) have been shutting operations, closing warehouses, slashing jobs, etc.
On the demand side, China still presents long-term revenue drivers, although they may not offer the same magnitude of growth witnessed in prior years.
The "One Belt, One Road Initiative", which runs through more than 60 countries in Europe, Asia and Africa, should create substantial demand for construction equipment over the long term, thereby opening the possibility of exporting excess capacity. Caterpillar's extensive worldwide dealer network positions the company nicely to capitalize on this opportunity.
China's urbanization rate is 55%, which is just over half of its 1.3 billion population, indicating opportunity for further development. The company's development blueprint for 2016-2020 calls for increasing the urbanization rate to 60% by 2020. By 2030, over 200 million more people are expected to be city dwellers. As China shifts to a consumer-driven economy, continuing efforts to increase the urbanization rate as a way to foster consumption should serve as long-term drivers of demand not only for housing and infrastructure, but also for new forms of construction in healthcare, education, retail, social infrastructure, etc.
The infrastructure construction market in China is expected to continue upwards in the long term, although at a slower growth rate compared to the boom years, due to increased investments across the country towards infrastructure development. For instance, in January 2015, central, local, state-owned firms and the private sector companies invested close to USD 1.1 trillion towards 300 infrastructure projects related to gas pipelines, health, energy, transportation and mining in China. China's transition to green development also opens new growth opportunities for Caterpillar through energy-efficient excavators, power generators and engine systems.
These are expected to contribute towards continuing growth in China's construction market, which overtook the United States in 2010 as the world's largest construction market. The country's construction market is expected to grow its world market share from about 18% currently to 26% by 2025.
Solid Long-Term Fundamentals: A Reputation For Quality
Caterpillar competes on a world-class dealer network and a reputation for quality products. The company has consistently held the number one position in the International Construction magazine Yellow Table rankings for the past 13 years.
Yet, despite being in business in China for over four decades, having opened its first office in 1978, Caterpillar has struggled to gain significant traction in the price-conscious Chinese market. It currently holds a market share of about 7%, lagging local competitors like Sany (OTC:SNYYY) and global player Komatsu.
Caterpillar's strategy of focusing on world-class and therefore relatively high-priced products may have been part of the reason it struggled to gain market share in the price-conscious Chinese market over the past few decades. However, the merits of this differentiated strategy are beginning to show. Firstly, although the downturn has affected Caterpillar, the company has not been as badly affected as South Korean competitors such as Hyundai (OTC:HYHZF) and Doosan, whose price-focused strategy left them vulnerable to emergent Chinese competitors, most notably Sany Heavy Industries, which boosted its market share from 6.6% in 2009 to about 17% by early 2015.
Secondly, amid the slowdown in China's construction industry, weaker builders have been sidelined, leaving more work for the stronger and more sophisticated builders who are willing to pay for quality machines.
The results of these two trends are emerging. For instance, the company has retained a lucrative position in the top end of China's excavator market (a key product of the construction equipment market), doubling its market share to 11% over the past five years amid a weak market, whilst Hyundai and Doosan saw their shares decline 5% and 7%, respectively - a dramatic decline from the combined 40% share the duo held a decade ago.
Conclusion
The mining and construction industry is undergoing a cycle, and it is currently at a cyclical downturn. Construction equipment companies, including Caterpillar, rapidly expanded capacity in response to China's booming construction and mining market. However, soon afterwards, the Chinese government began toning down investment. As a result, the industry is saddled with excess capacity, and with the changing demand structure in the country, it is unlikely the equipment market will rebound to previous levels in the foreseeable future. However, changes are taking place on the supply side, with major players, including Caterpillar, Hyundai and Komatsu, reducing capacity.
As with any cycle, the downturn won't last forever, and Caterpillar's strong fundamentals position the company well to gain from long-term opportunities in China. The "One Belt, One Road" initiative opens avenues to export excess capacity, and with Caterpillar's extensive worldwide dealer network and quality machinery, the company is poised to play a large role in this development opportunity. Additionally, China's continuing efforts to increase its urbanization rate, which is just over half of its 1.3 billion population, should help drive demand for housing, infrastructure and new forms of construction in healthcare, education, etc. going forward.
China's construction boom has created relatively low-cost, local competitors, such as Sany Heavy Industries, which have taken market share from foreign competitors who followed a price-focused strategy, such as Hyundai and Doosan. Caterpillar's differentiation as the world's leading supplier of high-quality equipment has helped it retain market share in the upper end of the Chinese construction equipment market and insulated the company from the threat of price-focused local competitors.
A contracting Chinese construction market reshaped the market, allowing Caterpillar to capture market share as weaker builders gave way to more sophisticated builders willing and able to pay a premium for world-class machinery. If this trend continues, it should be beneficial to Caterpillar's bottom-line going forward. Chinese equipment manufacturers - Sany Heavy Industries, in particular - are improving their technology and product offerings, and hence, the possibility of a Chinese competitor emerging as a challenger to Caterpillar cannot be ruled out. However, it would take years to build a reputation for quality on par with Caterpillar, and therefore, the company's hold on this segment of the construction equipment market will remain quite solid going forward.
Disclosure: I/we have no positions in any stocks mentioned, and no plans to initiate any positions within the next 72 hours.
I wrote this article myself, and it expresses my own opinions. I am not receiving compensation for it (other than from Seeking Alpha). I have no business relationship with any company whose stock is mentioned in this article.
Editor's Note: This article discusses one or more securities that do not trade on a major U.S. exchange. Please be aware of the risks associated with these stocks.