In the last couple of days, we noticed some posts in two different Italian forums (I, II) where OI's bondholders were claiming that they had been contacted, through their banks, in order to supply personal information (email, etc.) related to their ownership of these debt instruments.
This morning, we contacted D.F. King to be confirmed whether Oi S.A. ("OI Brazil") (NYSE:OIBR) had instructed them to compile a list of bondholders. An associate director of D.F. King confirmed that this is the case.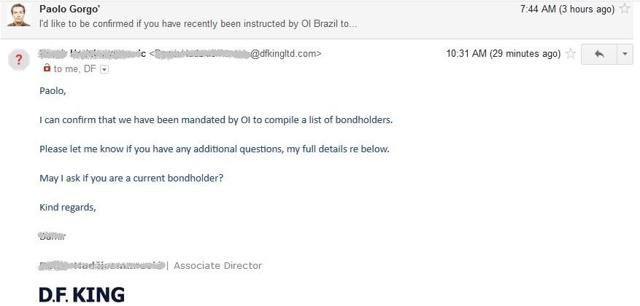 D. F. King (part of Orient Capital) is a global leader in shareholder management technology. The company has already participated in some bond restructurings, helping companies communicate with their creditor.
Oi Brazil has already been a client in the past:

We believe that OI Brazil is preparing the ground for a debt restructuring offer, by opening first a potential communication channel with its debt holders.
Identify bondholders early - top tip by OI's consultants
US firm White & Case LLP is one of OI's consultants. If we have a look at an article they published in 2006, we'll find out that "identifying bondholders early" is their top priority for coordinating a successful debt restructuring.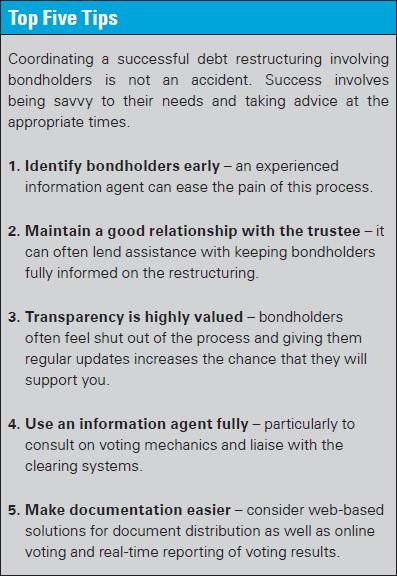 Oi's situation is certainly more complicated than average, as part of the debt was issued by Portugal Telecom and is probably mostly in the hands of European institutional and private investors.
Trying to open a channel of communication with most bondholders is certainly a step in the right direction and shows that the company may be willing to finalize an offer sooner than later.
A recent example of debt restructuring involving D.F. King bondholder screening
Kaisa Group Holdings recently proceeded with a debt restructuring in which they used the cooperation of Orient Capital to compile a list of holders of the Company's bonds, in order to communicate with their debt holders and finalize the deal.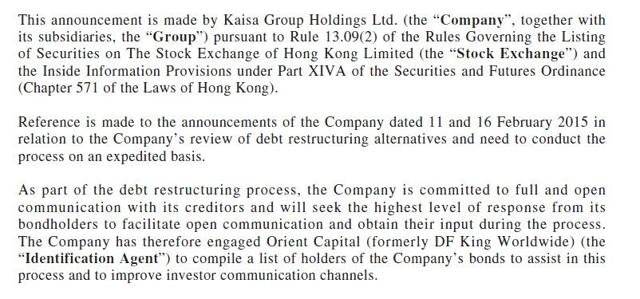 Changes at Telecom Italia may also have an impact on OI's strategy
Telecom Italia's (TI) recent CEO removal, due to a clash with TI's largest shareholder, Vivendi (OTCPK:VIVEF), over strategy in Brazil and cost cutting measures in Italy, opens the door for a sale of Telecom Italia's TIM Brazil.
As most analysts, we believe that a combination of a financially restructured OI and TIM Brazil could represent the best scenario for investors over the long term.
Will OI proceed with a debt restructuring on its own, to be able to negotiate from a stronger financial position, whatever the outcome for TIM Brazil?
Is there a white knight behind OI's decision to proceed with a debt restructuring?
Is it wise for a white knight to act now, without addressing the problem of what could happen at TIM Brazil in the next few months?
We have more questions than answers, but we still believe that a debt restructuring is in the works
D.F. King's activity confirms that a debt restructuring at OI is in the works and that the company may be preparing the ground to communicate with its debt holders sooner than later.
As Oi's Q4 2015 conference call is due tomorrow, we hope that management will address some of the questions that surround OI's strategy for the future.
Disclosure: I/we have no positions in any stocks mentioned, and no plans to initiate any positions within the next 72 hours.
I wrote this article myself, and it expresses my own opinions. I am not receiving compensation for it (other than from Seeking Alpha). I have no business relationship with any company whose stock is mentioned in this article.
Editor's Note: This article covers one or more stocks trading at less than $1 per share and/or with less than a $100 million market cap. Please be aware of the risks associated with these stocks.