Lobbying was intense on both sides of the issue of whether or not to lift the crude oil export ban. There were many economic arguments presented, but relieving a supply capacity limitation was not one of them.
Crude oil inventories at Cushing have risen to 67.5 million barrels (mmb) in the week ending March 11, 2016, about 5.5 mmb less than the capacity estimated by the Energy Information Administration (EIA).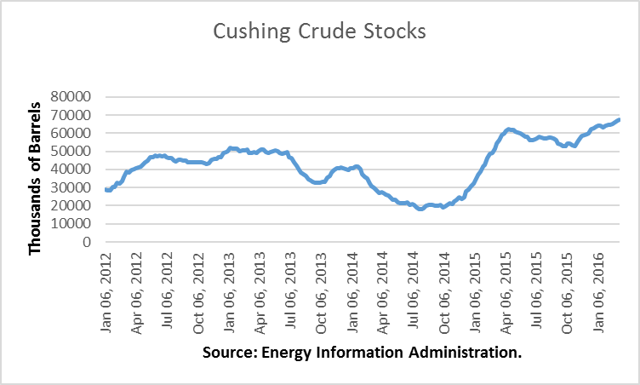 U.S. net crude imports have been on the rise in the early part of 2016. The increase reflects a decision by U.S. oil companies to build stocks as investments at low prices.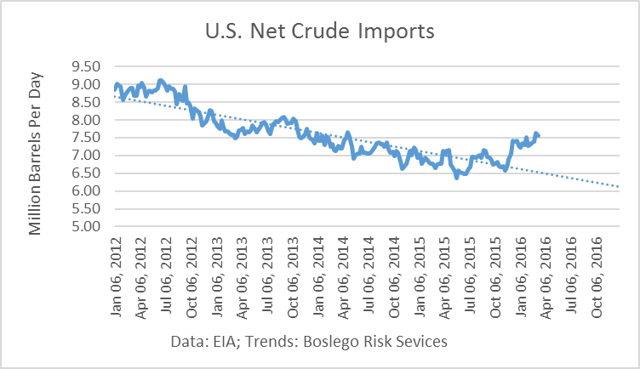 Over the past two months, crude prices have rebounded by about 50%, and so oil company bets that they would reap a return on their investment are beginning to pay off, at least on the barrels bought at the lower end of the price range.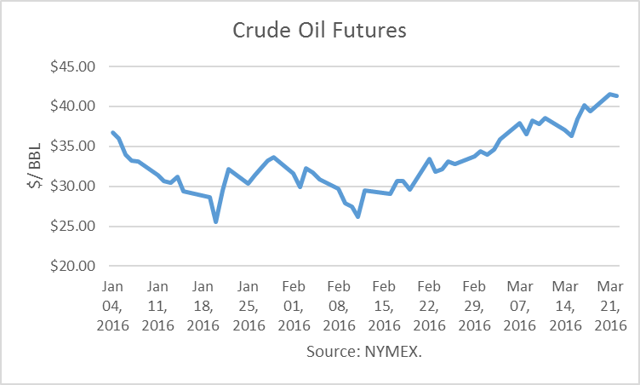 Crude Oil Exports
Prior to the ban being lifted in December, U.S. crude was being exported on an "exceptions" basis.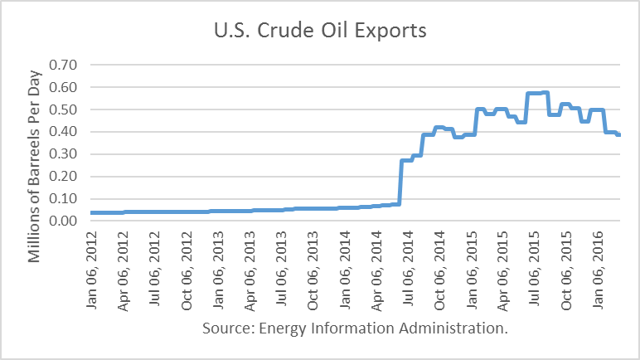 Since the ban was lifted in late December, the EIA weekly statistics have shown a decline in exports. However, as I previously explained, the EIA crude export estimation is flawed and will not yield a reliable estimate of exports.
Crude exports are compiled by the U.S. Bureau of the Census and are published monthly. Data for January show that crude exports totaled $407 million. Assuming EIA's monthly average for West Texas Intermediate, it implies an export rate of 414,000 b/d, lower than prior months.
However, a "flurry of activity" has been reported most recently, with tankers carrying U.S. crude headed to Europe, China and Panama. Exxon (NYSE:XOM) became the first major U.S. oil company to ship American crude. Oil traders are expecting to ship more crude, opening new trade routes.
Crude is expected to be exported from Cushing. Genscape reportedly estimated that Cushing inventories dropped slightly last week. Genscape reports its estimates of Cushing inventories before the EIA. It measures the elevation of the roof in floating roof tanks using pictures in the visual spectrum and utilizes images in the infrared spectrum to detect storage levels in fixed roof tanks.
On a related point, the rise in crude production from Iran that was expected as a result of sanctions has not yet materialized. Data from the Joint Organisations Data Initiative Oil (JODI-Oil) database reveal that production rose in the final months of 2015 but only marginally in January.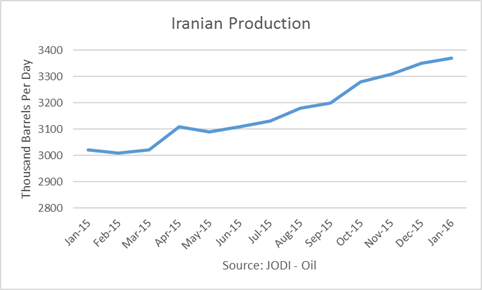 Conclusions
Ian Taylor, chief executive of Vitol, a large oil trader, believes that U.S. crude exports will remain a "very marginal business." Without the surge in Iranian production and exports, a small rise in U.S. exports should have a minimal market impact. Moreover, the U.S. is a net importer of crude, and net imports have been rising.
Disclosure: I/we have no positions in any stocks mentioned, and no plans to initiate any positions within the next 72 hours.
I wrote this article myself, and it expresses my own opinions. I am not receiving compensation for it (other than from Seeking Alpha). I have no business relationship with any company whose stock is mentioned in this article.