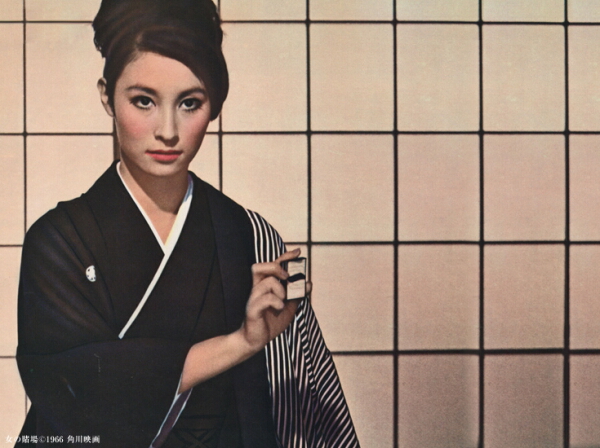 (Red Peony Gambler, Showa 41)
People love giving their predictions on the outcomes of future events. From politics to sports, everyone has a theory as to who will come out on top. But isn't it strange that most football fans in Seattle claim the Seahawks will win the next Superbowl and that most Republicans claim that the next president will be a Republican? Most predictions are tied with subjectivity, egos, and cognitive dissonance. This is why you don't ask a guy from Boston his opinion on the outcome of the Red Sox vs. Yankees game.
If you want to know who's more likely to win, you must go to the people you can trust: gamblers. Only those who are putting their money down on a given prediction have skin in the game. Hence, they are the most likely to look at the situation from an objective viewpoint. For example, election betting brokers break the election down into real terms and use statistical data to derive probabilities.
Another group of gamblers who can give us better insight into the future is CME Group. When it comes to the economy, the bets get much better than presidential elections or sports. Thus, the models used by CME Group are even more sophisticated.
Today, we turn to the topic of FOMC meetings. These meetings have significant outcomes on banks, bonds, and the stock market in general as they determine whether interest rates rise or fall. In the past 7 to 8 years, nothing has happened: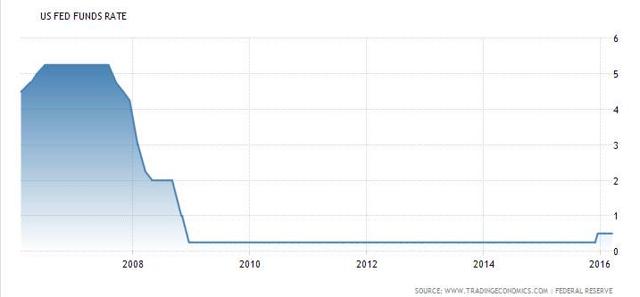 That was until December of last year, when rates rose by 0.25%. And while many had expected rates to rise again early in 2016, the Fed held rates steady. An expected 4 rate raises has been cut to 2.
Now, investors are wondering if a rate raise is set for April. As I pointed out in my video on March 17, CME Group gave 1:8 odds in favor of no rate hike:
But those odds have since risen:

With rate hikes on the rise, we have an increasingly strong reason to add to our portfolio stocks that would profit from such an event.
Banks
I've found that many industries have cyclical patterns around FOMC meetings, but I've yet to find one with a pattern as strongly consistent of that of the financial sector. Of course, banks are logically the most directly affected by FOMC meeting results. Banks make their money via interest, and rising interest rates from the Fed allows them to pass on higher interest rates on loans to their clients. Thus, increasing interest rates help banks' operating margins, and decreasing rates hurt banks' operating margins.
As for current interest rates, it's most likely status quo for at least the next month. This should be neutral news for banks, as they neither lose nor win from having rates held constant. However, the financial sector has actually been on the rise over the past month - a novelty for 2016 - spurring many an investor to look for an entry point into his bank of choice: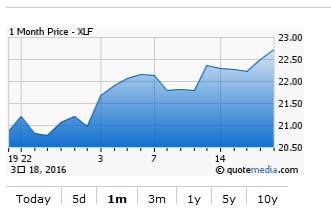 The point of this analysis is to help both new investors to the banking sector and to help long-time investors to find an optimal dollar cost averaging purchase point. I've written extensively about the financial sector, finding the majority of banks to be undervalued. I explain this as "wet feet" to get back into the stocks that suffered the most during the last market crash. The truth is that banks are now safer than ever, with stricter mortgage loan guidelines and more reserves. I pointed out the absurd reaction to banks becoming saferin this article on Bank of America (NYSE:BAC).
I still consider BAC to be the most undervalued of bank stock and recommend it as a long play in the financial sector: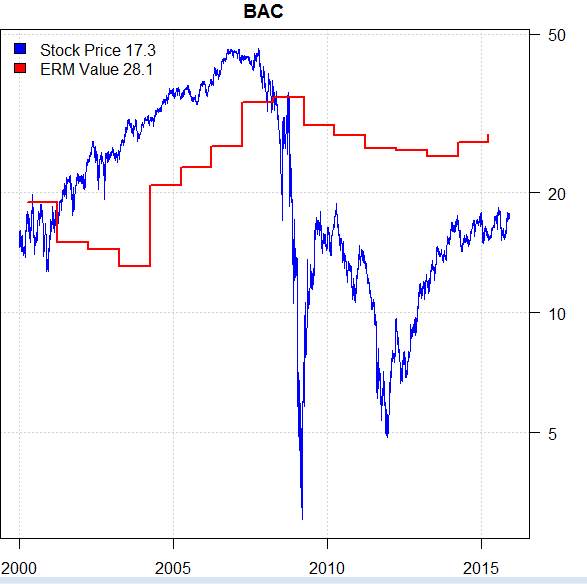 But as we will see later, all bank stocks have the same reaction to FOMC meetings. So whether you fancyJPMorgan (NYSE:JPM),Citigroup (NYSE:C), or Goldman Sachs (NYSE:GS), the following facts can help you determine your entry point. This even works for the Financial Sector ETF (NYSEARCA:XLF).
Banks' Response to FOMC Meetings
With interest rates being held for nearly 8 years, we have a large sample base of FOMC meetings from which to analyze bank stocks' returns up to and after the meetings. Some investors might think that buying before a FOMC meeting, when talk of the subject is at its highest, is the best strategy. Others might think that waiting for the FOMC meeting to conclude and buying after volatility decreases is the best strategy. Still others might wait until halfway between two FOMC meetings to buy bank stocks, expecting others to be ignoring the stock.
Like CME Group, I believe the answer to which entry point is optimal lies in the data. I ran the 30-day average returns for the four aforementioned bank stocks and for XLF over the past 8 years of FOMC intervals. These data show a clear trend of all banks having an optimal purchase point as a result of their "seasonality" with respect to the FOMC meetings. In short, buying at a certain point after the FOMC meeting can improve your monthly returns by up to 5% (dependent on the stock of choice).
The results are displayed in the following charts:
Citigroup: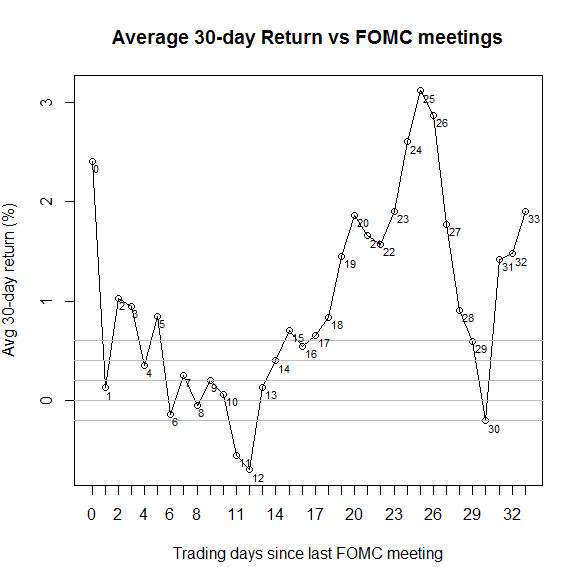 Goldman Sachs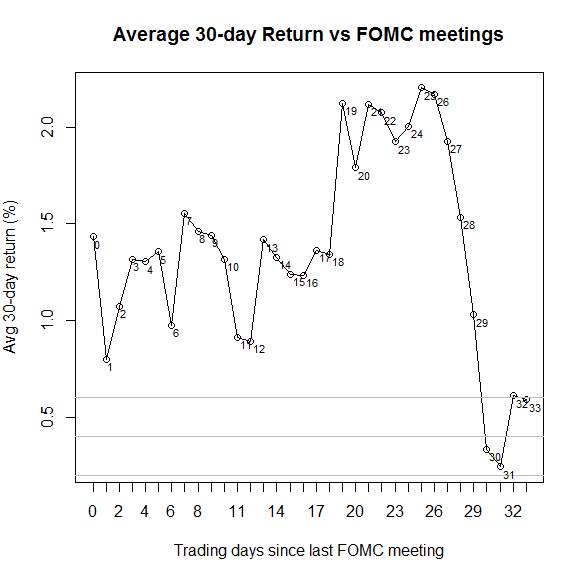 JPMorgan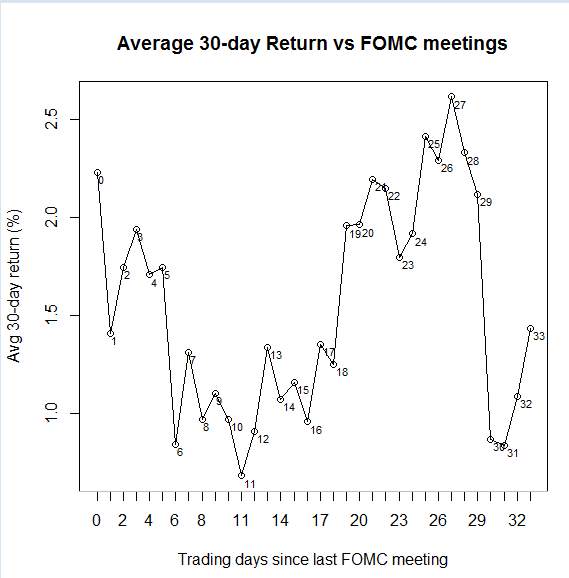 Bank of America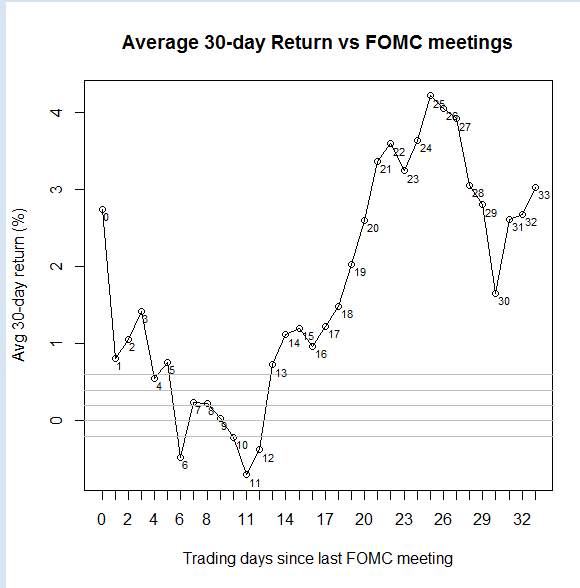 XLF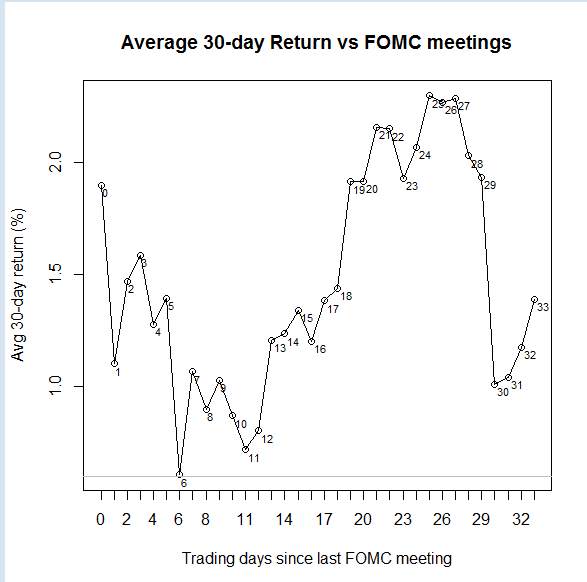 Takeaway
The results are consistent: The best returns are realized by buying a bank stock roughly 25 days after the last FOMC meeting. A better way to think of this, however, is to buy a stock 9 days before a FOMC meeting - this makes more sense in that we are buying prior to the outcome of the meeting but far enough away to capture the anticipation prior to news about rates.
This result is especially good (as opposed to a result that shows the optimal buying time to be soon after a FOMC meeting): The fact that our purchase time is so close to the FOMC meeting means we will know more about the probability of a rate raise closer to the FOMC meeting. For dollar cost averaging investors, this is especially useful, as I explain in the section below.Click on this link for the frequently updated probabilities of rate raises.
This time period also happens to be when bank stocks have the highest volatility. For example, the volatility for the last FOMC meeting spiked about 2 weeks prior, with the volatility settling down right before and after the actual meeting: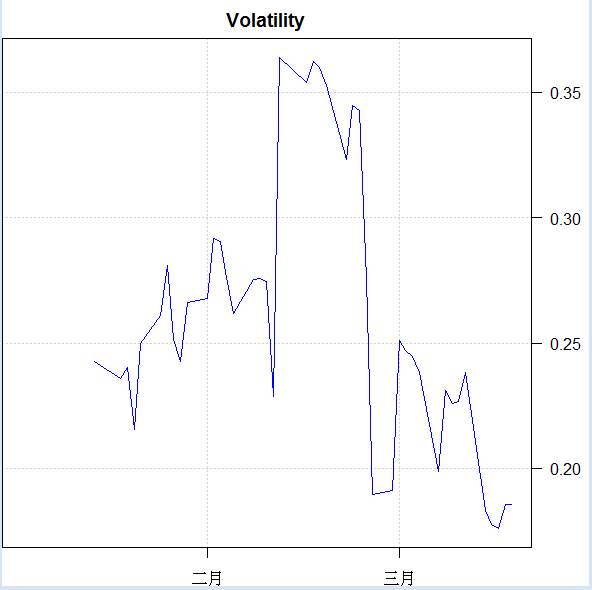 For options traders, this implies that we shouldn't go long vega. That is, avoid long calls, puts, straddles, and strangles. Going short on any of these, though, could be a winning strategy (e.g., sell OTM puts or strangles). Alternatively, you could go long on vega before this volatility spike. If you're interested in such strategies on XLF or a bank stock, please let me know in the comments section below, and I'll write an article on the subject.
Strategies
Specific strategies for investors follow:
If you've become attracted to the new bullish trend in the banking sector, time your purchase of your bank stock of choice (or XLF) to be 9 trading days prior to the FOMC meeting.
If you're already holding a bank stock and looking to add to your position, set your dollar cost averaging strategy to make purchases 9 trading days before a FOMC meeting. Depending on your frequency of position additions, you might want to use the CME Group tool to find a FOMC meeting with a higher rate raise probability and buy before that specific meeting, gaining exposure to the possible rate hike. I.e., if you only add to your position twice a year, look through the CME Group tool and find the two dates with the highest relative probabilities of rate raises. At present, your dollar cost averaging dates based on this strategy would be:
June 2
December 8
For everyone else, such as those looking to add a position as soon as possible, just go with the upcoming FOMC meeting, setting your buy date to 9 days prior. This gives us the following purchase date:
April 14
If you're at a loss for which stock to pick, considering the above, my suggestion would be to buy that most affected by the FOMC meetings: Bank of America. Therefore, a simply strategy based on a non-so-simple analysis of how bank stocks react to FOMC meetings is to:
Buy BAC on April 14
Learn More about Earnings
My Exploiting Earnings premium subscription is now live, here on Seeking Alpha. In this newsletter, we will be employing both fundamental and pattern analyses to predict price movements of specific companies after specific earnings. I will also be offering specific strategies for playing those earnings reports.
Our last newsletter looked at the upcoming earnings for Lululemon (NASDAQ:LULU).
Request an Article
Because my articles occasionally get 500+ comments, if you have a request for an analysis on a specific stock, ETF, or commodity, please use @damon in the comments section below to leave your request.
Disclosure: I/we have no positions in any stocks mentioned, and no plans to initiate any positions within the next 72 hours.
I wrote this article myself, and it expresses my own opinions. I am not receiving compensation for it (other than from Seeking Alpha). I have no business relationship with any company whose stock is mentioned in this article.