Prologue
Over the past month or two I've made more than a handful comments on various Seeking Alpha articles where I urged investors to start buying energy stocks based on three very simple facts:
Relative attractiveness. Oil prices (USO, OIL) are historically very low and this imbalance won't hold for too long.
Absolute attractiveness. Prices are low enough to justify an entry for the long run.
The time is right. Since we can neither call the bottom nor time the market, why bother trying to do so in the first place?
Following these comments, I published my most recent article, "Fuel Up Your Portfolio With Blue-Chip Energy Stocks," where I reemphasize this call by laying down three rules that investors should adhere to in order to benefit from what I believe is a no-brainer investment opportunity: Timing ("Play it right - Play it now"), Size ("Size Play it right - Play it big") and Tenor ("Play it right - Play it for the long run").
By focusing on large cap energy stocks -- e.g., XOM, CVX, RDS.A, COP, STO, OXY, etc. we are adding another layer of safety to what is, in my view, an already very safe investment opportunity as is.
In this article, I wish to demonstrate through graphs why buying now large cap energy stocks for the long term makes perfect sense.
Contrarian views
On the very same day that my article was published, 11 March 2016, Goldman Sachs once again expressed a very bearish tone by warning investors to expect "sharply lower" oil prices in coming weeks. While two weeks are perhaps a too short of a time they still fall within the "coming weeks" definition and we all know what happened since GS's call.
One of my favorite SA authors is Eric Parnell. In his article from March 21, 2016, Eric asks: "Oil: Is The Bottom In?" and concludes with "the time will come where buying back into these major oil names will offer great appeal. But until the cleansing process starts to get under way, such a time remains put off until some point in the future."
With all due respect, I disagree with Eric's conclusion and here's why:
A Long List of Reasons to be Bullish on Oil Prices...
The "Recession factor" is way overblown. Blackrock says that there won't be a US recession. While the US economy is far from being a solid ROCK it's definitely not in the BLACK.
The "Market factor" is currently very bullish. Stocks experienced a tremendous run over the past six weeks and as a matter of fact, the indices (as I write) are positive YTD. While I don't expect something really bad to happen one can't rule this possibility out and there are many threats and warning signs that one should be aware of. As long as the S&P500 holds above the important psychological level of 2000 I believe that oil prices will find support at the $40 level. If the S&P500 breaks down - perhaps because oil prices dive below $40 - we may enter a new ball game.
The "Loss of production factor" is a major factor that is not being taken seriously enough. How do people expect production not to decline sharply after prices went down 70%-80% from the peak? There's no industry in the world that can, should or want to maintain the same levels of production when profit margins are being cut so aggressively. The EIA estimates a US production loss of about 650K barrels per day ("bpd") this year.
The (illusionary) "Oversupply factor" is way overplayed than the real numbers show. Not only OPEC sees moderate oil bounce (even if Iran won't join the freeze) but even GS, a well known bear when it comes to oil prices, has significantly modified their US future production forecastsin light of rig count continuous decline.
The "Iran factor" is nowhere near what the market fear of. As a matter of fact, the IEA says that Iran's oil market return is "more modest" than forecast
The "Production Freezing factor" may be more meaningful than people anticipate. Even the stubborn Iran may join the output freeze group at a later date
The "demand factor" was, is and will keep being valid! Last month, China imported over 8M bpd -- an all-time record for February -- and the same goes for India. Even if this growth is minimal, the world's population and economy are growing, and so is the demand for the black gold. The International Energy Agency's latest forecast predicts that global oil demand will grow by 1.6M bpd in 2016.
The "Seasoning factor" is also a pro oil element. Traditionally, the spring and especially the summer are the seasons where oil demand peak (in a given-normal year) and oil refineries start their annual maintenance works that, in return, build up massive storages of energy products -- i.e., less immediate supply is available. A very hot summer is as helpful (for oil prices) as a harsh winter.
The "commodities factor," or the "herd behavior factor" as I prefer to call it, may also play a significant role in oil prices keep moving higher. It's not only energy prices that moved up recently but this uptrend include almost all types of commodities. Usually, commodities move in parallel and even if oil has its own (negative) issues -- the herd may well drive oil prices up along with it.
The "strong USD factor" has been massively weaken over the past week, following the FOMC announcement of fewer than previously expected rate hikes this year. While I don't expect the USD to weaken - the EUR has way more burning issues to deal with - I definitely see the upward trend as being less decisive and less rapid than originally thought.
The "Bankruptcy factor" hasn't kicked in a meaningful manner as of yet. While we see many corporations suffering there weren't that many cases of Chapter 11 as of yet. I expect more bankruptcies to follow, however (even then) oil sector bankruptcies will not trigger a recession. A good example isWRES which I still hold. This company is struggling, suffering, perhaps dying but for now (22 March 2016) legally and officially it's still alive. Hardly kicking, but still alive. Similar examples include EOX, UPL, EXXI, BTU, LINE, AXAS, CRK, to name a few. There are already more than 50 oil and gas companies that have sought bankruptcy protection since the beginning of 2015 and that number is expected to rise this year.
The "Debt factor." Energy is the most indebted sector on one hand with the biggest problem to refinance itself on the other hand. Energy corporation loaded tons of debts during the happy days of 2009-2014 and now that the credit markets are way more difficult to access - they find it (almost) impossible to recycle their debts. The more debt - the lower the odds of survival. This is another reason why WRES, with its tons of problems, may survive after all. It simply doesn't have as much debt as many other names do (relatively speaking, of course).
The "Reduced Capex factor" is having both an immediate and (mostly) long-term implication. Energy companies don't invest at all or invest very little. That's a fact. Nobody wants to pour tons of money on infrastructures that may cause a loss. No investments at present = no ability to increase production in the future. Wells don't last forever, they dry out. In order to maintain the same capacity there's a constant need to keep searching, keep digging and keep drilling. That is not happening and that means that slowly but surly the capacity will shrink. A most recent example is Woodside Petroleum (OTCPK:WOPEF,OTCPK:WOPEY) and its partners including Royal Dutch Shell (NYSE:RDS.A) (NYSE:RDS.B) that are shelving plans to develop the $40B Browse liquefied natural gas project off Australia's west coast.
The "Geopolitical factor" is always ticking and clicking around us. It's not a matter of "if" but a matter of "when." Many of the world's top producing countries - e.g., Iran, Iraq, Libya, Nigeria, Russia, Venezuela - aren't the safest bets to count on steady production coming out of and/or are involved in geopolitical disputes - e.g. Israel, Egypt, North Korea, Syria, Turkey, Ukraine (how quickly do we forget, aren't we?) - that only add to the uncertainty of steady production. It was only two weeks ago that a major underwater pipeline in Nigeria was bombed, knocking off 300K bpd.
The "Shale Well factor" is a non issue until prices climb way higher than the current low $40s. After a 60% rise from the recent lows, we need another, about the same, rise in order to seriously start worrying of a new wave of shale production.
The "Natural factor" is also kicking in hard. For the first time in years, drillers are expected to add less oil from new fields in 2016 than they lose to natural decline in old ones. While the full effect of this factor may only be seen by 2020, the implications are immediate and severe. Royal Dutch Shell, as many other large cap energy stocks, is involved in various new mega projects, for example: (1) A new Arctic area in Norway, led by STO, (2) The new Libra well in Brazil, led by PBR, and (3) a joint venture petrochemical plant in China, led by both RDS.A and Cnooc (NYSE:CEO). Nonetheless, these new-enhanced projects won't make up to the loss of production out of old-drying projects.
...as Well as on Large Cap Energy Stocks
As I already stated, my call is to BUY large cap energy stocks for the long run. I'm using Royal Dutch Shell (RDS.A, RDS.B) as a sample of a large cap energy stock that I'm LONG to demonstrate why this is a no-brainer investment opportunity in my view. (For the full list of energy large caps I'm considering suitable please see my previous article.)
Correlation: Large cap energy stocks are clearly and obviously very much correlated to oil prices. The equation is, therefore, very simple: If oil prices are expected to go up - so will large caps energy stocks.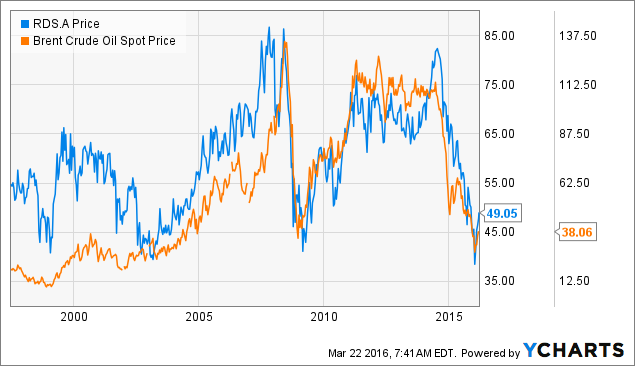 An early signal: Large cap energy stocks prices are reacting both earlier and stronger to oil prices. They usually go down more than oil prices during downtrend periods and, similarly, they usually go up more than oil prices during uptrend periods. Conclusions:
Energy stocks are more volatile than the underlying commodity.
Energy stocks are de-facto a kind of leverage on the underlying commodity.
Energy stocks are an early signal for how the underlying commodity is going to behave.
This is quite interesting because someone who wants to run a safer-hedged strategy may wish to trade as follows:
During uptrend energy prices: LONG energy stocks, SHORT oil
During downtrend energy prices: SHORT energy stocks, LONG oil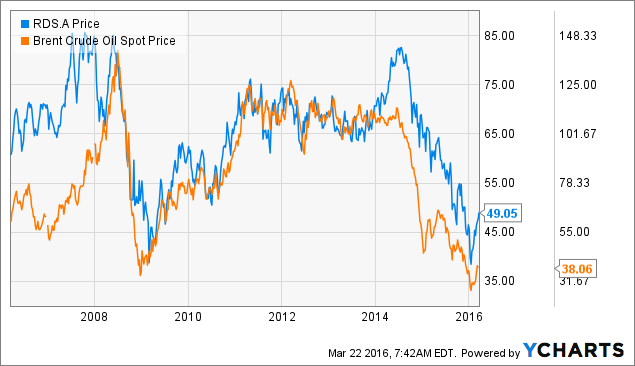 The oil crash is in its final days: After a 60% jump in oil prices since the through of 11 February 2016, it's becoming more and more clear than the worst is behind us. This time, it's not (only) me saying so but Scott Minerd, global chief investment officer at Guggenheim Partners, who thinks that the crash is finally near its end as oil producers outside the 13-member OPEC cartel could continue to reduce production under the strain of low prices.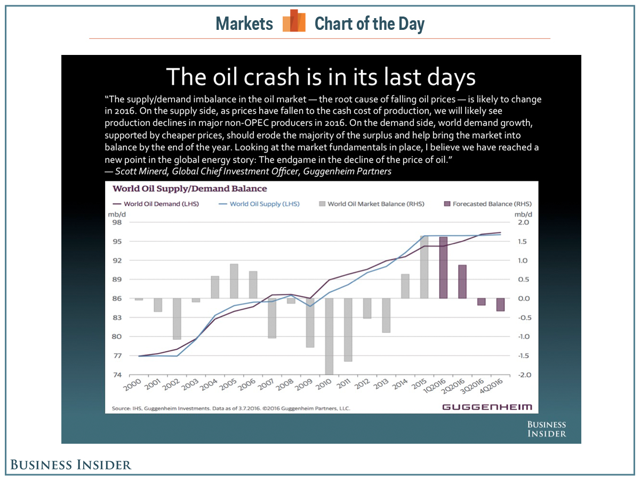 The Dow is up YTD: Who would have believed six weeks ago that this will be the case, so fast and so furious? Nonetheless, here we are looking at positive performance and the correlation to oil prices is stunning, to say the least. It's not clear anymore which was is leading the other; is it the Dow surge pushing oil prices up in tandem or are those the skyrocketing oil prices that are dragging the Dow along with them? Whether it's the former or the ladder doesn't really matter. What does matter is that as long as equity markets keep (or at least maintain) their rally - so will oil prices, or vice versa.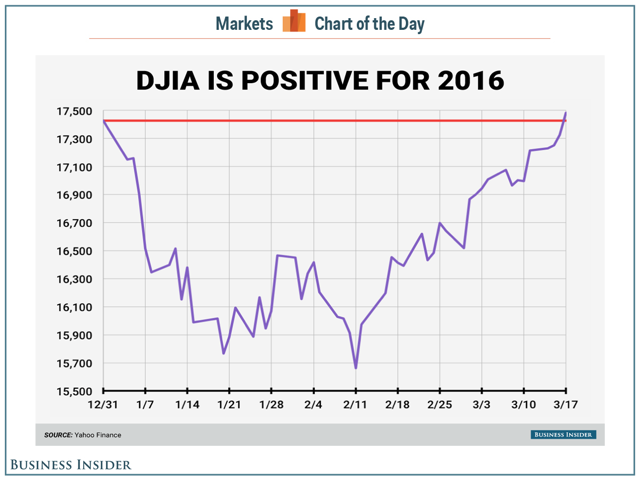 Epilogue
Sometimes, too much academics and too much research prevent investors from making the right-obvious decisions. Don't allow the trees to prevent you from seeing the wood!
The pure definition of "market timing" is an attempt to predict the future direction of the market. Sticking to such a wide-general definition means that we are all guilty in timing the market, all the time.
What really distinguish the "pure definition" (philosophy) from "actual timing" (practicality) is the tenor -- i.e., investment horizon.
If one invest for, say, 30 years, everyone will tell him to buy at any given time because if he indeed stick to 30 years the odds are in his favor. Looking at history, he has (almost) 100% probably to gain over 30 years out of (almost) any investment that he will keep untouched. But how many of us are able to commit to such a long period? very few.
Therefore, "timing the market" the way I look at it is more of a tenor issue rather a principal matter. Energy prices were low over the past couple of months and may remain low over the next couple of months. Whether you dive in when oil is at $25, $30 or $40 is a matter of personal comfort and/or good feeling rather timing the market.
An investor first decide that "the time is right"; that's a general decision/perception that functions as a "mission statement" (=going LONG energy, in this case). Then, whether the investor execute his mission statement in December, January, February or March isn't about "timing the market" because few months compare to a ten year investment horizon (the time frame I've advocated for) is meaningless (for the execution) and it's mostly about personal comfort and good feeling, as stated above.
I never said (nor think) that the US economy is in great shape. I do think that there are a lot of artificial means that keep the US economy from falling. Yet, that's not the point. A recession is defined (in universal-modern standards) as two consecutive quarters with negative growth. I don't expect this to happen. Even a tiny growth is, well, a growth. I totally agree that the US hasn't come up too strong out of the 2008-9 crisis but, hey, one could be right (about the economic fundamentals) yet miss out on one the biggest rallies in the stock market history. Personally, I'd rather ignore the academics and make money than being a super-mind professor who losses money.
Disclosure: I am/we are long RDS.A, RDS.B, COP, STO, WRES.
I wrote this article myself, and it expresses my own opinions. I am not receiving compensation for it (other than from Seeking Alpha). I have no business relationship with any company whose stock is mentioned in this article.
Editor's Note: This article covers one or more stocks trading at less than $1 per share and/or with less than a $100 million market cap. Please be aware of the risks associated with these stocks.