Thesis
Cognex (NASDAQ: CGNX) is a leader in the factory automation and machine vision market. The company, with a market cap of $3.63 billion, has been around since 1981 and captured plenty of the growth as factories have begun to use technology to automate their processes. With an established leadership position in a vast, untapped market ripe for secular growth, the company has traditionally commanded a high valuation. Although today's price is no exception (things were a bit better a few months back), I believe the company's exceptional qualitative characteristics make it worth considering even at these levels. Near term catalysts include growth in consumer electronics, logistics, and China.
Brief Company Overview
For those new to the company/industry, I will provide a short overview of operations. Machine vision essentially allows manufacturing equipment to "see", so that it can perform certain functions such as identification, quality checks, etc. Offerings include comprehensive vision systems, simpler sensors and barcode readers, software, etc. The chart below, taken from Cognex's 10-K, does a nice job of depicting what roles the company's products can play.

Competitive Landscape/Considerations
The fact of the matter is that even though some of the industry leaders have been around for decades, machine vision is still a relatively young and fragmented market. There is limited information available concerning the competitive landscape, and the company even notes this in its 10-K, stating, "Although we consider Cognex to be one of the leading machine vision companies in the world, reliable estimates of the machine vision market and the number of competitors are not available." And although this is true that Cognex is a well-established leader in the market, the industry has many smaller, niche competitors as well as potential for new entrants that could capture significant share depending on how the industry changes as time goes on. Due to the usefulness of factory automation products, the market is vast and largely untapped at this time. Factories all across the world have various uses for Cognex products and other similar technologies, and should continue to adopt these technologies as time goes on. Technology research company Technavio, for example, forecasted that the machine vision industry would grow at about a 9% CAGR from 2014 to 2019.
The state of secular growth that the industry is in makes for attractive qualitative characteristics for the leaders. Considering the relative lack of competitive intensity compared to more mature industries, the opportunity for value creation through growth is much higher here. Leading companies, such as Cognex, are going to be able to continue to achieve strong margins as they introduce new products, expand the market, capture the secular growth, etc. This is a much more attractive competitive situation than fiercely competing for share in a mature market.
One notable competitor, though, is a Japanese company called Keyence. The company had $2.76 billion in sales in 2015, compared to Cognex only notching $450 million. Like many companies, though, it is tough to get a lot of information on Keyence and really decipher what's going on. The company offers a wider array of factory automation products than Cognex, including safety equipment, process controls/censors, laser markers, etc. Cognex is more niche, with a strong focus on the machine vision market. In Keyence's annual report, it is noted that one product group accounts for more than 90% of sales, which is by sales by product/service aren't broken out. It doesn't further specify what product group this is though, so it's unclear if that is in a broad sense or could actually mean something such as vision products, sensors, etc.
Cognex's strong reputation for high quality products and software, along with the first mover advantage, should serve the company well going forward. Doing some brief research on a Programmable Logic Controller (PLC) forum also showed another important factor: switching costs. On a thread in which workers discussed the advantages/disadvantages of Cognex vs. Keyence, one of the things that were noted was the practicality of making the change from one to the other. When you have a whole factory outfitted with Cognex or Keyence equipment, you are going to need significant incentive to switch to the other. Switching costs include the training/learning curve, spare parts availability, wiring changes, interface/communication differences, etc. Although these factors obviously all serve Keyence as well, it reflects positively upon the two notable leaders in the market.
Recent Developments
The stock has been quite volatile over the course of the last few quarters. The second half of 2015 was a bit rough for the company, as growth decelerated amongst a challenging industrial environment. Given the uncertainty of today's economy, manufacturing companies seem reluctant to invest too heavily in capital expenditures. Still, the long term drivers for adoption of automation equipment remain very strong and there are even some bright spots for 2016. Although it is obviously also a risk to have such a large customer, management seemed optimistic about their relationship with Apple, which accounted for 18% of 2015 revenue. Although it will be softer than historically, the company expects the consumer electronics end market in general to grow this year. Another bright spot for 2016, although still a smaller part of company revenue, is logistics. The situation with both of these end markets was that in 2015, they saw a few large orders get pushed back "because of changes in their product roadmaps and demands on their engineering resources." Regardless, CEO Robert Willett seemed optimistic they would see this activity in 2016, stating the following:
"...we have been investing more in engineering resources to support larger customers. And generally, those tend to be in the consumer electronics and logistics space. And certainly, we've gone on investing in those areas and that's driving up some of our engineering expense in the near term, because we do expect to see substantial revenue from those types of opportunities here in the coming quarters."
Despite the weaker performance in 2H 2015 and continued uncertainty, management is still targeting 2016 gross margins in the mid- to high-$70s.
Recap of Catalysts and Risks
For those that are newer to Cognex, this will just be a quick overview of some of the notable catalysts and risks that have become apparent more recently.
Catalysts
The company sold off its Surface Inspection Systems Division in July 2015, indicating a narrowed focus and conviction on the machine vision market. The after tax gain was $78 million.
Continued repurchases: The company did $126.4 million in repurchases in 2015, which was 3.2 million shares at an average price of $39.41. In November of 2015, the Board approved another $100 million repurchase program that will commence after the previous program from August (also $100 million) finishes up. At year end, they had completed about $84 million of the August program.
The company has focused on penetrating the life sciences market for a few years, and saw their first big order of $3 million in 2015.
The aforementioned growth in consumer electronics and logistics
The company is quickly taking share with their 3D displacement sensor product. Willett stated, "So we see the market as a $200 million market. And we see ourselves as a very small player in that market. We might have an approximately 5% share today, but growing very quickly."
Risks
The industrial market in general, and especially China, was stagnant in the back half of 2015 and it's unclear when that trend will ease.
Although it's still growing at quite an impressive rate, China was previously growing for them at around 40% and in Q4 2015 it dropped to around half of that.
New entrants or existing players could take share in the market. The company needs to continue to perform at a top level due to the rapidly changing nature of the industry and demands of its customers.
Dependence on Apple
Valuation
Although the stock is a bit pricey, Cognex has traditionally traded at a premium due to its exceptional qualitative characteristics and the rapid secular growth of the industry. Looking at historical multiples (it is tough to find good comps so looking back is likely more telling), the company looks about fairly valued: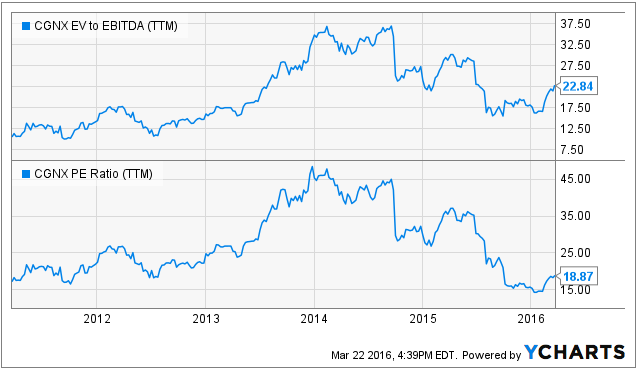 It's worth noting though, that it is not out of reach for the company to see the types of metrics it was at back in late 2013/early 2014 if the global economic recovery continues smoothly or accelerates. Specifically, I believe Cognex could once again command this type of premium if we see increased activity across the manufacturing and industrial markets, as that is what seems to really have investors worried more recently. Although I feel that the company is a buy for a truly long term oriented investor (3-5 years) due to the highly attractive qualitative characteristics, there is definitely some near term uncertainty.
Disclosure: I am/we are long CGNX.
I wrote this article myself, and it expresses my own opinions. I am not receiving compensation for it (other than from Seeking Alpha). I have no business relationship with any company whose stock is mentioned in this article.