Standard & Poor's announced in February that it was placing Exxon (NYSE:XOM) on credit watch with negative implications. S&P stated it would decide whether to downgrade Exxon, one of only three AAA-rated companies -- the other two are Microsoft (NASDAQ:MSFT) and Johnson and Johnson (NYSE:JNJ) -- within 90 days. Since Exxon has had the triple-A rating since 1930, this is a very significant event and one I predicted in October in this article: "5 Reasons Why Exxon's AAA Credit Rating Is In Jeopardy." To a large extent, the downgrade is directly attributable to Saudi Arabia's leadership in driving down oil prices, as I documented here: "4 Reasons Why Saudi Arabia Will Keep The Spigots Open Until 2018," here: "Saudi Arabia And OPEC Are Going To Keep Pumping Until Shale Investment Is Crushed," and here: "Saudis No Longer Limiting Production Means More Oil Company Bankruptcies In 2016."
In this article, I will examine what has happened to Exxon and the likelihood that, despite the recent bounce in oil prices, oil companies' credit downgrades and bankruptcies will continue well into 2017 and beyond.
"Hold on with a bulldog grip, and chew and choke as much as possible." -- Abraham Lincoln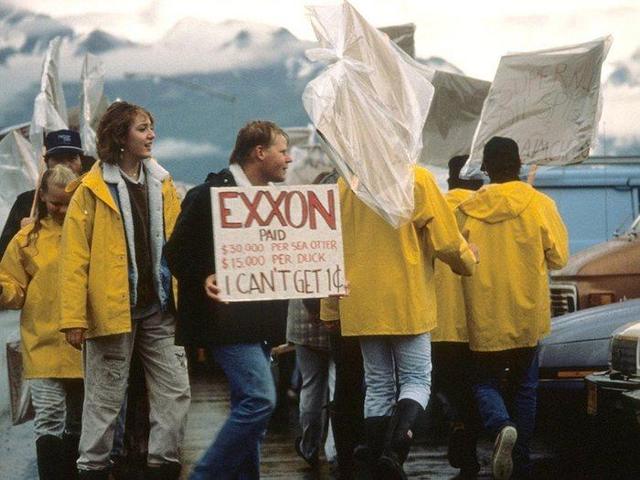 Source: Theguardian.com.
Exxon's Credit Problems Show How Wide and Deep the Problem Is
This week marks the 27th anniversary of the Exxon Valdez oil spill in the waters off of Alaska on March 24, 1989. At the time, and for years afterwards, this was considered to be the worst thing that ever happened to Exxon. But now it is obvious that the continuing low oil prices are going to make the Valdez oil spill pale in comparison -- at least for Exxon shareholders. In their latest 10K, the present value of Exxon's oil reserves decreased in value by an amazing $137 billion. That's "b" as in "billion," folks, from $207 billion at the end of 2014 to $70 billion at year-end 2015 (see pages 110 and 111 in Exxon's 2015 10K). In addition, since 2011, Exxon's free cash flow is down 85%, revenue is down 45%, cash is down 70% and long-term debt is up more than 100%. No wonder S&P thinks Exxon's future is much dimmer than it did in the previous 86 years.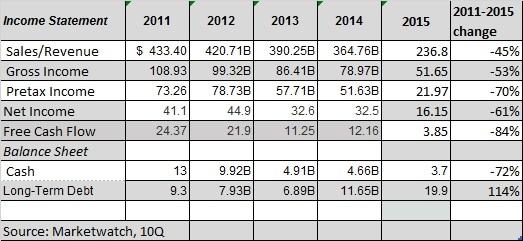 Of course, Exxon is not alone in the lonely desert of credit troubles. Chevron (NYSE:CVX) and Royal Dutch Shell (NYSE:RDS.A) have had their ratings cut already and many other majors are on the verge, including Total SA and BP (NYSE:BP). According to Oppenheimer, up to 50% of shale oil companies will go bankrupt if prices remain low into 2017. The following Oppenheimer chart shows why: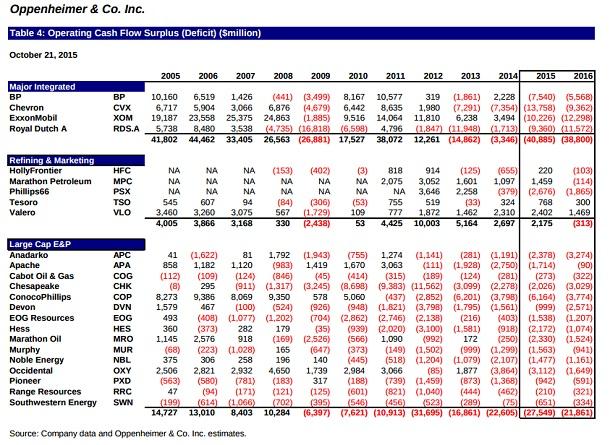 And as CNN documents, bankruptcies are soaring: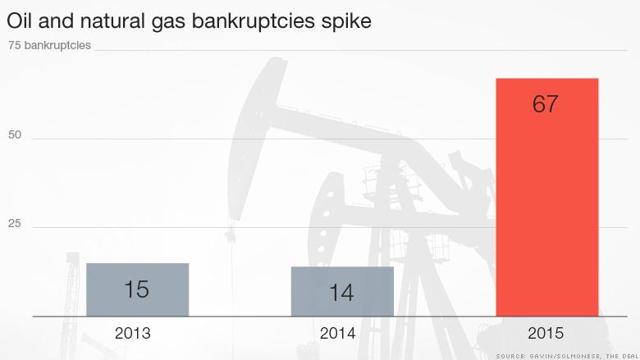 Saudi Arabia and the Other Sheikdoms Can Keep This Up for Years
Saudi Arabia is leading the charge with other Persian Gulf sheikdoms in tow. Many analysts say Saudi Arabia cannot possibly continue to keep prices low because their sovereign wealth funds will soon run out of money. I beg to differ.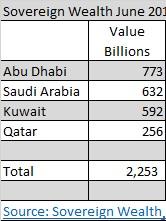 In addition to the $2.2 trillion in Sovereign Wealth Funds available, Saudi Arabia has hinted at an IPO for the largest oil company in the world -- Aramco. The power behind the throne, Crown Prince Muhammad bin Salman, when asked by the Economist "Can you imagine selling shares in Saudi Aramco?" said this:
Personally I'm enthusiastic about this step. I believe it is in the interest of the Saudi market, and it is in the interest of Aramco, and it is for the interest of more transparency, and to counter corruption, if any, that may be circling around Aramco.
So how much would an Aramco IPO be worth? Oh, maybe just $10 trillion. So if Saudi Arabia floated just 5% of Aramco it would net $500 billion. Check to all those who think the low oil prices cannot go on much longer because the Sheiks will run out of money soon. Not likely. And, by the way, the other sheikdoms have national oil companies that could be IPO'd too. Check and mate.
Exxon Is a Sell Here
At its current price of about $85, Exxon is close to its price in 2011 when sales were $436 billion vs. 2015's $236 billion. And as shown above, all the other key financial metrics are deteriorating as well. With a book value of about $42 and at least two more years of minimal or negative cash flow, the only way forward is down.

Conclusion
The recent spike in oil prices is temporary. Maybe oil will get to $50, but I doubt it. The point is long-term profitable oil prices are nowhere to be seen, and it will be late 2017 at the earliest and probably 2018 and maybe 2019 before oil prices recover. Iran has just started shipping, Iraq is building production and has just announced the export of natural gas to the Far East. By 2018, North Dakota and the Bakken will be a wasteland and Eagle Ford and the Permian will be begging for mercy. The pain will continue until the very idea of oil investment will cause nausea in every mutual fund, hedge fund, and individual investor. The sheiks are playing a long-term game that nervous Westerners do not understand.
So I close with statements I have made previously:
The Saudis and the sheikdoms have survived 1,500 years in the harshest of environments by being tougher and more determined than their enemies. That kind of DNA doesn't change in a couple of generations.
The Saudis are not relying on complex spreadsheets or data analytics or sophisticated algorithms to determine what they should do. Deep down, inside, they remember the dust and the heat and the sun. But mostly they remember the thirst and the enemies close by.
The Saudis and sheikdoms are playing a very long game of risk. And history has shown they are very good at it.
Invest in oil at your peril.
Disclosure: I/we have no positions in any stocks mentioned, and no plans to initiate any positions within the next 72 hours.
I wrote this article myself, and it expresses my own opinions. I am not receiving compensation for it (other than from Seeking Alpha). I have no business relationship with any company whose stock is mentioned in this article.